About Magicshine SEEMEE 200 Bicycle Tail Light
(200 Lumens)
EEMEE 200 will bring you real 360° visibility from all direction with the unique Halo tracer ! The smart light and motion sensors, gives riders hands-free using experience.
Specifications :
Model: SEEMEE 200
Lumen: 200 LMMaximum
Runtime: 2-50 h
Visibility: 360 °
Distance: 3000 m
Waterproof Rate: IPX6
Weight: 1.37 oz
Impact Resistance: 1 m
Dimensions: 32X28X43mm
Features:
Breaking through design conception, brings you real 360° visibility. Powerful light output, let you be seen day and night. Smart modes settings, make it all hands free.
SEEMEE 200 is a innovative powerful tail light with convenient USB recharge.
Its max output reaches up to 200 lumens.
Breaking through 360° tracing light design conception, gives you 360°protection.
360°Tracing Light Design- beam on the ground in a perfect halo,and allow you to be seen from all directions.
Efficient Light Output- transparent optical fiber emits stronger and uniform light outputs while consuming less energy.
Smart Motion Sensor- motion sensor turns on automatically when braking, and lights on at maximum 200LM.
Sensitive Ambient Light Sensor-- Under smart mode, the built-in light sensor automatically adjusts the brightness according to ambient lighting conditions.
Low Power Mode- When battery level is lower than 5%, it automatically changes to economic flashing mode(30LM).
Easy-to-Read Battery Indicator- At standby mode, click the power button to activate battery indicator for 3s.
Multiple Mounting Methods-- With the versatile mounting strap, SEEMEE 200 is easy to be mounted under saddle or different seat posts.
IPX6 Waterproof Rate - SEEMEE 200 is fully sealed, and can resist water from any directions.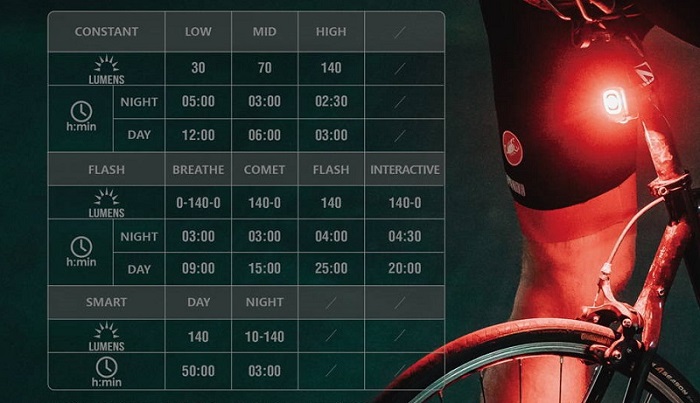 What's In The Box :
1 SEEMEE200
1 Mounting strap
1 Saddle mount
2 Tie Band
1 Micro USB cable
1 User manual
1 Warranty card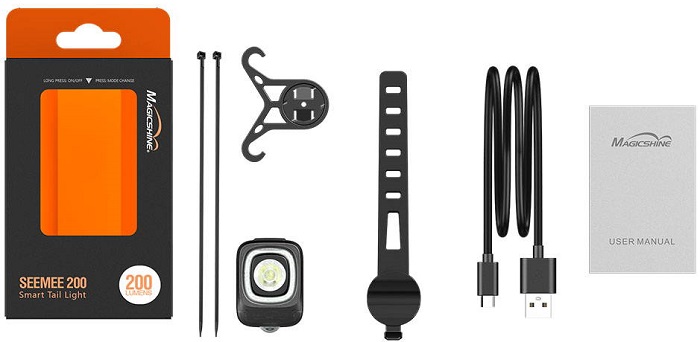 About Magicshine Brand
Since 1999, Magicshine has been focused on outdoor lighting area for 20 years, with the mission to provide high performance lights for professional night time outdoor activities, to keep people safe in darkness.
In 2007, MJ 808—Magicshine first generation bike light, hit the markets with revolutionary concept and function. Nowadays, we are continually refining our products, launching Bluetooth series, and high power lights with leading technology. Magicshine brand has become known to the world, and acknowledged as the top popular brand in cycling lights area.
Today, Magicshine provides a wider range of flashlights, headlamps, cycling lights, to serve hiking, running, hunting, law enforcement, mountaineering, and so forth. It connects international research team, specialists and builds up global customer service system, with markets stretching to over 50 countries.
Magicshine keeps bringing innovation to the industry, and encourages every outdoor sports enthusiast to discover more possibilities, break environmental limitation and expand their potentials.
We determined to strengthen people's confidence in darkness.

Magicshine SEEMEE 200 Bicycle Tail Light (200 Lumens)