About Magicshine SEEMEE 30 Bicycle Tail Light
(30 Lumens)
Magicshine SEEMEE 30 is a rear light with high transparent optical lens and ambient light sensor.
EFFICIENT ENERGY CONSUMING-emits stronger light outputs while consuming less energy with high transparent lighting strap, more efficient lighting performance comparing to traditional red case tail light
Features :
DESIGN FOR YOUR SAFETY- it lets you be seen from up to 800 meters, and its elegant translucent anti-scratch case, provides 230 degree high side visibility, to make you more visible at risk moments
AMBIENT LIGHT SENSOR- sensitive infrared light sensor built in, automatically change the light mode according to environment, thus to increase warning effect during the day
LOW POWER MODE- when battery level is lower than 5%, SEEMEE30 automatically changes to economic flash mode, which can run up to 20 minutes before it totally powers off
IPX6 WATERPROOF RATE- storm or wind, SEEMEE30 will resist the water from anywhere in any challenging environment
COMPATIBLE FOR ALL- multiple mounting methods, solid silicon strap can be mounted safely to different bar shapes conveniently
Convenient USB charging with charging indicator
Memory function and multi-modes to satisfy different riding scenarios
Technical Specifications :
LUMEN: 30 LM
Ambient Light Sensor
DRL (Daytime Running Light)
Battery: 7.2V (2*3500mAh)
Waterproof: IPX6
Size: 61x14x21mm
Weight: 0.84oz (24g)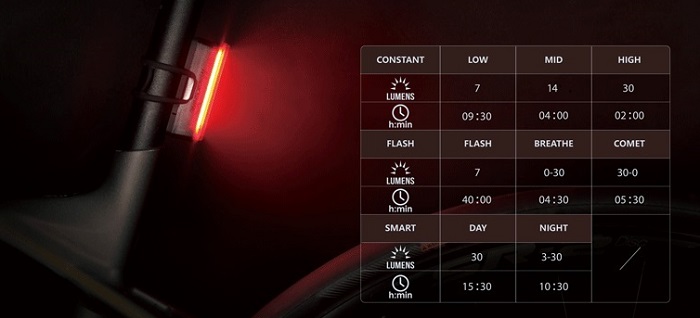 What's In The Box :
1 SEEMEE30 TAIL LIGHT
1 USB cable
1 Manual
1 Warranty card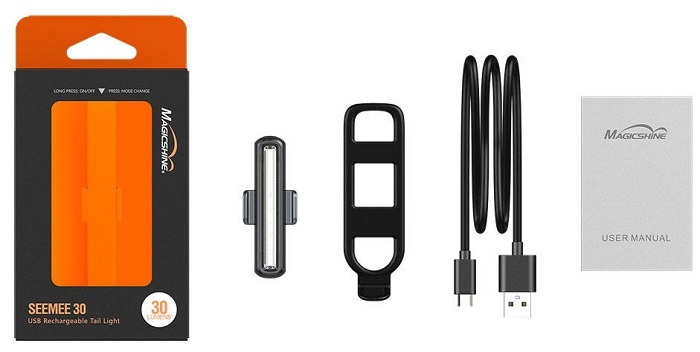 About Magicshine Brand
Since 1999, Magicshine has been focused on outdoor lighting area for 20 years, with the mission to provide high performance lights for professional night time outdoor activities, to keep people safe in darkness.
In 2007, MJ 808—Magicshine first generation bike light, hit the markets with revolutionary concept and function. Nowadays, we are continually refining our products, launching Bluetooth series, and high power lights with leading technology. Magicshine brand has become known to the world, and acknowledged as the top popular brand in cycling lights area.
Today, Magicshine provides a wider range of flashlights, headlamps, cycling lights, to serve hiking, running, hunting, law enforcement, mountaineering, and so forth. It connects international research team, specialists and builds up global customer service system, with markets stretching to over 50 countries.
Magicshine keeps bringing innovation to the industry, and encourages every outdoor sports enthusiast to discover more possibilities, break environmental limitation and expand their potentials.
We determined to strengthen people's confidence in darkness.
Magicshine SEEMEE 30 Bicycle Tail Light (30 Lumens)