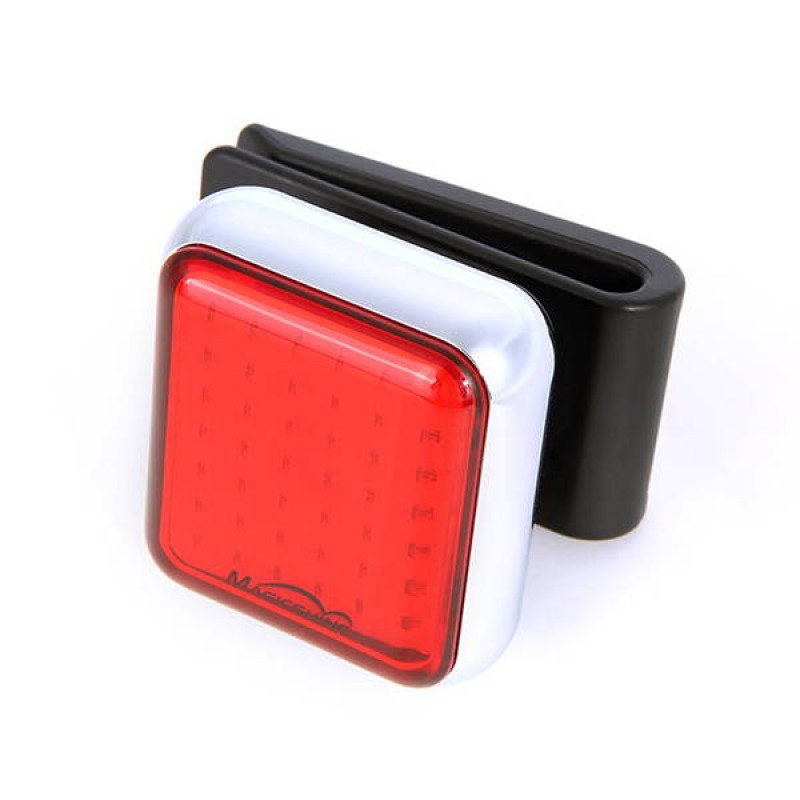 About Magicshine SEEMEE 60 Bicycle Tail Light White
(60 Lumens)
Seemee 60 has internal brake sensor.A sleep mode is triggered after one minute of inaction to save power, and vibration will immediately re-activate the unit.
With the high powered COB red LED light source, the max output is 60 lumens, capable of 180 degrees of visibility.3 brightness levels, a constant mode and 2 flash modes can be used in any combo, note that the high mode gives out 30 lumens, while the mid and low modes 17 and 9 lumens respectively on this bike safety light.
Built with latest vibration and motion sensor, the Seemee 60 bike tail light detects when the rider has engaged in a sudden stop motion to increase its output to 60 lumens in a frenzy of flashes, warning all fellow travelers and motorists within a 180 degree viewing angle.
This light pattern will be bright enough to warrant attention but not enough to cause temporary blindness which is just as likely to cause accidents. With the same sensors, the tail light enters into a sleep mode to save power after one minute of inaction.
Any movement will immediately re-activate the unit.Installation and removal of the taillight is super quick and easy, rotate 90 degrees to install and rotate 90 degrees back to remove, that's it!
Micro-USB charging port is built into the back side of the tail light with water resistant silicone port cover. Seamless integration of the red lens and aluminum alloy plate framing gives the Seemee 60 an IPX 6 rating.Seemee 60 comes with mounting setups for both the round and Aero seat posts, as well as a multi-purpose mounting clip that will turn this bike tail light into a signal / safety light that can be clipped onto your backpack, helmet strap, saddlebag, even shirt collar.
Specifications :
Lumen:60 LM
Distance:2000 M
Waterproof Rate:IPX6
Runtime:2-15H
Weight:1.2 oz(34g
What's In The Box :
1 SEEMEE60 TAIL LIGHT
1 USB cable
1 Silicone ring
1 User manual
1 Warranty card
About Magicshine Brand
Since 1999, Magicshine has been focused on outdoor lighting area for 20 years, with the mission to provide high performance lights for professional night time outdoor activities, to keep people safe in darkness.
In 2007, MJ 808—Magicshine first generation bike light, hit the markets with revolutionary concept and function. Nowadays, we are continually refining our products, launching Bluetooth series, and high power lights with leading technology. Magicshine brand has become known to the world, and acknowledged as the top popular brand in cycling lights area.
Today, Magicshine provides a wider range of flashlights, headlamps, cycling lights, to serve hiking, running, hunting, law enforcement, mountaineering, and so forth. It connects international research team, specialists and builds up global customer service system, with markets stretching to over 50 countries.
Magicshine keeps bringing innovation to the industry, and encourages every outdoor sports enthusiast to discover more possibilities, break environmental limitation and expand their potentials.
We determined to strengthen people's confidence in darkness.
Magicshine SEEMEE 60 Bicycle Tail Light White (60 Lumens)