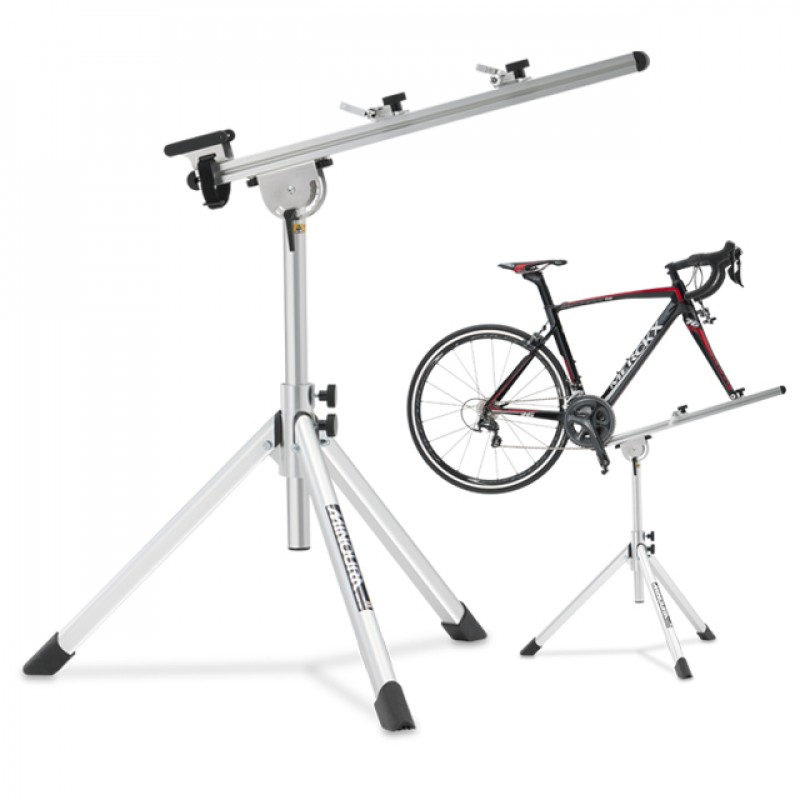 About Minoura RS-1800 Repair Stand
Features
Compact and foldable lightweight alloy stand with tripod base
Good horizontal rotation mechanism for maintenance and washing
Arm angle adjustable by 15degrees each
B.B. support shape is good for Aero and rear direct mount brake frames.
Setting
Support with aero type of frame, rear and direct mount brake frame
Front fork
Support for 9mm quick release and 12 mm / 15 mm thru axle
Easy to set and re-set because of the special wide stroke quick release
Rear End
Rear end mount support for 9 mm quick release and 15 mm thru axle
Support for 126 mm / 130 mm / 135 mm quick release and 142 mm thru axle
Specifications
SKU : 410-1650-00
Color : Silver
Material : Aluminum / stainless / plastic
Weight : 3.9 kgs
B.B. Support Height : 740 mm – 1,070 mm
Setup Dimensions
W = 850 mm
H = 750 mm
Max load 30 kgs ( Recommend 20 kgs )
Cautions
We strongly recommend use of this item in a vertical orientation only.
Maintain the balance by rotating the bike position.
For light maintenance and washing only, do not apply too much force.
Stability will be compromised with electronic groups with a battery on the BB side.
About Minoura
Founded 1n 1933 Japanese manufacturer of outstanding cycling trainers, rollers and accessories.High End Solutions for Every Cycling Need.
Minoura RS-1800 Repair Stand