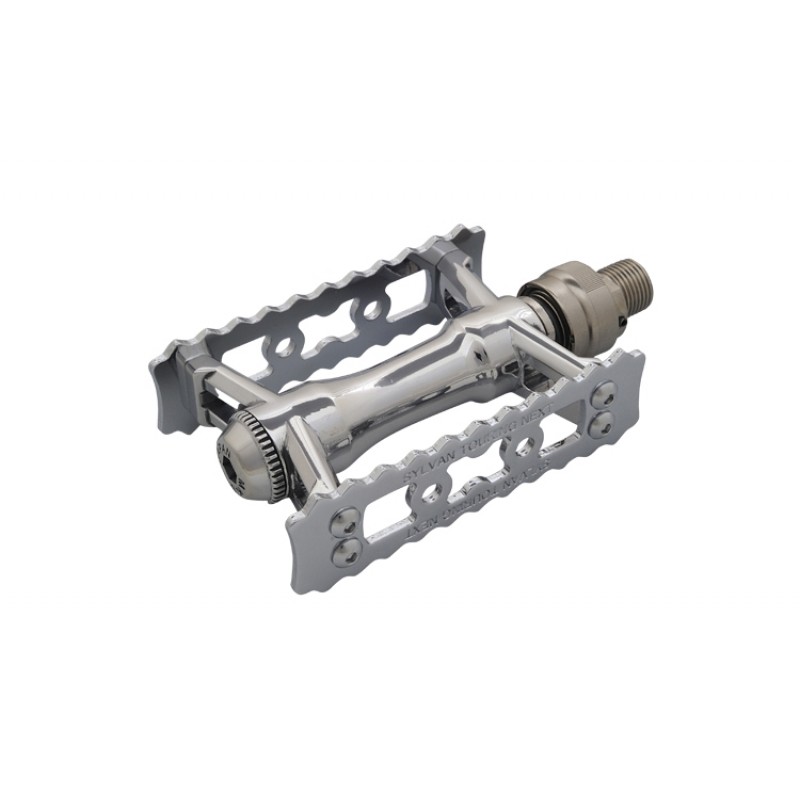 About MKS Slyvan Touring Next Ezy Superior Bicycle Pedal Silver
Since its release in 1979, SYLVAN TOURING, which is still extremely popular, is on the "next" stage.
A new maintenance-free triple shield bearing with good rotational performance has been adopted from the conventional cup and cone. It boasts an amazing smoothness.
Wide treads on the left and right and smooth bearings with low rotational resistance reduce fatigue and improve pedaling efficiency, making them especially suitable for long-distance touring. It is also recommended for discerning urban bikes that demand quality.
The mirror-finished body and chrome-plated plate bring dignity and luxury to your bike.
Compared to SYLVAN TOURING, it weighs more than 50g and has a thinner stack height, so it transmits power more efficiently.
Following the conventional side plate shape and design, it inherits the same treading comfort and sophisticated form.
The screwed side plate allows replacement even in the unlikely event of damage.
Of course, toe clips and straps can also be attached.
Specifications :
Color : Silver
Body : Aluminum
Side plate : Aluminum / chrome plating
Size : W94 x L63
Tread : Both sides
Bearing : Triple shield bearing
Toe clip attached : Possible
Reflector : Can be installed
Recommended use : Touring,City ride
Weight : 390g
About MKS Brand
MKS is the pedal brand of Mikashima Industrial Company Limited. The Mikashima Industrial Company was founded as an aircraft component manufacturer in 1943, converted its operations to pedal manufacturing in 1946, and was established as a limited company in 1949. Our 70+ years of operations have been managed by the Ogino family, and is currently led by President Toshiyuki Ogino with guidance from Chairman Kohichro Ogino.
MKS Slyvan Touring Next Ezy Superior Bicycle Pedal Silver