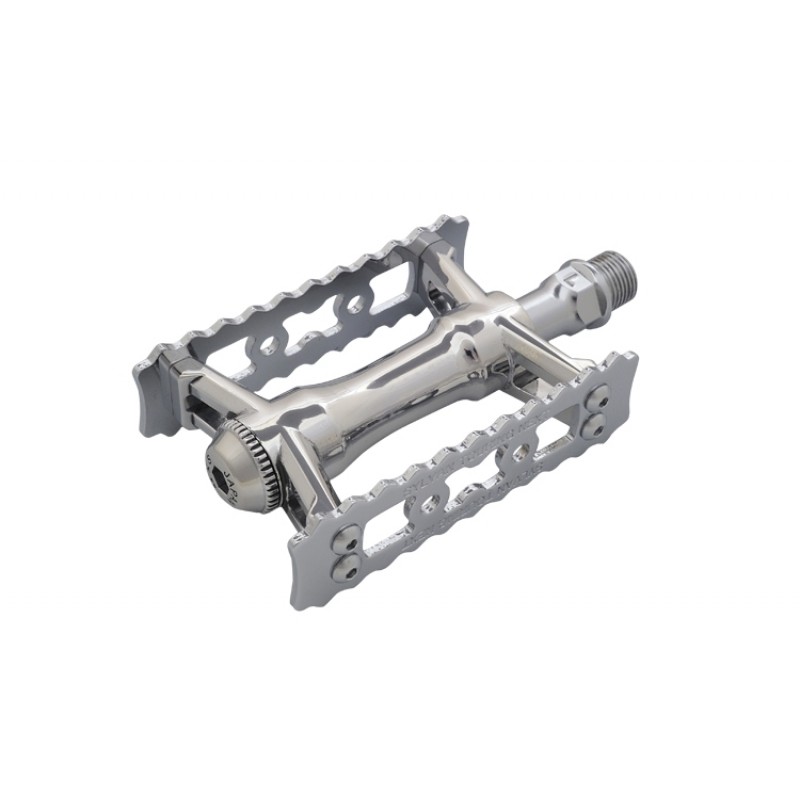 About MKS Sylvan Next Pedal Silver
Renovation towards the NEXT stage with tradition of 40 years heritage
One of the most popular pedal of MKS, SYLVAN TOURING from its first release in 1979, received a renovation to [ NEXT ] stage.
High-spec version of SYLVAN, -NEXT-.
In place of traditional cup & cone bearing system, we adopt triple sealed bearings which produces smooth rotation and maintenance free pedaling.
Highest grade double stepped flat pedal.
Wide step & smooth, low drag bearing may reduce exhaustion and improve pedaling effiency.Thus, especially suitable for long distance touring, or recommended for high quality urban cycling.
53g weight reduction compare with current SYLVAN TOURING, and lower stack height make power transfer efficiently.
To keep pedaling feeling and sophisticated style, we succeeded size & form of current SYLVAN TOURING cage plate.
Mirror finished body and Chrome-plated cage plates provide dignity and quality.
Bolt fixed step plates are replaceable when damaged.
Specifications
Color : Chrome Silver
Body : Highpolished Alloy
Plate : Alloy/CP
Size : W94 x L63
Step Area : Double sided
Bearing : TRIPLE SEALED BEARINGS
Toe Clip : Possible
Reflector : Possible(option)
Purpose : TOURING,CITY
Weight of a pair : 338g
MKS Sylvan Next Pedal Silver