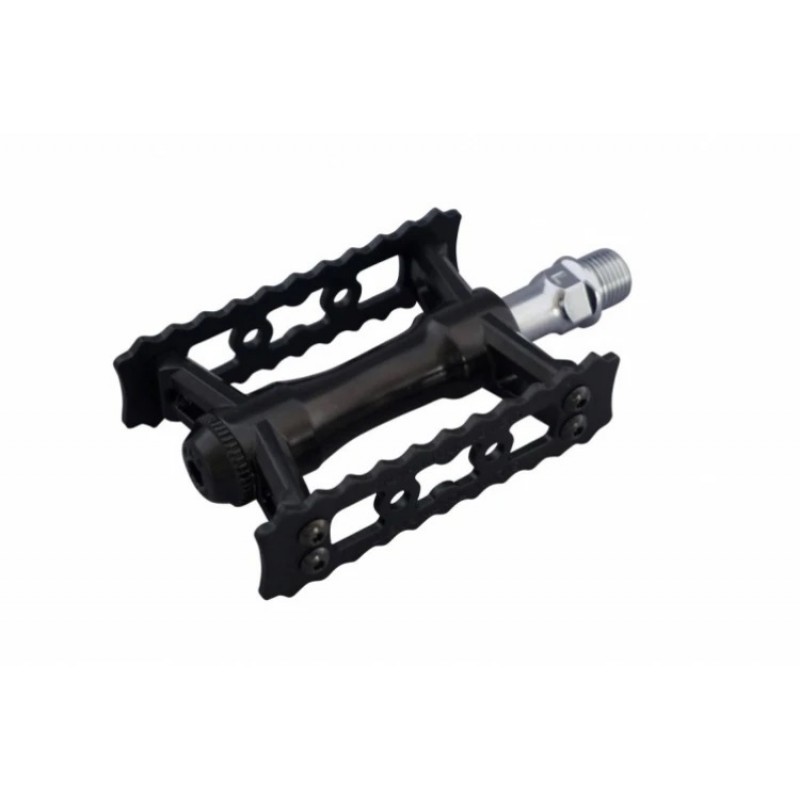 About MKS Sylvan Touring Next Pedal Black
UPGRADE TO THE NEXT STAGE WHILE MAINTAINING TRADITIONAL STYLING
The Sylvan Touring pedal has the largest step area in the Sylvan line, offering various foot position over a 94X63mm area to prevent fatigue. The pedal is double-sided and it is compatible with toe clips and straps to prevent slipping. This pedal works well for a wide variety types of shoes, as the cage plate tooth profile is grippy but not particular aggressive.
The Sylvan Touring NEXT is the first major upgrade to our popular Sylvan Touring which was first released in 1979 and is now available ith our Ezy Superior quick release axle system.
The patented Ezy Superior system allows for safe, rapid, and toolless removal of pedals for travel, storage, or flexibility. Particularly popular as an upgrade for folding bicycles, those who take their bikes on mass transit, or travel bikes with coupler systems our Ezy superior system can dramatical improve ride quality while saving space.
The Sylvan NEXT is our new premium level of pedals that maintains the Sylvan's traditional styling.
The Sylvan NEXT series uses our Triple Sealed Cartridge Bearings- providing a remarkably smooth and maintenance-free rotation at a lighter weight than cup and cone bearings. The low drag bearing improves pedaling efficiency, making the NEXT series ideal for long distance riding
The Sylvan NEXT uses screws to fasten the cage plate to the pedal body making them replaceable- or customisable.
To match the improved performance, we have upgraded the finish of the Sylvan NEXT series. The Sylvan NEXT EZY superior is available in high polish chrome pedal body with high polish chrome step plates, or black pedal body with black step plates.
Do not dismantle the cartridge sealed bearings. These items are pre-adjusted and maintenance free.
Do not inject lubricant into cartridge sealed bearings. Lubrication fluid stimulates grease leakage and shortens the bearing lifespan.
The dust seal cap also functions as the bearing adjuster. If you loosen the cap, it may cause play and premature wear.
Specifications
Colour : Black
Body : High polish Alloy
Plate : Chrome Plated Alloy or Black Anodised Alloy
Size : W94 x L63
Step Area : Double sided
Bearing : Triple Sealed Bearings
Toe Clip : Possible
Reflector : Possible (Option)
Purpose : TOURING/ CITY
Weight of Pair : 338g
Note : Size:W=width(mm), L=length(mm)
About MKS Brand
MKS is the pedal brand of Mikashima Industrial Company Limited. The Mikashima Industrial Company was founded as an aircraft component manufacturer in 1943, converted its operations to pedal manufacturing in 1946, and was established as a limited company in 1949. Our 70+ years of operations have been managed by the Ogino family, and is currently led by President Toshiyuki Ogino with guidance from Chairman Kohichro Ogino.
MKS Sylvan Touring Next Pedal Black