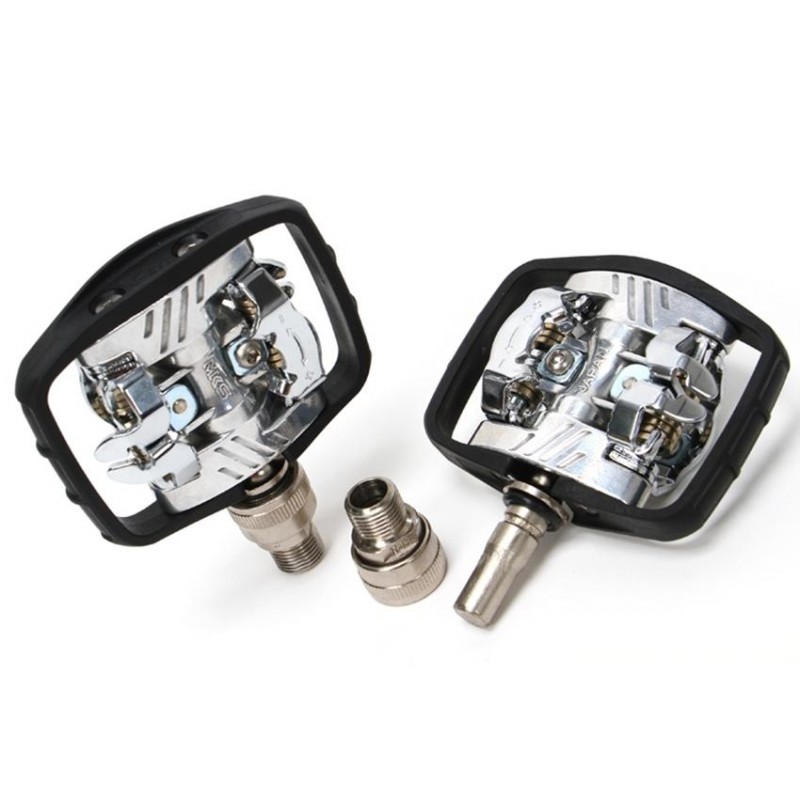 We are now shipping to all ALL ZONES across India. Further, NO DELIVERY is permitted in CONTAINMENT ZONES as of now.
About MKS US-S Clipless Pedal
A top-of-the-line SPD-compatible pedal that can be removed without tools in just seconds using the MKS "EZY" Rinko system: convenient for travel, or to store your bike in tight spaces.
The US-S Nuevo is a top-of-the-line clipless pedal with superbly smooth cartridge bearings. The retention system is similar to that of the Shimano SPD pedals, and the cleats are interchangeable.
With its unique Split Binding System, the US-S pedal securely engages the cleat while riding yet easy release.
It's dual sided mechanism uses the MKS US-S or a Shimano SH51 SPD cleat.
It can be configured with a the larger contact body for road and touring or with lower profile body for XC application.
The Ezy feature allows the pedals to be removed without a tool making it a great option for easy bicycle shipping or storage.
Specifications
Weight: 432 g (pair), 450 g with cage
"EZY" Rinko system (not interchangeable with "EZY Superior")
Super-smooth cartridge bearings
Cleat compatible with Shimano SPD pedals
MKS US-S Clipless Pedal