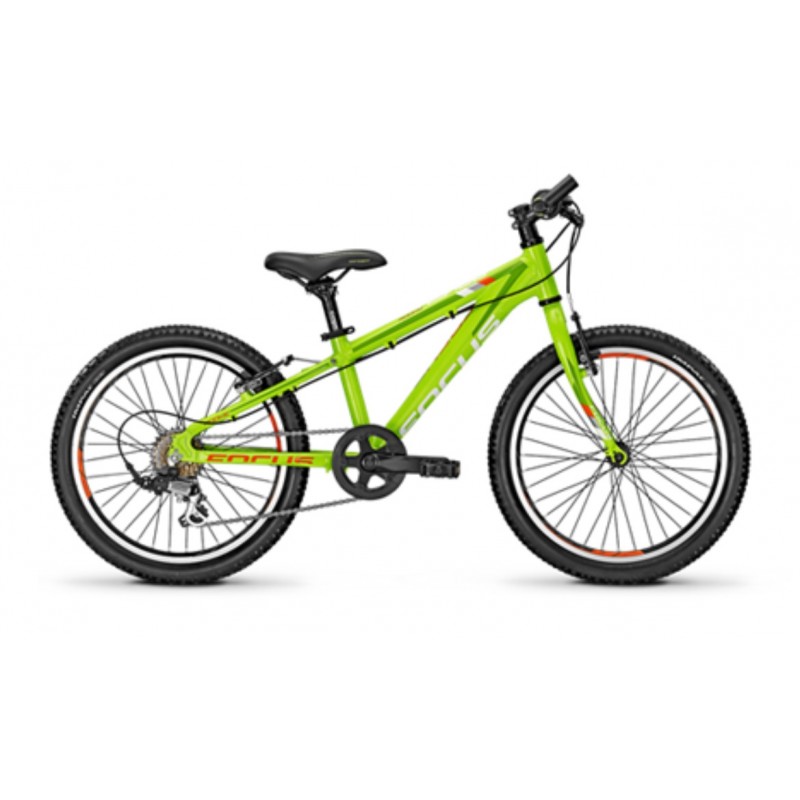 About Focus 20 Raven Rookie 1.0 Kids Mountain Bike 2016 Green Glossy
YOU'RE PREPARED TO COUNT ON FOCUS FROM THE START.
A lifetime of cycling begins with FOCUS. RAVEN ROOKIE is the entry-level bike for ambitious kids. From a balance bike to a mini MTB, from 12″ to 26″ wheels – early birds are valued at FOCUS. The RAVEN ROOKIE has the tried and tested designs of FOCUS at its core. You belong to the FOCUS family.
Specifications
| | |
| --- | --- |
| Colour | Green Glossy |
| Frame | MTB Kid, alloy |
| Fork | Rigid |
| Brakes | V-Brake |
| Cassette | Shimano TZ-21 |
| Rear derailleur | 20R: Shimano RD-FT55D |
| Shifter | SHIMANO SL-RS35 |
| Crankset | Prowheel |
| Gear ratio | rear: 14-28 |
| Handlebar | Flatbar with Barends |
| Stem | Alloy |
| Saddle | 20R: Kid |
| Seatpost | Concept, 27,2 mm, 350 mm |
| Wheelset | Hub front: 9 mm, rear: Nut type, Double Wall, w/o eyelets |
| Tires | 20R: 2.0 |
About Focus
Focus Bikes is a bicycle manufacturer that has its administration in Filderstadt, Germany and production facilities based in Cloppenburg, Germany and builds sport bicycles such as e-bikes, racing bicycles and mountain bicycles.The company was founded in 1993 by Mike Kluge, cyclocross World Champion.
BIKE SPECIFICATIONS
FRAME
MTB Kid, alloy
FORK
Rigid
HUB REAR
Hub front: 9 mm, rear: Nut type, Double Wall, w/o eyelets
HUB FRONT
Hub front: 9 mm, rear: Nut type, Double Wall, w/o eyelets
TIRES
20R: 2.0
DERAILLEUR REAR
20R: Shimano RD-FT55D
DERAILLEUR FRONT
20R: Shimano RD-FT55D
SHIFT LEVER
SHIMANO SL-RS35
CRANKSET
Prowheel
CASSETTE
Shimano TZ-21
BRAKES FRONT
V-Brake
BRAKES REAR
V-Brake
HANDLEBAR
Flatbar with Barends
STEM
Alloy
SEATPOST
Concept, 27,2 mm, 350 mm
SADDLE
20R: Kid
Bike Purchase Policy
The bike will be shipped to the nearest bike setup location within 48 hours of order confirmation. If we do not have a bike setup partner in or around your location, you will have to set it up yourself or arrange a technician.

The bike will be shipped through a reliable courier and the tracking details will be sent by email

The bike setup partner will call you and confirm receipt of bike within 48 hours of receiving the bike. He will also fix up a suitable time for assembling and setting up the bike

The bike will be assembled, set up and handed over to you by the bike setup partner on the agreed day

wizbiker.com offers free shipping on all bikes

Return or exchange of bikes will not be allowed under any circumstances. You may call us if you require any help on sizing or fitting. We also suggest you call us and discuss your requirements and expectations before purchasing a bike.

SPECIFICATIONS AND PRICING ARE SUBJECT TO CHANGE WITHOUT NOTICE. ALL SALES ARE FINAL.
Focus 20 Raven Rookie 1.0 Kids Mountain Bike 2016 Green Glossy