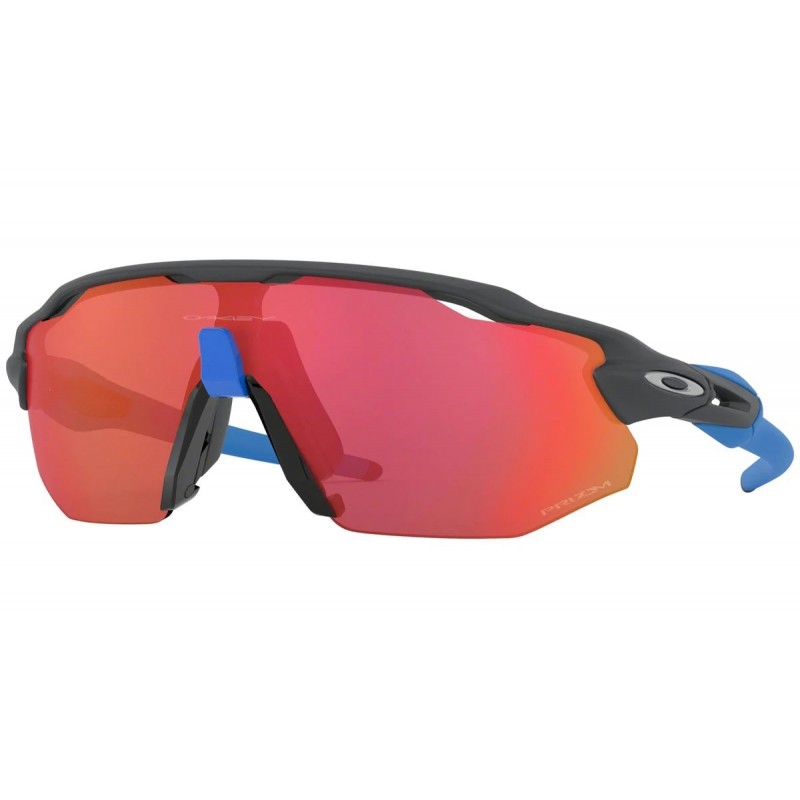 About Oakley Radar Advancer Sunglassses With Prizm Trail Lens Matt Carbon
Oakley® Radar EV Advancer takes the proven performance innovations of Radar EV to the next level with a taller lens shape that creates a new design aesthetic and Oakley® Advancer technology, which is designed to keep you cool and fog-free in the toughest conditions, so athletes can move confidently and seamlessly at any speed.
Description:
NO FOG ADVANCER TECHNOLOGY: Advancer technology is designed to instantly open airflow to combat fogging and overheating
PRIZM™ LENS TECHNOLOGY: Available with Prizm™ lenses that are designed to enhance color, contrast, and detail so athletes can make the most of any activity.
DESIGN: Radar EV silhouette with a larger lens for extended coverage
FRAME MATERIAL: Lightweight O Matter™ frame material provides durability and all-day comfort
UNOBTAINIUM™ NOSEPADS AND TEMPLES: Unobtainium™ nose pads and temples increase grip with perspiration to help keep eyewear securely in place without sacrificing comfort
Features:
Brand: Oakley
Frame color: Black
Frame shape: Single Lens
Lens color: Purple
Frame type: Half-Rim
Material: Plastic
Collection: Men
Lens Material: Plastic
Polarized: No
Manufacturer frame color: Polished Black
Manufacturer lens color: Prizm Road
Specification:
Frame type Half-frame
Frame Material 0 matter
Frame Color Black
Lens Type Standard
IMPACT PROTECTION
Oakley lenses are designed and tested under extreme high mass and high velocity circumstances to ensure uncompromising protection across a wide range of demanding conditions.
What is Prizm Lens Technology?
Oakley's exclusive Prizm lens technology designed to enhance color and contrast so you can see more detail.
Why Cyclist Should Wear Sports Sunglasses?
Sunglasses Protect You From UV Rays While riding,Because sunglasses reduce the overall amount of light entering your eyes, they also prevent bright light from overwhelming your cornea and causing you to squint and redirect your eyes away from road hazards.
About Oakley Brand
Oakley was started by James Jannard in 1975 in his garage with an initial investment of $300. The name ""Oakley"" came from Jim's English Setter, ""Oakley Anne"". Jannard began by selling what he called 'The Oakley Grip' out of the back of his car at motocross events.Oakley, Inc., based in Lake Forest, California, operates as a subsidiary of EssilorLuxottica based in Paris. The company designs, develops and manufactures sports performance equipment and lifestyle pieces including sunglasses, sports visors, ski/snowboard goggles, watches, apparel, backpacks, shoes, optical frames, and other accessories. Most items are designed in house at their head office, but some countries hold exclusive designs relevant to their market. Oakley currently holds more than 600 patents for eyewear, materials, and performance gear.
Oakley Radar Advancer Sunglassses With Prizm Trail Lens Matt Carbon