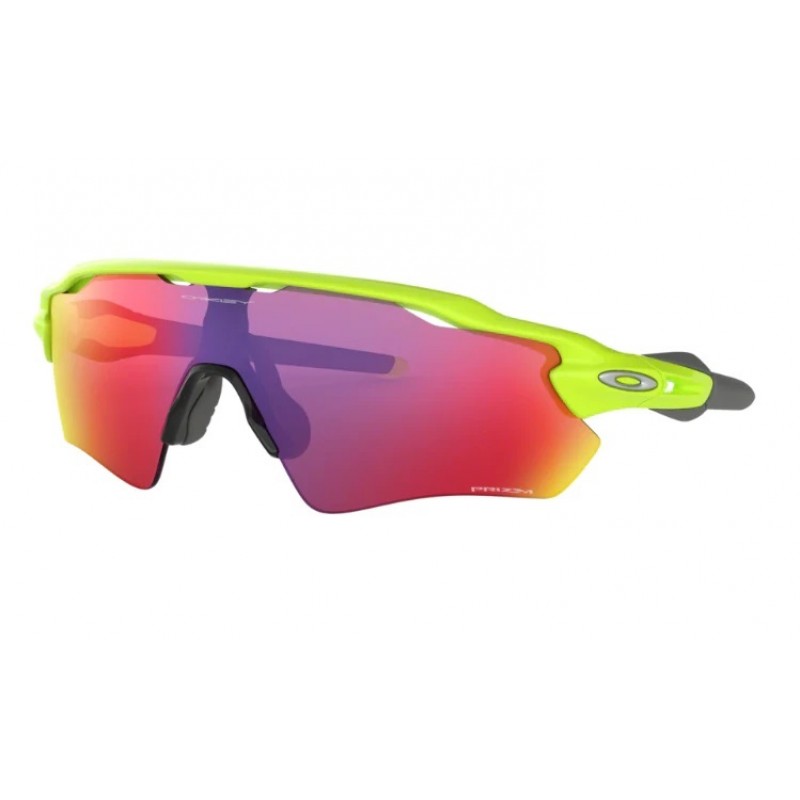 About Oakley Radar Ev Path Sunglasses With Plutonite Lens Retina Burn Prizm Road
The Men's Oakley Sunglasses Radar EV Path (Radar EV Path OO9208-49) is available to buy from Shade Station. It features a frame which is retina burn and has a lens which is prizm road. The Radar EV Path OO9208-49 comes with an official Oakley Sunglasses
Description:
Sunglasses Oakley Radar EV Path OO9208-47 PRIZM are part of the latest Oakley collection carefully crafted for men. This elegant half-rim model reflects the latest trends in contemporary designer eyewear and its single-lens shape makes Oakley OO9208 the perfect choice especially for round, squared, and heart-shaped faces.The material used for the frame is lightweight plastic, providing exceptional reliability and durability. The lenses are engineered to block 100% of harmful UV rays.
Features:
Model: Radar EV Path
Frame Color: Retina Burn
Frame material: O Matter
Lenses Color: Prizm Road
Lens Material: Plutonite
Polarized: No
Fotochromic: No
Prizm Technology: Yes
Lens width / Bridge width / Temple length: 38mm / 138mm / 128mm
Weather conditions: Snow, Low Visibility, Changeable weather conditions
Rate of Transmission: 20%
Gender: Women, Men
Lens Color (F): Orange
Specification:
Frame type Half frame
Frame Material Plastic
Frame Color Retina burn
Lens Type Standard
What is Prizm Lens Technology?
Oakley's exclusive Prizm lens technology designed to enhance color and contrast so you can see more detail.
Why Cyclist Should Wear Sports Sunglasses?
Sunglasses Protect You From UV Rays While riding,Because sunglasses reduce the overall amount of light entering your eyes, they also prevent bright light from overwhelming your cornea and causing you to squint and redirect your eyes away from road hazards.
About Oakley Brand
Oakley was started by James Jannard in 1975 in his garage with an initial investment of $300. The name ""Oakley"" came from Jim's English Setter, ""Oakley Anne"". Jannard began by selling what he called 'The Oakley Grip' out of the back of his car at motocross events.Oakley, Inc., based in Lake Forest, California, operates as a subsidiary of EssilorLuxottica based in Paris. The company designs, develops and manufactures sports performance equipment and lifestyle pieces including sunglasses, sports visors, ski/snowboard goggles, watches, apparel, backpacks, shoes, optical frames, and other accessories. Most items are designed in house at their head office, but some countries hold exclusive designs relevant to their market. Oakley currently holds more than 600 patents for eyewear, materials, and performance gear.
Oakley Radar Ev Path Sunglasses With Plutonite Lens Retina Burn Prizm Road