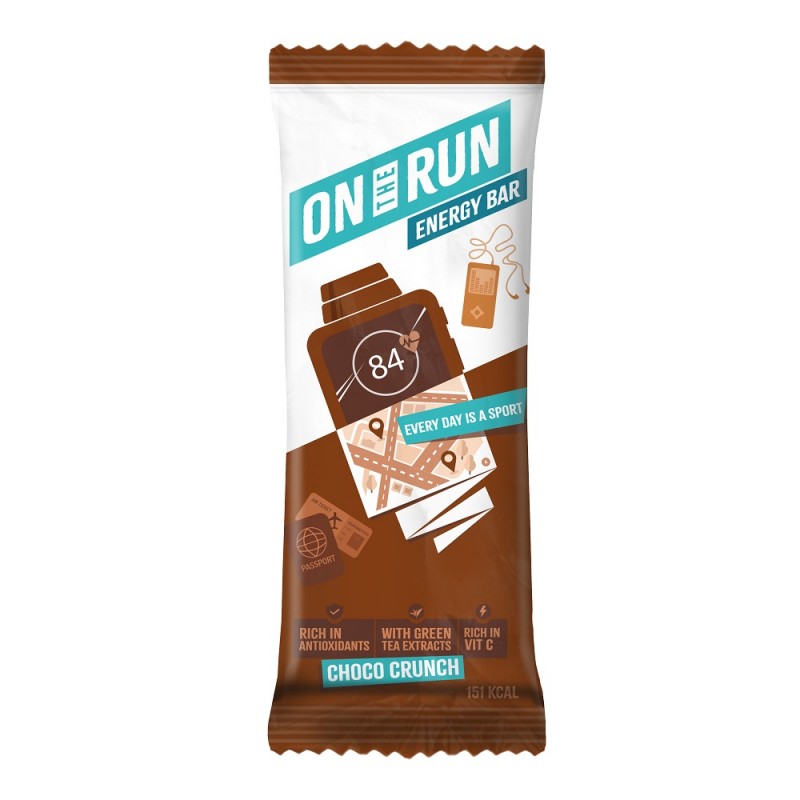 We are now shipping to all ALL ZONES across India. Further, NO DELIVERY is permitted in CONTAINMENT ZONES as of now.
About On The Run Choco Crunch Energy Bars (Pack of 6)
Ragi! our very own healthy grain has made its way into our bars! Ragi puffs, which are super crunchy, combined with oats and crystalized ginger make this bar a perfect tea time healthy snack for all seasons. Green tea extract with its antioxidant properties
Needs that punch? go for the crunch! With crystallized fresh ginger, its perfect companion of tea or coffee.
Coconut Milk gives the rich taste.
Ragi Puffs provide the crunch.
Ginger and green tea extract- perfect combination of antioxidants
INGREDIENTS
Ragi Puffs, Chocolate chips, Oats flour, Honey, Butter, Almonds and Ginger
BENEFITS
SNACK
PERFECT MID MEAL SNACK
| | | | |
| --- | --- | --- | --- |
| NUTRIENTS | VALUE PER 100gms | VALUE PER BAR OF 30 gms | UNIT |
| Total Energy | 464 | 139 | Kcal |
| Carbohydrates | 54 | 16 | g |
| Proteins | 14 | 4 | g |
| Fats | 23 | 7 | g |
About Nutrition On Bike/Energy Bars and Gels
Energy bars and gels are often consumed by cyclists to meet their calorific requirements given the strenuous physical activity. Hunger pangs on the saddle during the ride could easily spoil the fun. For a quick and scrumptious bite, it's better to carry energy bars and gels in your saddle bag or jersey pocket to combat the hunger pangs right before they gets you. They contain complex and easy to dissolve carbohydrates which offer instant energy to get through that tough workout routine.
About On The Run Brand
On The Run – Energy Bars are proudly made in India by Stayfit Enterprize Pvt. Ltd. Stayfit Enterprize is founded with a primary objective to create a healthy line of products, that will live up to the natural goodness of its ingredients. It's to encourage people to adopt healthier eating options for a sustained good life. At Stayfit Enterprize, the immensely trust in the goodness offered by nature and it is sincerely believe that is possible to create great tasting, healthy and nutritious product without giving in to the artificial flavors and colors.
On The Run Choco Crunch Energy Bars (Pack of 6)