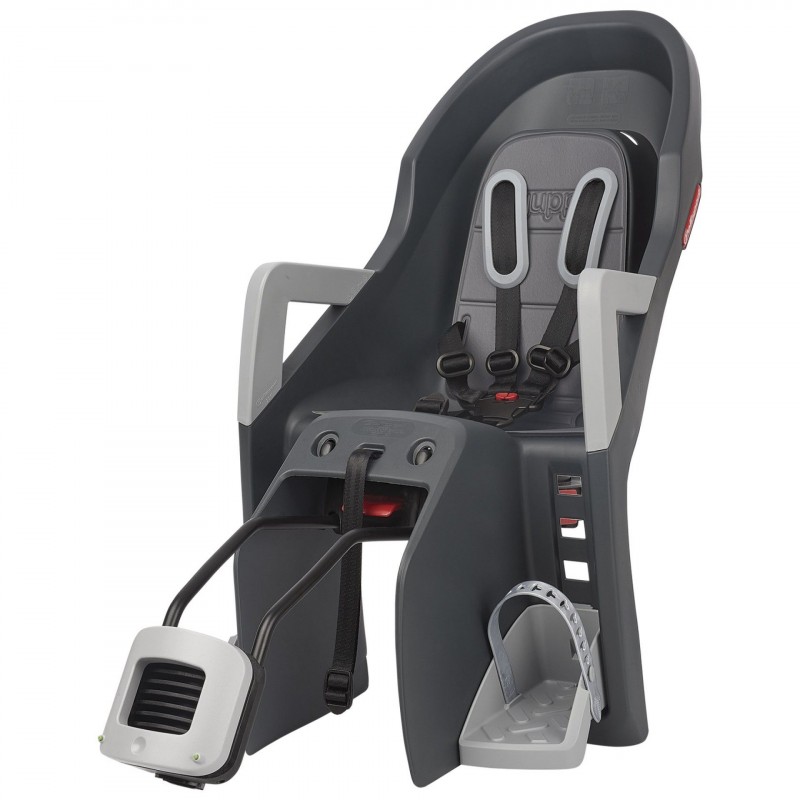 We are now shipping to all ALL ZONES across India. Further, NO DELIVERY is permitted in CONTAINMENT ZONES as of now.
About Polisport Guppy Maxi + RS Cycle Baby Seat
Guppy RS Plus has a new reclining system that allows the cyclist to recline the seat in 2 positions up to 20º, without having to remove the child from the seat, and do it with the greatest comfort and safety for both the child and the cyclist.

The system has been developed so that it can be unlocked, reclined, and locked again only by the adult user. The child will not be able to handle the system, thus preventing any eventual accident, guaranteeing the safety of the direct and indirect users.

The possibility of reclining a child seat for a bicycle is very important since increasingly, the bicycle is seen as a reliable, sustainable, economic and, therefore, logical family mode of transportation.
Security:
Armrest for comfortable protection of the child's hands.
Grows with your child - adjustable 5-point safety belt with comfortable shoulder straps.
1 rear reflective safety sticker.
Childproof safety buckle.
Extra safety belt.
Greater foot protection avoiding contact with the wheel.
Locking/unlocking and reclining button can only be operated by the adult
Comfort:
New reclining system ? in just a few seconds easily reclining your seat and child, by unlocking the safety knob and choosing one of the 3 available positions (0º, 10º, 20º). With this new system, you can recline the seat with the child on it.
Grow with your child - 2 option in height for placing the safety harness
Grow with your child - adjustable footrests in 4 positions
New Waterproof and easy to clean cushion
The universal quick release holder allows to install/release the baby seat from the bike in seconds and is compatible with most bike frames. This also means that?s really easy to commute or store the seat
Ability to move the seat backward and forward in 3 positions, according to child and bicycle size.
Standards:
Complies with TÜV GS - EN 14344
Others Features:
Design inspired by the automotive industry
Small luggage compartment - maximum 1 kg / 2,2 lb
All tools and mounting kit required for assembling the seat are included.
Baby Seat application:
Frame mounting system
This baby carrier can be applied on bikes with and without pannier rack.
Fits on round and oval tubes with 28 to 40 mm.
Space required to apply the fixing clamp: 105 mm.
We recommend the installation of this baby carrier on bikes with 26"" and 28"" wheels.
This carrier cannot be mounted on bicycles with carbon frames,
Triangular and square frames.
This carrier cannot be mounted on bikes with rear shock absorbers.
This carrier cannot be mounted on racing bikes with inverted handlebars.
This carrier cannot be mounted on motorised vehicles such as motorbikes, mopeds and scooters.
Child Weight:
9 to 22 kg / 19,84 to 48,5 lb
Seat Weight:
Seat Dimensions:
Width 413x height 768x depth 500
About Polisport Brand
Polisport Group, is an international company founded in northern Portugal, in the 80´s. Nowadays the Group employs 360 permanent personnel and works with most important companies from both sectors of activity - bicycle and motorbike. The Polisport Group brands are spread across 70 countries worldwide.
Polisport Guppy Maxi + RS Cycle Baby Seat