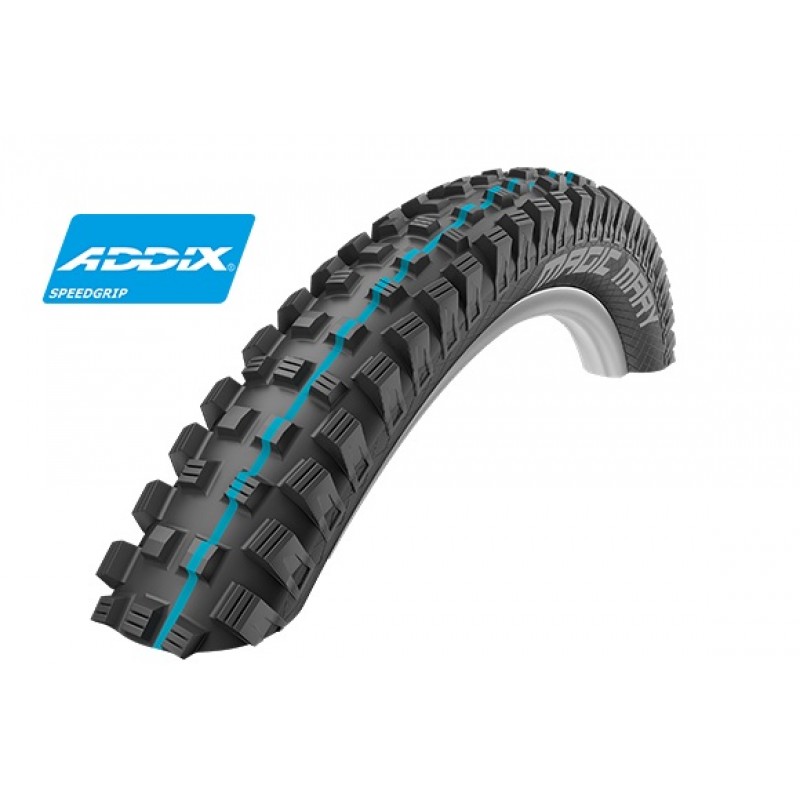 About Schwalbe Magic Mary MTB Wired Tire 60-584 ( 27.5x2.35 )
The perfect choice for virtually any track. Intermediate tread: maximum braking traction and cornering grip even in extremely muddy terrain thanks to strong shoulder studs and the aggressive, open tread design.
Specification
ETRTO: 60-584
Size: (27.5x2.35)
Typ: Wired
Compound: Addix
Execution: Bikepark, E-25
Color: Black
Skin: Twin
Weight: 1475 g (52 oz)
Pressure: 1.60 - 3.50 Bar (23 - 50 psi)
Maximum load: 115 kg
EPI: 20D2
Profil: HS447
Article number: 11100977.01
EAN: 4026495833509
Tube: 19,21,19A,21A,21F
About Bike Tires
Investing in a good robust bike tire means no stopping over punctures, care-free ride over potholes, shards and other picky objects sprawled all over the road. Before you buy a bike tire, make sure you're aware of the correct bike size, your purpose of buying a specific tire and what kind of bike riding(road, urban, off-road) you're into. Road tires are sleek and smooth, can retain high pressure. Hybrid tires are suitable for everyday city rides whereas mountain bike tires come equipped with treads for firm grip and handling over the uneven surface.
About Schwalbe
For over 70 years Schwalbe has dominated the two wheeled tire industry in Germany and Europe, being voted best MTB tire brand in Germany for the past two years. From the very early beginnings where the company founder, Earnest-Wilhelm Bohle capitalized on the developing cycle industry, to the ultra modern distribution facility near Cologne, Schwalbe has continued to design and manufacture some of the finest bicycle tires available. Schwalbe's success is due in part to the effort it makes in product development from lab tests at the manufacturing facility to the hardest proving grounds of all, professional cycle racing. 'Team Gerolsteiner' achieved a very creditable 7th place overall in 2004 Tour de France and the unique performance of team captain Davide Rebellin winning three major classic races back to back using Schwalbe tire. Other notable successes include Normann Stadler winning the infamous Ironman triathlon in Hawaii, riding Schwalbe Stelvio tires.
Schwalbe 60-584 (27.5x2.35) Magic Mary MTB Wired Tire