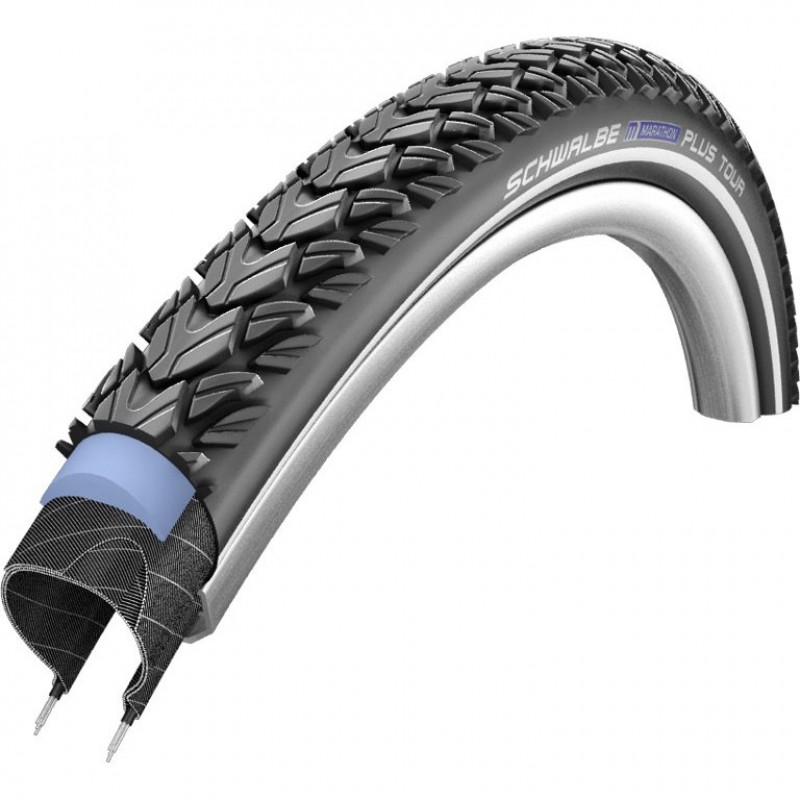 About Schwalbe Marathon Plus Tour 47-559 (26x1.75) Mountain Bike Tire
Nothing is ideal. But, Schwalbe Marathon Plus is. There're no two opinions about Marathon Plus being an ideal tire which you and your bike will appreciate for years(probably a little less than half a decade) to come. Already sold over millions of tires worldwide, it's Schwalbe's best selling model.
Schwalbe calls it "FLAT LESS TIRE". With its 5mm thick puncture protection belt, Schwalbe isn't wrong. Made from highly elastic special rubber, this unique and patented puncture protection SmartGuard layer(most effective protection belt by Schwalbe) is so tough that even thumbtacks are no fret, raising the bar a little too high for puncture-proofing technologies used in tires nowadays.
Due to its 5mm thick Indian rubber puncture protection belt, the tire weighs 900g. The weight should affect the rolling characteristics, but when compared to other tires with puncture protection belts of comparable thickness, Schwalbe Marathon rolls fairly lighter than the other.
As the tire age, the sidewall of the tire is prone to cracking. Equipped with Endurance Compound, Schwalbe Marathon is extremely resistant to sidewall cracks. It's one of the most durable tire in the industry and rolls for thousands of kilometers.
To give you the idea of its durability(and other features), Schwalbe Marathon is an E-bike ready tire. Special tires are required for E-bikes. Special means a tire which is extremely stable, durable and comes equipped with highly-appreciable puncture-proofing abilities.
It sure sounds like a one-time investment, but look at all the tires(and inner tubes) you wouldn't have to change/replace in coming, say 5 years. And no stopping over punctures, either.
Buy Schwalbe Marathon Plus Tour 47-559 (26x1.75) Mountain Bike Tire online in India at wizbiker.com. Free shipping.
Top Features
5mm thick Indian rubber puncture protection belt
Anti-aging sidewall, extremely resistant to cracking due to harsh weather or inadequate air pressure
Reflective strip for better visibility in low light
E-bike ready tire
Specification
Size: ETRTO 47-559 (26 x 1.75 Inch)

Type: Wired

Compound: Endurance

Execution: SmartGuard

Color: Black-Reflex

Skin: Twin

Weight: 980 g (34 oz)

Pressure: 3.00 - 5.00 Bar (45 - 70 psi)

Maximum load: 115 kg

EPI: 67

Profil: HS404

Article number: 11131404

About Bike Tires
Investing in a good robust bike tire means no stopping over punctures, care-free ride over potholes, shards and other picky objects sprawled all over the road. Before you buy a bike tire, make sure you're aware of the correct bike size, your purpose of buying a specific tire and what kind of bike riding(road, urban, off-road) you're into. Road tires are sleek and smooth, can retain high pressure. Hybrid tires are suitable for everyday city rides whereas mountain bike tires come equipped with treads for firm grip and handling over the uneven surface.
About Schwalbe
For over 70 years Schwalbe has dominated the two wheeled tire industry in Germany and Europe, being voted best MTB tire brand in Germany for the past two years. From the very early beginnings where the company founder, Earnest-Wilhelm Bohle capitalized on the developing cycle industry, to the ultra modern distribution facility near Cologne, Schwalbe has continued to design and manufacture some of the finest bicycle tires available. Schwalbe's success is due in part to the effort it makes in product development from lab tests at the manufacturing facility to the hardest proving grounds of all, professional cycle racing. 'Team Gerolsteiner' achieved a very creditable 7th place overall in 2004 Tour de France and the unique performance of team captain Davide Rebellin winning three major classic races back to back using Schwalbe tire. Other notable successes include Normann Stadler winning the infamous Ironman triathlon in Hawaii, riding Schwalbe Stelvio tires.
Schwalbe 47-559 (26x1.75) Marathon Plus Tour Mountain Bike Tire