About Sigma Sport BC 23.16 STS Wireless Bike Computer
The super logger
The BC23.16 STS is the computer designed for athletes. It is loaded with all of the necessary training functions including heart rate, cadence, altitude and gradient. Plus, all transmitters are included! One of the highlights of the BC23.16 STS is its enormous logging capacity of up to 500 hours.
Previously saved rides can be converted into an opponent for a "ghost race" with the SIGMA DATA CENTER. And NFC technology allows the BC23.16 STS to communicate with Android smartphones and the SIGMA LINK app.

The sporty one
In addition to all the important cycling, altitude and heart rate functions, your BC 23.16 STS also displays the cadence.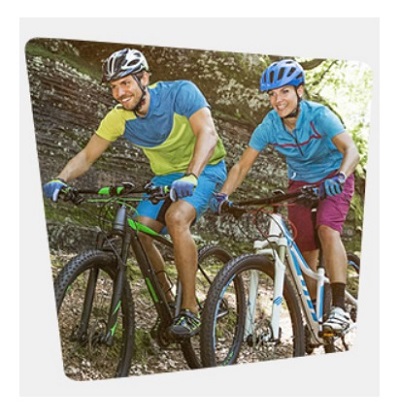 Enormous logging capacity
You can save up to 99 logs on your BC 23.16 STS. This results in a total log of up to 500 hours at a log interval of 20 seconds.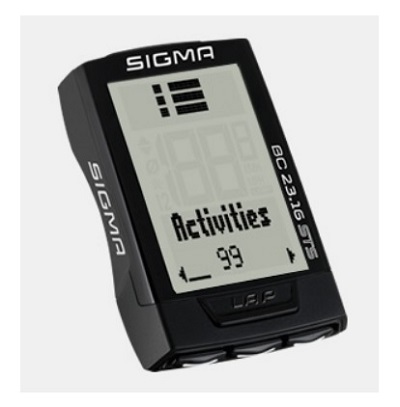 Become your own opponent
Load your already finished trip from the DATA CENTER as "ghost" on your BC 23.16 STS and compete against him.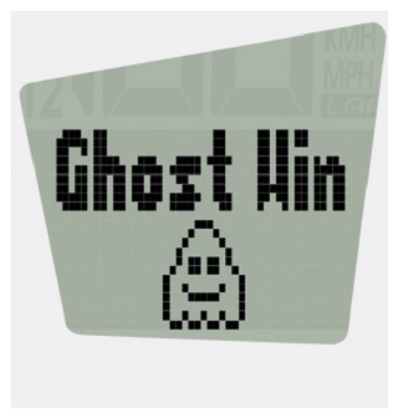 Numerous features, easy operation
The BC 23.16 STS not only scores with its many features but also by its ease of use. Whether bike functions, altitude functions, heights functions or laps, there is a button for each area that quickly gives you an overview.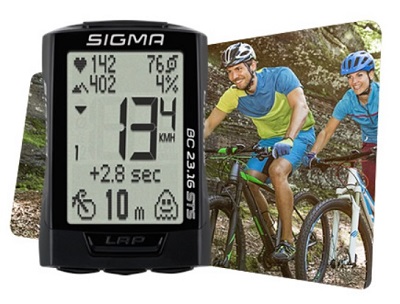 Including detailed data analysis with all transmitters
The BC 23.16 STS displays all the important bike, altitude and heart rate functions. An altitude profile is created just like a heart rate graph. In the altitude view you can read, inter alia, data on the current altitude, current ascent/descent, total height and the uphill/downhill altitude in metres of the current trip. Moreover the current as well as the average and maximum cadence are displayed. All necessary transmitters are included in the scope of delivery.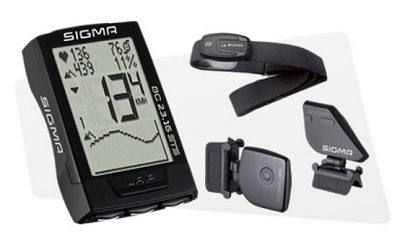 Enormous logging capacity
You can save up to 99 logs on your BC 23.16 STS. This results in a total log of up to 500 hours at a log interval of 20 seconds.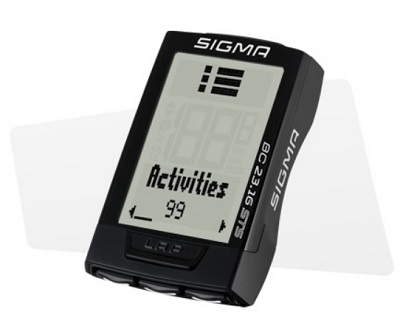 50 Laps
The BC 23.16 STS can store up to 50 laps per trip. For the super fast operation there is an extra lap button. There is detailed data available for each lap that can be analysed in the lap view. You can scroll through the values of each lap or select a value and compare the laps with each other.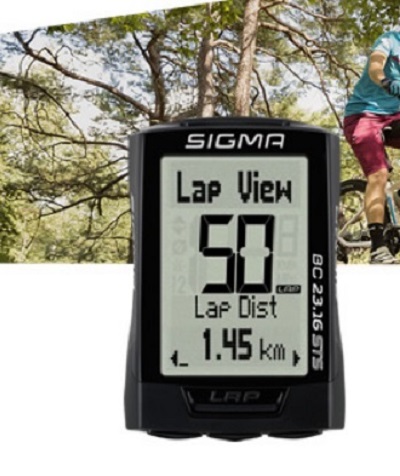 Ghost Race
One data set can be selected from the stored log data using the DATA CENTER, which serves as a virtual opponent for a "ghost race". On the display the rider can always see the time and route distance from the "ghost" and who is leading.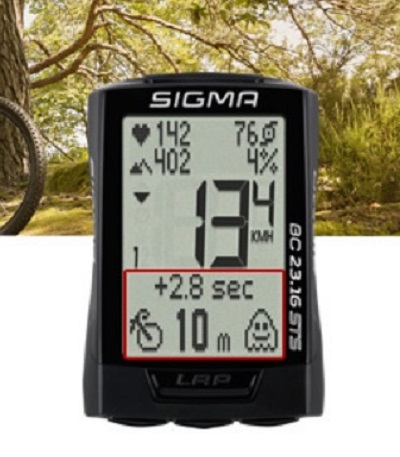 NFC & SIGMA LINK
The BC 14.16, BC 16.16 and BC 23.16 models can communicate directly with an Android smartphone via NFC (near field communication). To do so, you must install the free SIGMA LINK app. For wireless data exchange, simply hold your smartphone up to the computer. The app can be used to change settings and read trip data.
The data can be transferred from the smartphone into the DATA CENTER via the SIGMA CLOUD. Conversely, it is also possible to transfer data from the DATA CENTER onto the smartphone via the CLOUD.
The free SIGMA LINK app is available in the app store and Google Play store. The NFC technology is only available for Android smartphones.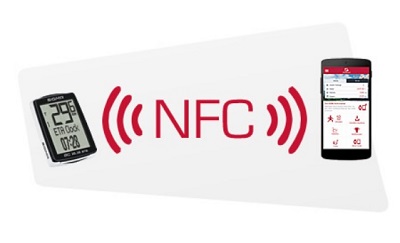 Power in watts
The BC 23.16 STS calculates your current and average performance in wattage. Thus you can always compare your performance.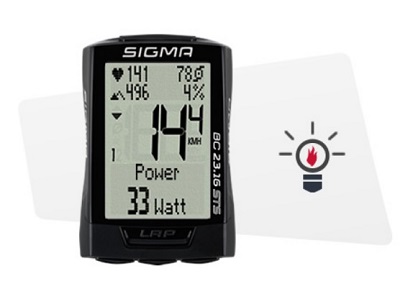 Temperature display
All models from the BC 14.16/STS/CAD to the BC 23.16 have a temperature indicator. This shows the current temperature of your environment at all times.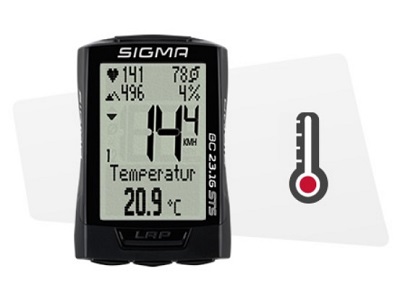 Speed comparison
A comparison of the current and average speed. While cycling, a permanent comparison is made of your current and average speeds. The difference is indicated by an up or down arrow. When moving at approximately the average speed, no arrow is displayed.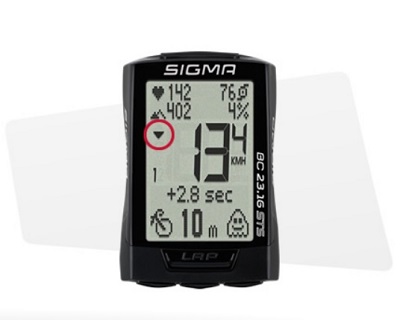 Adjustable wheel sizes
When using two bikes, two wheel sizes can be set that are automatically (automatic only for STS) detected. To use this function, the speed transmitter must be switched to that on the second bike and the right wheel circumference for 'bike 2' must be set on the BC 23.16 STS.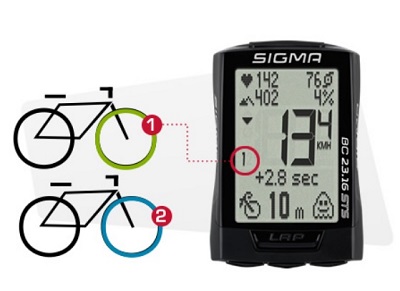 Integrated storage chip
Thanks to an integrated memory chip in the computer head unit, all the total values and settings are permanently stored in the device. After changing the battery, you therefore only need to reset the time.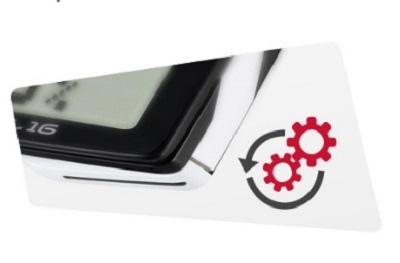 Information on the power status
All devices from BC 23.16 STS upward come with a battery status indicator. The power status of the battery in the computer head unit or STS transmitter is checked at regular intervals. If the battery is low, an early warning is displayed on the computer head unit.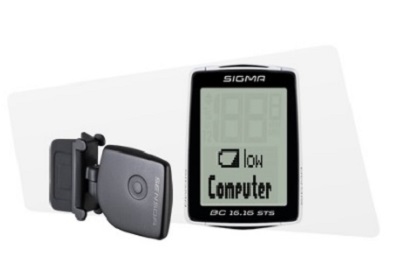 Bike inspection reminder function
Thanks to the service interval, you are reminded to submit your bike to an inspection after a freely selectable number of kilometers cycled. The service interval can only be enabled/disabled and pre-configured by the retailer. The retailer can set the desired number of kilometres using the UNIVERSAL FAST SETTING BOX. The device comes with the service interval disabled.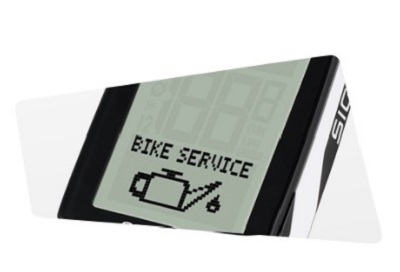 Maximum display, minimum size
The design of the TOPLINE 2016 is vertically oriented and perfectly fits the handlebar stem with the sleek design. The new shape allows for improved display options of the functions. This means, for example, that the speed of the BC 23.16 STS is shown in large characters and is always visible in the three-line display.
Housing
Height x width x depth : 66,5 mm x 44 mm x 12,5 mm
Display
Height x width : 30 mm x 45 mm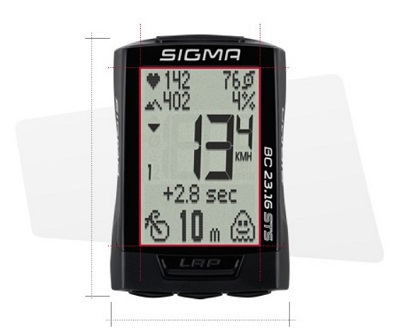 Button functions
Menu (top)
Press and hold button: opens Settings
Short button press: backward through Bike/ Alti/ Heart rate/ Lap menu
Alti (bottom left)
Forward through the Alti functions
Heart rate (bottom middle)
Forward through the Heart rate functions
Bike (bottom right)
Forward through the bike functions
Lap (below display)
Short button press: starts new lap
Press and hold button: opens Lap menu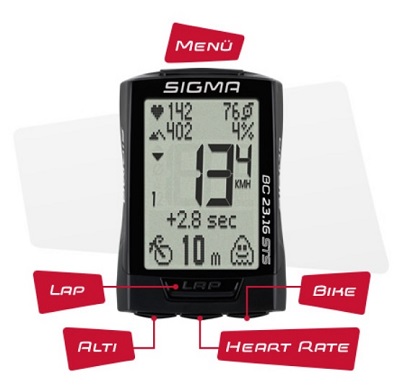 Animated menu navigation
Small graphics facilitate the orientation in the BC 23.16 STS menu. They show workout graphics in the height profile and settings menu field. A scroll bar indicates where you are currently.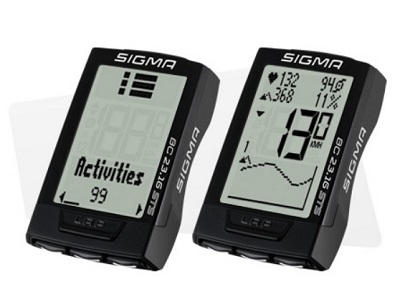 Digitally encoded three-channel wireless transmission
The tried-and-tested SIGMA TRANSMISSION SYSTEM (STS) is the digitally encoded transmission system for all transmitter data from the speed transmitter, the cadence transmitter, and even the heart rate transmitters for the high-quality basic devices and top models. The transmitters collate the data they have received and send this to the receiver integrated into the computer as a data package. The transmitters also regularly send stored test data for data comparison purposes.
The digital encoding of the SIGMA TRANSMISSION SYSTEM prevents transmitter data from being corrupted by external interferences such as power sources or other transmitters. The interference of Sigma products, e.g. LED lights, can also be prevented.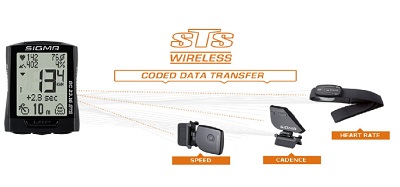 New STS transmitter
The STS transmitter has a movable mounting foot, which ensures an optimal mounting of the transmitter in every situation. Transmitter and magnet can therefore always be installed in parallel. This results in a more stable radio transmission.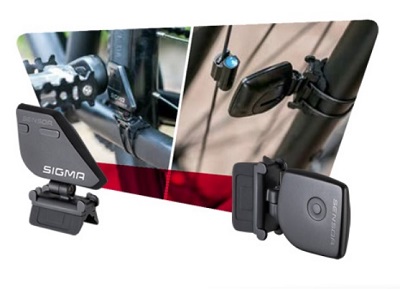 Backlight
Light on, quite simple. Enable light mode and the display is illuminated with every other push of the button.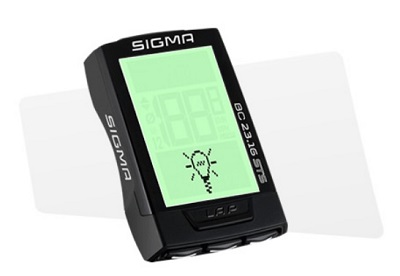 Watertight
The BC 23.16 STS is waterproof according to the international standard IPX 8. This means there is "protection against permanent immersion". Nothing stands in the way during the next ride in the rain.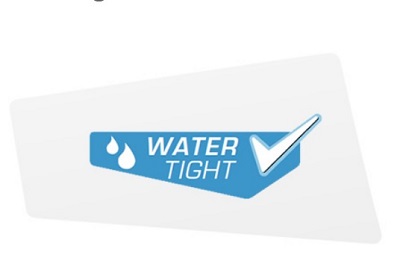 Click-magnets
Both new magnets (normal & power) are equipped with a click-mounting mechanism. This makes installation even easier. Devices can also be removed without tools.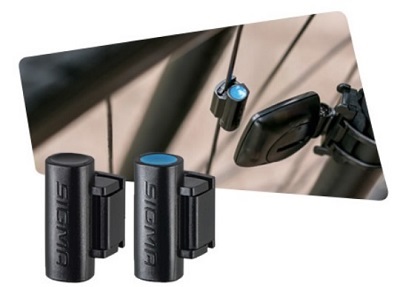 Cadence magnet
The new cadence magnet can be attached directly on the inside of the pedal without further aids. Since it is very thin, the risk of friction with the transmitter is avoided even in tight spaces. In order to function well with larger distances from the sensor or with non-magnetic pedal axles, two plastic clip holders for the magnet are also included in the delivery.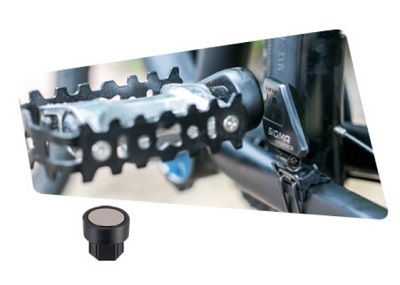 Bike functions
Ride Time / Training time
Day trip
Total calories for several bikes
Temperature
Comparison of cur. / avg. Speed
Total calories*
Total distance
Total ride time for several bikes
Actual Speed
Maximum speed
Total distance for several bikes
Total Ride Time / Overall training time
Clock (12/24h)
Average speed
Calories (HR based)
Automatic start/stop
Altitude functions
Current incline/downward slope (in %)
Total altitude downhill
Current altitude
Total distance downhill
Current rate of ascent / descent
Distance downhill
Total altitude uphill for several bikes
Total altitude uphill
Total altitude downhill for several bikes
Distance uphill
Total distance uphill
Adjustable start altitude
Maximum altitude
Altitude uphill
Altitude graph
Altitude downhill
Heart rate functions
Intensity zones (graph)
% HR max.
Maximum heart rate
Target zone bars
Zone alarm ON / OFF
Current heart rate
Heart rate graph
Average heart rate
4 Intensity zones
Cadence functions
Current cadence
Maximum cadence
Average cadence
Power functions
Average power
Current Power (calculated)
Lap functions
Elevation gain in lap
Distance in lap
Calories in lap
Maximum cadence in lap
Maximum heart rate in lap
Time in lap
Number of laps
Maximum speed in lap
Average speed in lap
Elevation loss in lap
Average cadence in lap
Average heart rate in lap
General
Display zoom function
UFSB 2016 compatible
Watertight in accordance with IPX8
Tool-free mounting
Transmitter battery warning
Energy-saving mode
Programmable based on tire selection
STS transmission
Service interval adjustable via UFSB
Ghost Race
Log Interval adjustable
Log capacity
Graphic data evaluation in the DATA CENTER
Data communication via TOPLINE 2016 docking station
Data Logging
My Screen function
My Name function
Logging data (activities) retrievable
Computer battery warning
LINK APP Connecttion via NFC (Android)
Contrast adjustable
12 months of workout statistics
Device Settings adjustable via LINK App
Device Settings adjustable via DATA CENTER
Automatic pairing
Automatic bike recognition (Bike 1 / Bike 2)
Back-up function via memory chip (Totals and Settings)
Available languages: 7
Barometric altitude measurement
Backlight
About Sigma Sport
Sigma Sport is a German manufacturer of electronic sports equipment Founded in 1981. Over the last 25 years Sigma Sport has evolved from a pop-up shop run from a founder's bedroom, to an international retailer, with a flagship store that attracts visitors from around the world.
Sigma Sport BC 23.16 STS Wireless Bike Computer