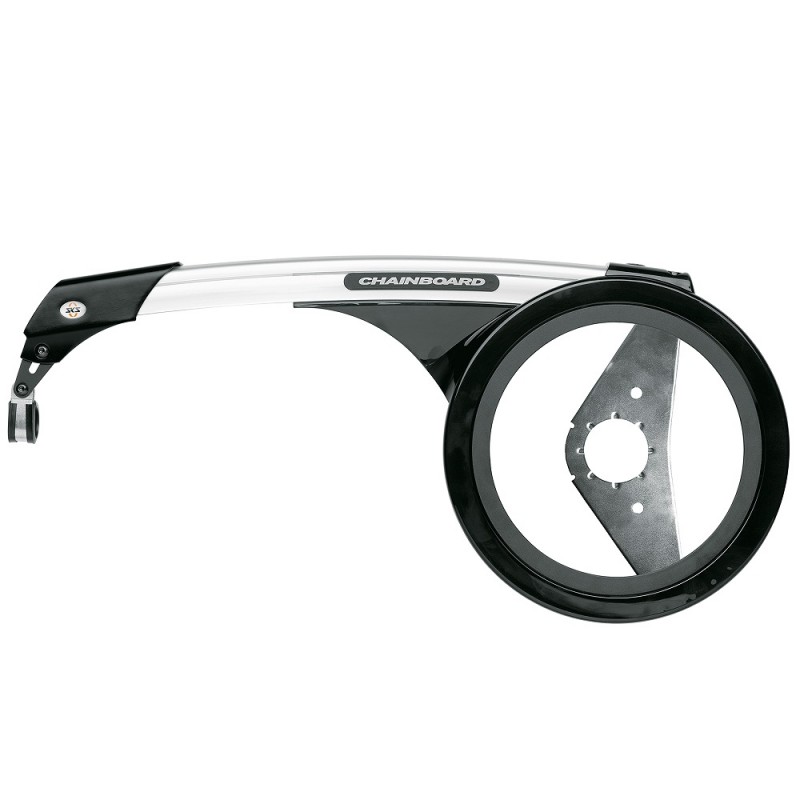 We are now shipping to all ALL ZONES across India. Further, NO DELIVERY is permitted in CONTAINMENT ZONES as of now.
About SKS Chain board Max 46 48 Teeth
Bike mudguards may save you from water/rain/dirt sprays shot up by the tires. Thankfully, no dirt marks on your back and front during/after the commute. But the dirtier parts such as the drive train and chain are still open to scrutinizing your clothing in ways that you'd squirm at the stubborn grease marks for years to come. And it goes without mention, using a bicycle chain board/guard also add life to the bike chain and the crankset that comes in contact with the dirt and sand.
SKS Chainboard made from shock resistant plastic elements and SKS-Chromoplastics-Technology(identical to SKS mudguard construction) is extremely lightweight yet rugged, thus, offering higher stability.
For installation, crank and bottom bracket have to be disassembled. You may need some external/expert help to get the SKS bicycle chain board installed on your bike. It's suitable for trekking, hybrid, cross and mountain bikes with front derailleur as well.
Top Features
Adaptable to the length of the chain stay
Suitable for trekking, hybrid, cross and mountain bikes with front derailleur
SKS-Chromoplastics-Technology used in its construction
Specification
Product Features

Art.No.: 10018

Color: silver

Size: 199 mm, 46 - 48 teeth

About SKS
Driven by firm conviction and out of tradition, SKS Germany have been developing, designing, constructing and producing bicycle accessories since 1932 in their company based in Sundern, Germany. The slogan "Made in Germany" is not just an empty promise to them, but reflects their high standards in quality, function and design. A rider can experience this with every single one of their branded lines. SKS is best known for Chromoplastic and Bluemels full length fenders. Chromoplastics are the benchmark for top quality with Secu clip release systems, flexibility and elegance. High quality mini-pumps and frame pumps, precise air pumps, compact bicycle tools, chain guards, bottles, bottle holders and saddle bags have also been integrated into the SKS range of products to provide for even more comfort and safety while cycling. SKS. For carefree cycling.
SKS Chain board Max 46 48 Teeth