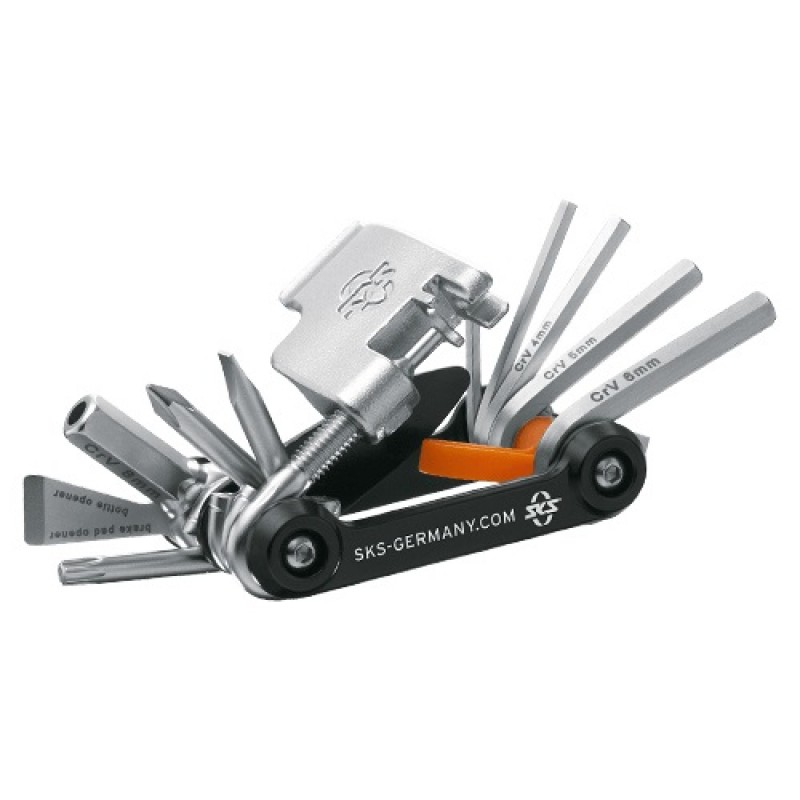 SKS TOM 18 Mini Bike Tool Kit
It's not okay to be stranded on a long ride just because you weren't carrying a tool kit, err mini tool kit. There're few mini bike tool kit which can come in handy when you're away from home, away from any mechanical, technical help which could fix your bike.
The tool consist of 18 different tools which could rescue you any bike issue and allow you to ride care free. The tools are Screwdriver, tire lever, chain tool, spoke key, allen key 2.5, 3, 4, 5, 6, 8, bottle opener(brake pad opener), torx key(Magura, Shimano Disc T-25).
Dragging your bike home or riding it like everyone makes all the difference. It's wise to carry all the essential mini tool kit, puncture patch and hydration supply in plenty to support all your ride.
Buy SKS TOM 18 mini bike tool kit online in India at wizbiker.com. Free shipping.
Top Features
All metal mini bike tool kit
18 functions is all the help you can get.
Specification
art.No.: 10016

material: stainless steel

weight: 184 g

functions: 18

About Bicycle Tools
A mere bike tool can save you from long walk home or common bike machinery issues(repairing a broken chain, adjusting a rubbing brake, to tighten a loose nut are some common example). They're compact yet powerful with the Allen heads, flat screwdriver, and other basic functionality they're equipped with.
About SKS Germany
Driven by firm conviction and out of tradition, SKS Germany have been developing, designing, constructing and producing bicycle accessories since 1932 in their company based in Sundern, Germany. The slogan "Made in Germany" is not just an empty promise to them, but reflects their high standards in quality, function and design. A rider can experience this with every single one of their branded lines. SKS is best known for Chromoplastic and Bluemels full length fenders. Chromoplastics are the benchmark for top quality with Secu clip release systems, flexibility and elegance. High quality mini-pumps and frame pumps, precise air pumps, compact bicycle tools, chain guards, bottles, bottle holders and saddle bags have also been integrated into the SKS range of products to provide for even more comfort and safety while cycling. SKS. For carefree cycling.
SKS TOM 18 Mini Bike Tool Kit