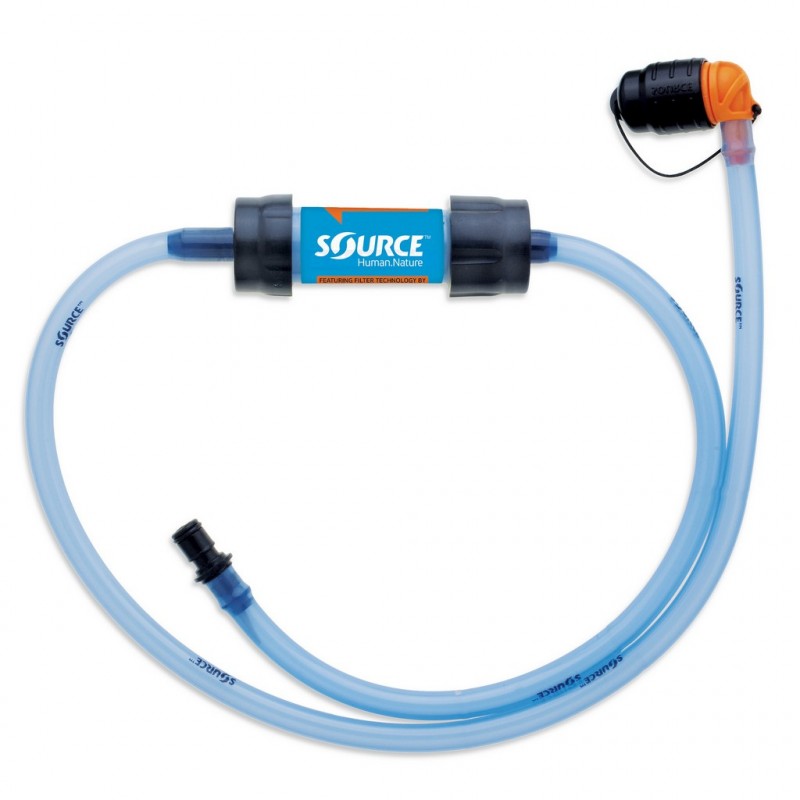 We are now shipping to all ALL ZONES across India. Further, NO DELIVERY is permitted in CONTAINMENT ZONES as of now.
Source Tube kit + Sawyer filter for Hydration Pack
Our new line of outdoor products in cooperation with Sawyer Mini Filters: Fill and re-fill your SOURCE from any source, thanks to the fitted in-line filter!
Re-fill your SOURCE from any source
Attach this filtering hydration tube to any reservoir - and enjoy pure water anywhere you go, without depending on tap or bottled water to refill your hydration system. The Sawyer Mini Filter eliminates 99,99999% of bacteria and protozoa, surpassing EPA recommendations. No chemicals needed - simply backwash the filter in intervals to ensure maximum water flow.
How it works
As you drink, the water passes through the side walls of the filter's micro-fibrous tubes, harmful bacteria and protozoa are trapped in the outer walls so you can be confident your water is safe to drink.
Long lasting
Filter up to 100,000 gallons from freshwater lakes, rivers or streams. Sawyer filters are so robust, they can be backwashed and reused over and over. No replacement cartridges needed.
Highest Efficacy
Removes 99,99999% of bacteria (Salmonella, cholera and E.coli) and 99,9999% of protozoa (cryptosporidium and giardia), exceeding EPA recommendations for removal rates. No chemicals or batteries required.
About SourceOutdoor
SOURCE is a groundbreaker in Hydration Systems and Sandals technology and is well known for tactical gear, hiking sandals, hydration and travel accessories for over 20 years. SOURCE (Shoresh in Hebrew) was founded in 1989 by Yoki Gill and Daniel Benoziliyo and now employs more than 200 workers. It has always been a groundbreaker in hydration and sandal technology and is well known in the Tactical Gear, hiking sandals, hydration and travel accessories categories worldwide for over 20 years, currently selling in more than 25 countries, including the United States, Canada, United Kingdom, France, Germany, Switzerland, Australia, South Africa and many more.
Source Sawyer Filter with Tube for Hydration Pack