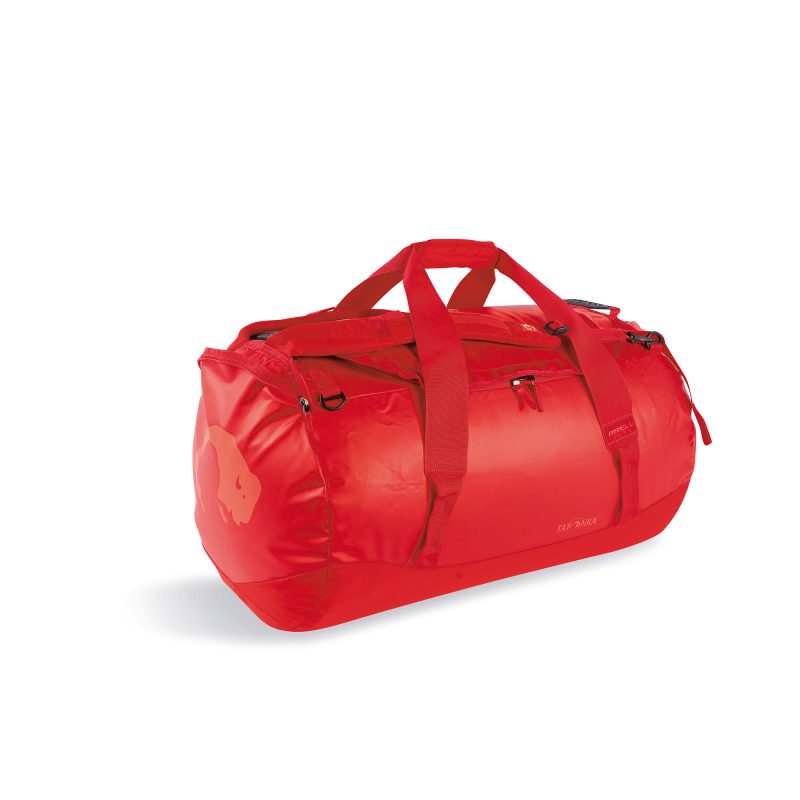 We are now shipping to all ALL ZONES across India. Further, NO DELIVERY is permitted in CONTAINMENT ZONES as of now.
About Tatonka Barrel L Travel Bag Bordeaux Red
Travel bag with 85 liter volume, stowable shoulder straps and a large opening. Made of truck tarpaulin.
Travel bag Tatonka Barrel L with 85 liter volume and backpack shoulder straps
With a volume of 85 liters, Tatonka's large Barrel L travel bag is ideal for storing the luggage of a one- to two-week trip. To make it easy to carry, it is equipped with backpack shoulder straps that can be stowed in a zipped pocket on the side.
Comfortable carrying handles and two rubberised handles on both sides ensure easy handling when transporting the bag over short distances, when checking in at the airport or placing the bag in the boot of the car.
Sports bag made of truck tarpaulin with wide opening lid
The Tatonka Barrel L is made of durable and easy-care Tarpaulin, also known as truck tarpaulin material. The bottom of the travel bag, which is padded to protect the contents, is made of abrasion-resistant material.
The travel bag has a large opening to make packing easier. Under the lid there is a flat mesh pocket with zipper, smaller utensils can be stowed in two insert pockets in the main compartment.
The Tatonka Barrel L also offers the possibility of attaching a carrying strap (Carrying Strap 50 mm). This can be ordered separately.
Features
Two stowable shoulder straps (S - XXL)
Variable attachment points for carrying straps
Durable rubberised handles on both sides
Extra-wide handles and shoulder straps
Strong No.10 zipper
Mesh pocket inside the lid
Padded bottom
Two insert pockets on the side of the main compartment
Name tag
Durable and easy-to-clean materials
Specifications
Measurements : 69 x 42 x 42 cm
Volume : 85 L
Weight : 1,85 kg
Fabric 1 : Tarpaulin 1000
Fabric 2 : Textreme 6.6
Fabric Details
TARPAULIN 1000 (50% Polyester, 50% Polychloride)
Robust tarpaulin material made of 1000 denier fabric with smooth surface, which is mainly used for bags. The polyester fabric is coated on both sides, absolutely waterproof and easy to clean.
TEXTREME 6.6 (100% Polyester)
The textured polyester material in 600 den threads is robust, colourfast and versatile. PU-coated to achieve a weatherproof finish.
About Tatonka Brands
TATONKA - Expedition Life A german outdoor brand for high quality outdoor equipment and your faithful companion on all your adventures.
Tatonka Barrel L Travel Bag Bordeaux Red