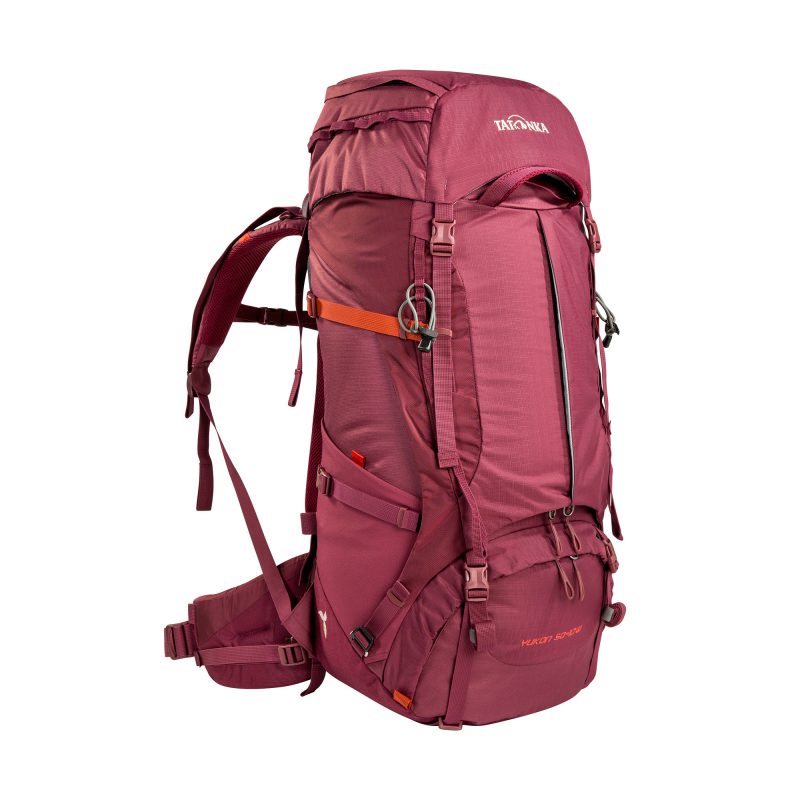 We are now shipping to all ALL ZONES across India. Further, NO DELIVERY is permitted in CONTAINMENT ZONES as of now.
About Tatonka Yukon 50+10Ltr Women Trekking Bag Bordeaux Red
Trekking backpack for women with 50+10 liter volume, a 3D zipped front opening and an adjustable carrying system.
Trekking backpack Yukon 50+10 Women with an adjustable carrying system
The Tatonka Yukon 50+10 Women is slim, lightweight and comfortable to wear. The carrying system is adjusted to the female anatomy in length and with the more curved shoulder straps. With a packing volume of 50 liters the backpack offers enough space for your equipment.
Perfect wearing comfort thanks to the optimized carrying system
The revised V2 Carrying System is even lighter thanks to the use of new materials and offers even better wearing comfort and even more efficient load transfer to the pelvic area thanks to the three-dimensionally shaped hip fins. The system can be adapted to different back lengths to ensure an optimum fit. It is designed for loads of up to 25 kilograms.
Backpack with practical features
Packed in no time at all, the ladies' backpack is ideal for backpacker journeys thanks to its large circumferential front opening. The two-way zippers allow quick access to the luggage on the way. The lockable zipper sliders prevent thieves from reaching inside and the rain cover protects against bad weather.
The Yukon 60+10 Women offers you a larger packing volume with the same features.
Features
Women's Backpack V2 Carrying System.
Snow guard with two drawstrings under the lid.
Removable section between main and bottom compartment.
Padded shoulder straps tailored to the female form.
Load control straps.
Height adjustable chest belt.
Special construction whereby hipbelt-fixation is re-directed to allow for single-handed adjustment.
If you need to, the Tatonka Hip Belt Pouch (Item 1340) can be attached to the hip belt.
Side compression straps.
Handle on front and back.
Strong No.10 zipper.
Lockable zipper slider.
3D zipped front opening.
Height adjustable lid with gear loops.
Lid compartment with key holder.
Rain cover.
Hydration system compatible.
Base made from durable CORDURA® material.
Bottom drawn high at the sides with all-round compression straps.
Side pockets made of an elastic material.
Material loops on the front with an integrated hiking stick/ice axe holder.
First Aid Compartment (Contents not included).
Large zipped front pocket.
Specifications
Measurements : 68 x 30 x 22 cm
Volume : 50 l + 10 l
Weight : 2,30 kg
Carrying system 1 : V2-System Women
Fabric 1 : Textreme 6.6
Fabric 2 : T-Rain Rip
Fabric 3 : T-Snow Crust
Fabric bottom : CORDURA® 500 den
Fabric Details
TEXTREME 6.6 (100% Polyester)
The textured polyester material in 600 den threads is robust, colourfast and versatile. PU-coated to achieve a weatherproof finish.
T-RAIN RIP (100% Polyamide)
The high-tear and abrasion-resistant RipStop fabric shows a lively surface due to the irregularly interwoven thicker threads. The material is waterproof by PU coating and is used for backpacks.
T-SNOW CRUST (100% Polyamide)
Lightweight, abrasion resistant polyamide fabric with fine patterning that resembles parent snow crystals. Thanks PU coating on the inside of the material is waterproof. T-Snow Crust is used in backpacks and bags.
CORDURA® 500 DEN (100% Polyamide)
We are using the classic CORDURA® fabrics made in high tenacity, air-jet textured nylon 6.6 in 500 Denier. CORDURA® brand provides fabrics that are recognized for their long-lasting durability and resistance to abrasions, tears and scuffs and is more durable than other fabrics. No matter the application, CORDURA® fabric offers a superior strength-to-weight ratio, making it a first-choice for durable fabrics.
About Tatonka Brands
TATONKA - Expedition Life A german outdoor brand for high quality outdoor equipment and your faithful companion on all your adventures.
Tatonka Yukon 50+10Ltr Women Trekking Bag Bordeaux Red