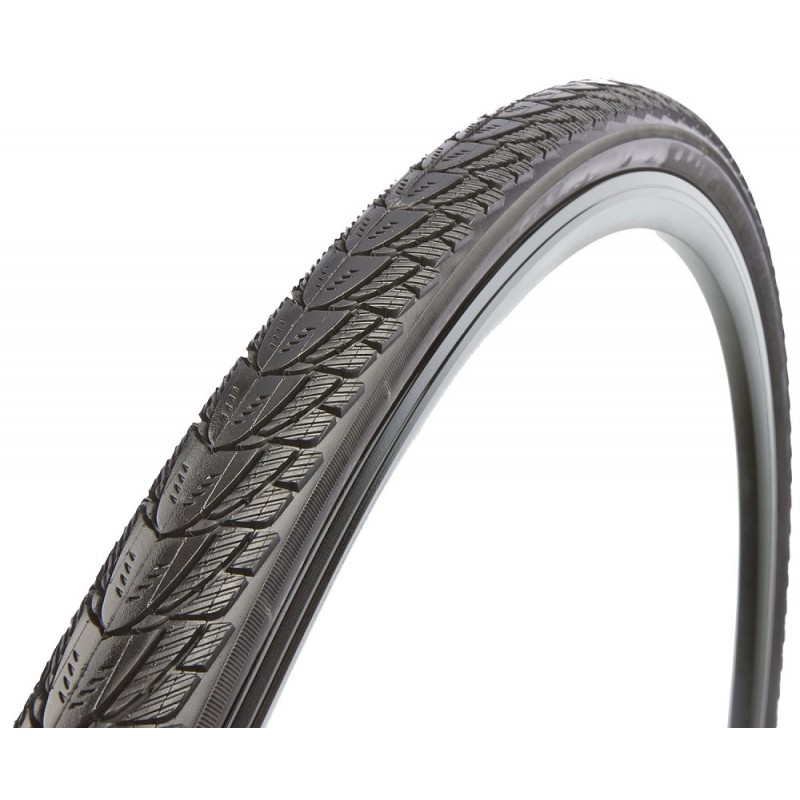 Vittoria Adventure III 700x35c City Bike Tire
The smooth tarmac of city roads has acquired a bad reputation because of the iron/aluminium fillings and shards sprawled around. And not all tires could survive such an urban life.
Vittoria Adventure III boasts a "Solid Shielding puncture protection" which is tough enough to bear the blame of the city roads without any incident, without any stopping over flats.
And if you want to explore some trails occasionally, there's absolutely no need to waste time swapping tires for Vittoria Adventure III is tough enough for light off-road use. Credit goes to the groovy tire tread for better cornering speed and faithful handling on roads wet and dry.
At 30 TPI (threads per inch) nylon casing, it's heavy and durable, assures long service life. For no stopping over flats, the tire is well protected by PRB 2.0 breaker puncture protection belt(same technology which is used in Vittoria Corsa and Rubino family of tires).
Top Features
Solid Shielding Puncture Protection.
Great durability and value.
Perfect combination of speed, grip, puncture protection.
Specification
Size: 700x35c

Type: Rigid

Color: Black

Weight: 630g

About Bike Tires
Investing in a good robust bike tire means no stopping over punctures, care-free ride over potholes, shards and other picky objects sprawled all over the road. Before you buy a bike tire, make sure you're aware of the correct bike size, your purpose of buying a specific tire and what kind of bike riding(road, urban, off-road) you're into. Road tires are sleek and smooth, can retain high pressure. Hybrid tires are suitable for everyday city rides whereas mountain bike tires come equipped with treads for firm grip and handling over the uneven surface.
Vittoria
Since 1953 Vittoria Industries Ltd. has built highly reputable partnerships within the cycling industry and created a unique brand image. Today's Vittoria Industries Ltd. is the world's leading manufacturer of bicycle tires, with an annual production of more than 7 million tires and 900.000 famous tubulars and cotton tires. Its research & development center develops the best racing tires for all levels, especially the unique Corsa Series cotton tires. Running its own production facilities in Thailand, and providing global sales and marketing network from North America (Boston) to Asia Pacific (Bangkok and Taiwan), and in Europe (Italy, Netherlands and Germany).
Vittoria Adventure III 700x35c City Bike Tire