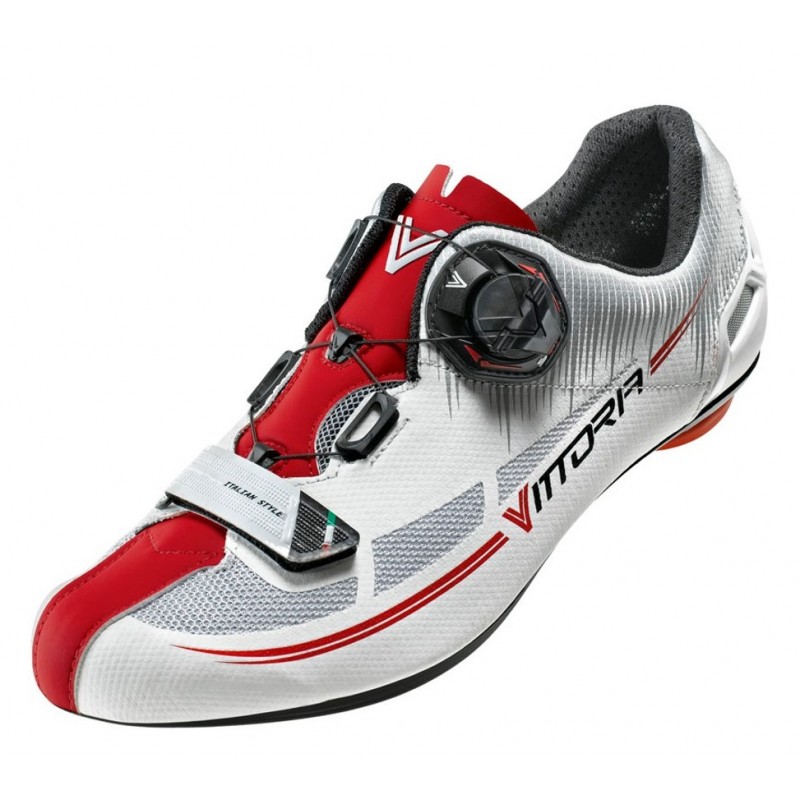 About Vittoria Fusion Road Shoes Red/White
The Fusion is a performance lightweight shoe with a single SSP Rotor fastening system and Velcro strap that perfectly adapts to the foot. Micro welded and stitched upper with nylon mesh for proper ventilation. Appropriate for both higher level and amateur riding. The Fusion features a Nylon Carbon composite sole with the standard 3-bolt system.
Product Name: Vittoria Cycling Shoes Fusion Road Shoe - white/red
Manufacturer: Vittoria Cycling Shoes
Item Code: VCS319019
Year: 2017
Sole standard: Three thread inserts, fitting all current road pedal systems
Speedplay (4 thread inserts) fits only with a special adapter (not included in delivery)
Closure system: SSP Rotor+Velcro strap
For women/men/unisex: unisex
Purpose: Road
Specification
Lightweight and breathable shoe with wide air vents. The Boa® L6 closure system paired with a velcro strap provides a stable fit and improves pedal efficiency.
UPPER: Heat-welded mesh and microfibre. Ventilated and antitendonitis Pebax heel cup.
SOLE: Nylon Reinforced
SIZES: 40,41,42,43,44,45 & 46
COLOUR : Red/White
WEIGHT : 280g
RED/BLACK: 44
Vittoria Fusion Road Shoes Red/White