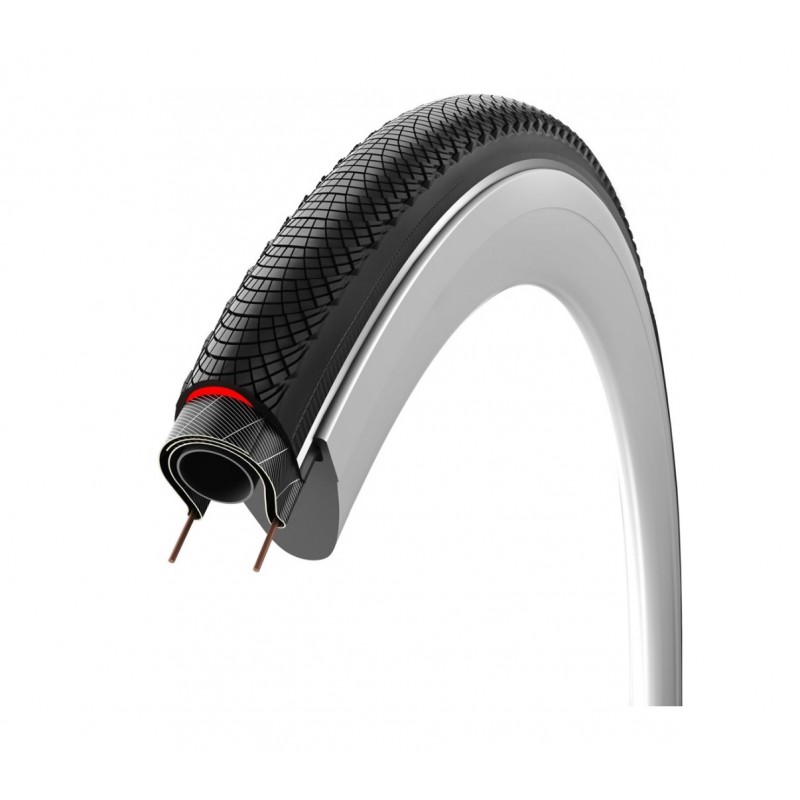 We are now shipping to all ALL ZONES across India. Further, NO DELIVERY is permitted in CONTAINMENT ZONES as of now.
About Vittoria 700x37c 37-622 Revolution Tech G+ Rigid Tyre Full Black
Strong and fast hybrid tires with long life
The Revolution Tech tire is intended for use in the city and for trekking. The design of the pattern allows the tire to roll quickly, while the defined edges handle light terrain in a good way and give you a good grip and good steering when you cycle a bit alongside the excellent trails.
Highlights:
Can also be used on electric bicycles, and the low rolling resistance has a positive effect on battery life.
Reflective strip along the edge makes you more visible in traffic.
Designed to be used in all types of weather.
Extra puncture protection in the middle of the tire.
Specifications:
Colour: Black
Tire type: Clincher
Dimension: 700 x 35c (37-622)
TPI / EPI: 30
Foldable: No.
Rubber mixture: Graphene
Technologies: G +
Use: Asphalt, gravel
Weight: 790 g
About Bike Tires
Investing in a good robust bike tire means no stopping over punctures, care-free ride over potholes, shards and other picky objects sprawled all over the road. Before you buy a bike tire, make sure you're aware of the correct bike size, your purpose of buying a specific tire and what kind of bike riding(road, urban, off-road) you're into. Road tires are sleek and smooth, can retain high pressure. Hybrid tires are suitable for everyday city rides whereas mountain bike tires come equipped with treads for firm grip and handling over the uneven surface.
Vittoria
Since 1953 Vittoria Industries Ltd. has built highly reputable partnerships within the cycling industry and created a unique brand image. Today's Vittoria Industries Ltd. is the world's leading manufacturer of bicycle tires, with an annual production of more than 7 million tires and 900.000 famous tubulars and cotton tires. Its research & development center develops the best racing tires for all levels, especially the unique Corsa Series cotton tires. Running its own production facilities in Thailand, and providing global sales and marketing network from North America (Boston) to Asia Pacific (Bangkok and Taiwan), and in Europe (Italy, Netherlands and Germany).
Vittoria 700x37c 37-622 Revolution Tech G+ Rigid Tyre Full Black