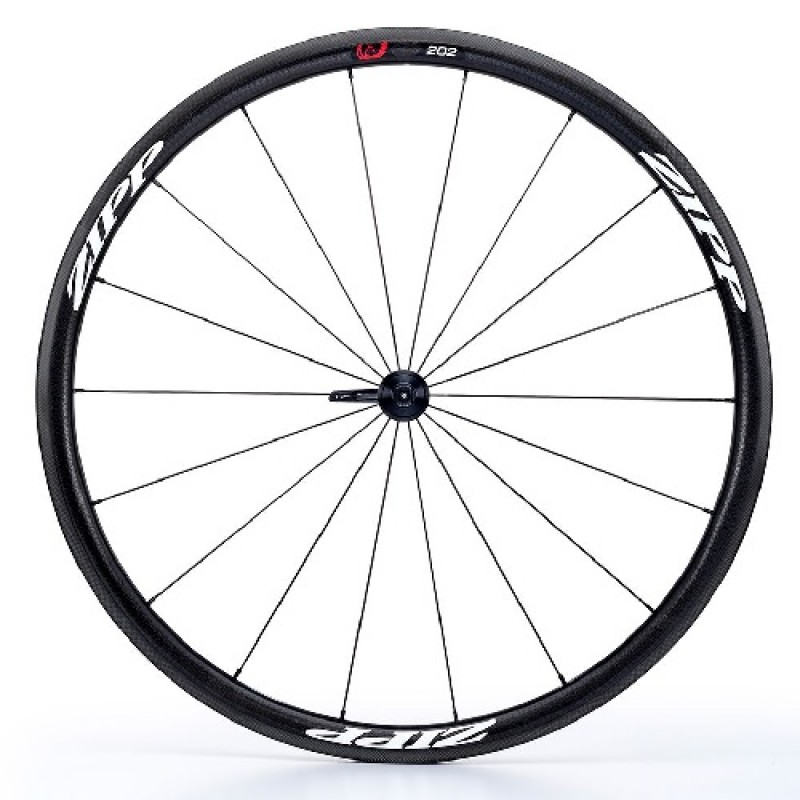 We are now shipping to all ALL ZONES across India. Further, NO DELIVERY is permitted in CONTAINMENT ZONES as of now.
About Zipp Wheels 202 Firecrest Carbon Clincher Front White
Zipp's 202 Firecrest® Carbon Clincher is all about aiming higher. We took our classic 202 Tubular wheelset – the legendary climber's companion – and transformed it into a stiff, lightweight and aerodynamic Carbon Clincher speed weapon ideal for every road you travel. At 1,450g, the 202 Firecrest is the lightest entry in the Firecrest Carbon Clincher lineup. The Zipp® 202 Firecrest Carbon Clincher retains the classic 32mm rim depth of its tubular predecessor though, with the Firecrest profile, now has a wider 25.4 mm max rim width. The results redefine what's possible with a do-it-all classic road wheel. The 202 Firecrest Carbon Clincher now is laced to the maintenance-free 77/177 hubset, with its best-in-class durability and improved bearing protection, all with no pre-load adjustment needed. Other hub and wheel features include:
Newly designed quick-release skewers with a wider more ergonomic handle to provide more leverage for opening and closing. When closed, lever contours neatly with the frame.
Optimized flange geometry and spoke hole attachment pattern with Sapim® CX Sprint spokes to optimize torsional and lateral stiffness and robustness.
New robust hub shell with distinctive graphics.
For those looking for a wider gear range, or tackling especially extreme terrain, a XD driver body for 177 is sold separately and easily installed to allow for more cassette options including a 10-42. The hubset is designed to swap driver bodies without the need to re-dish the wheel.
Zipp's Firecrest rim and Carbon Clincher technology form the foundation of the 202 Firecrest Carbon Clincher. Firecrest rims have a near-constant width from brake track to spoke bed to improve aerodynamics and better control airflow. Zipp engineers used Computational Fluid Dynamics software analysis to maximize aerodynamics and minimize wind-produced torque, resulting in a 202 Firecrest Carbon Clincher that is faster and better handling than a classic road wheel. Our Firecrest rim shape improves stability by moving the wheel's center of pressure to sit almost directly over the steering axis, where wind-produced steering torque has a minimal effect.
Add to that our Carbon Clincher technology. Our exclusive resin, based on materials used in motorsports braking systems, effectively tolerates the incredible spikes in heat caused by braking to provide unrivalled reliability and confidence inspiring stopping power. Zipp Carbon Clinchers have never had a heat related failure.
Available in two decal options, the stealthy Matte Black or the distinctive Matte White decals. Each 202 Firecrest Carbon Clincher wheel comes with Tangente Platinum Pro Evo brake pads, Zipp Integrated Valve Extender with valve-core wrench, rim tape and quick release.
Specification




Technology
With the new proprietary Firecrest rim shape in our 202, 303, 404 and 808 Firecrest wheels, Zipp wheels make a bigger difference in more ways than ever. Not only is Firecrest more aerodynamic than any other rim design, it improves handling in crosswinds and overall ride quality.
Carbon Clincher
Our superior Carbon Clincher technology is the culmination of two years of intensive prototyping and testing. We worked with our composites supplier to develop an exclusive heat-resistant resin based on the materials used in motorsports brake systems. This proprietary technology improves heat management so substantially that all Zipp Carbon Clinchers pass stringent CEN safety standards.
ABLC™ (Aerodynamic Boundary Layer Control)
Advanced Boundary Layer Control (ABLC) refers to the patented and instantly recognizable dimpled pattern found on all of our carbon rims. ABLC smoothes airflow across the rim's surface and is tailored to every model from the 202 to the Super-9 Disc. The third-generation of ABLC has up to four times more dimples than before.
Wire EDM
Electron Discharge Machining allows us to cut the materials for our rear hub drive internals after they've been hardened through heat treating, negating the warping and imprecision caused by the heat-treating process.
Zipp Wheels 202 Firecrest Carbon Clincher Front White