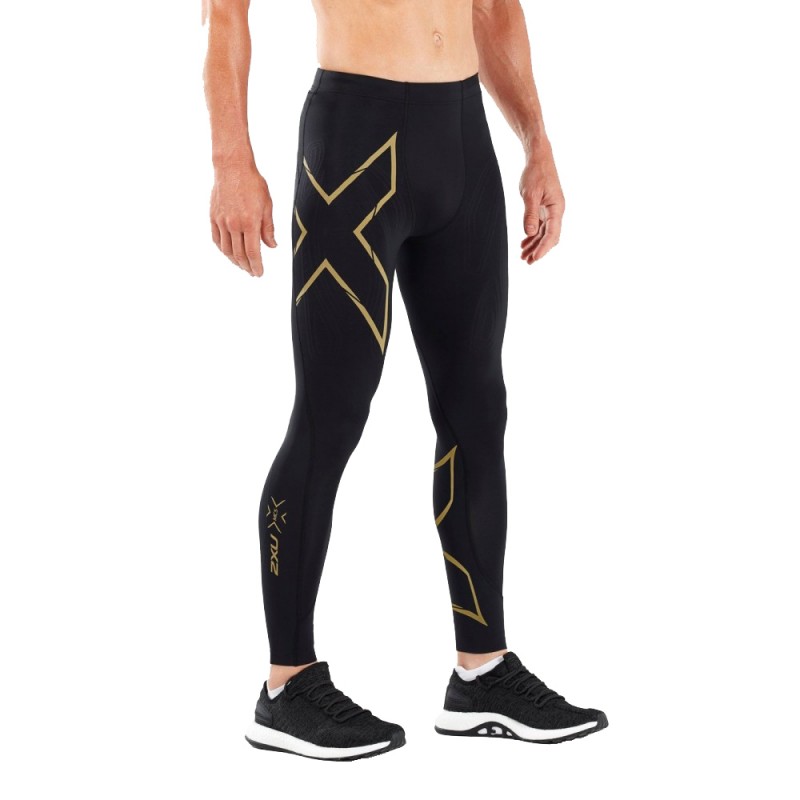 About 2XU MCS Running Compression Tight W/Back Storage Black/Gold Reflective
The Light Speed Compression Tights with revolutionary Muscle Containment Stamping (MCS) technology, are developed with a detailed understanding of the impact running has on the legs, reducing muscle movement, damage and fatigue for your best run yet.
PRODUCT DETAILS
MUSCLE CONTAINMENT STAMPING (MCS)
Muscle Containment Stamping (MCS) traces quadriceps; to dissipate the load transfer on the knee joint, and calf; to alleivate muscle strain during the toe phase of running.
LIGHTWEIGHT & FLEXIBLE SUPPORT
Powerful, lightweight PWX fabric with circular knit 360-degree stretch, reduces muscle movement and damage whilst maintaining flexibility for ultimate sports performance.
GRADUATED COMPRESSION
Firm graduated compression boosts blood flow to muscles, improving performance, lowering risk of injury and speeding up recovery.
WAISTBAND STORAGE
Drawstring waistband for secure fit with three back pockets providing storage for phone, cards and keys as well as gels.
QUICK-DRYING
High quality, durable, moisture-wicking yarns outlast the competition and keep the skin cool and dry.
BE SEEN
Signature reflective X logos on thigh and calf provide 360-degree visibility in low-light conditions.
GARMENT FEATURES
Full length compression tight.
PWX highly powerful, lightweight and flexible compression fabric.
Quadriceps MCS.
Calf MCS.
Drawstring waistband for adjustable secure fit.
Graduated compression for improved blood flow, aiding faster warm-up and recovery.
Large pocket for phone.
Zip pocket for cards and keys.
Mesh pocket for gels and other items.
Signature reflective X logos on thigh and calf.
Flatlock seams to reduce chafe.
To best care for 2XU garments:
Machine wash in cold water with like colours.
Do NOT Tumble dry.
Hang to dry in a cool shady area away from sun.
Do not use bleach, fabric softeners or dryer sheets.
Do not iron.
About 2XU Brand
2XU stands for "Two Times You," which symbolises the multiplication of human performance.2XU is an Australian/New Zealand multinational corporation engaged in the design, development and selling of sporting apparel including compression garments, triathlon, cycle, running, open water swimming and general fitness wear.Founded in 2005 by Clyde Davenport, Jamie Hunt and Aidan Clarke, the company is headquartered in Melbourne, Victoria.
2XU MCS Running Compression Tight W/Back Storage Black/Gold Reflective