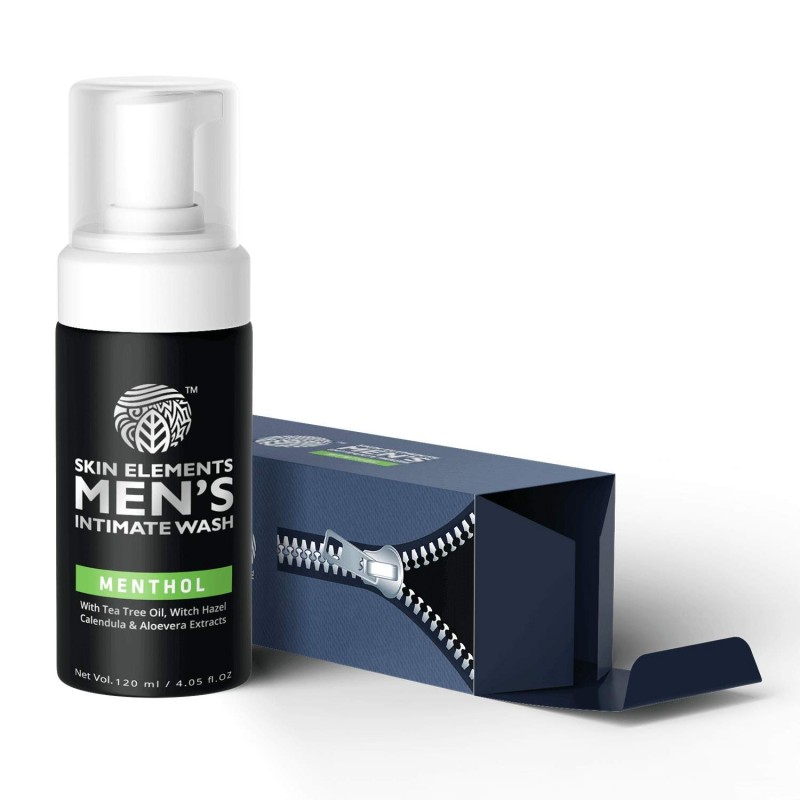 About Skin Elements Intimate Wash For Men With Menthol 120ml
First time in India - A Men's intimate wash - It is 100% safe, pH Balanced, SLS & Paraben Free !
Our Men's Intimate Wash is a complete hygiene care solution that keeps male privates clean and fresh. It relieves skin inflammation from susceptible humid regions, and its sensitive foam cleans residual left behind by condoms and lubricants.
Main Ingredients:
Tea Tree Oil has Antibacterial, Antimicrobial & Antiseptic effects.
Aloe Vera soothes the itchy skin and gives you all day relief from the itch
Witch Hazel removes residues from condoms & lubricants.
Calendula Extracts prevents infections like ringworm, jock itch and chafing
Passion Fruit (Only in Men's Intimate wash with Passion Fruit) helps to calm inflammation & soothes skin
Menthol (Only in Men's Intimate wash with Menthol) leaves you feeling fresh & cool
Why Use This Product ?
Be ready to be Intimate anytime and anywhere!
Skin Elements Intimate Wash for Men is a product directed specifically towards men who wish to keep their intimate area hygienic and clean.
The Men's Intimate wash provides long-lasting dryness, freshness, and fragrance in your privates. It makes it much more comfortable and easier for you to go through your day. The hygiene wash kills the harmful bacteria and keeps it fresh all day long.
The intimate wash is Paraben & SLS free and maintains the pH balance of your skin, making it suitable for even sensitive skin..
The intimate wash efficiently cleans off the residue from condom and lubricants and kills off any harmful bacteria on it.
How To Use It?
We recommend daily use while bathing to maintain hygiene and freshness. This Product comes in an easy to use bottle. Press the nozzle once or twice to dispense a rich foam. Gently rub in circular motions into wet genitals for 20-30 seconds. Rinse with water and pat dry.
About Skin Elements Brand
Skin Elements launched in 2017, amidst growing awareness about personal hygiene, and availability of products on ecommerce platforms. One of their first products was niche in the market - foaming intimate wash for men.
Skin Elements Intimate Wash For Men With Menthol 120ml