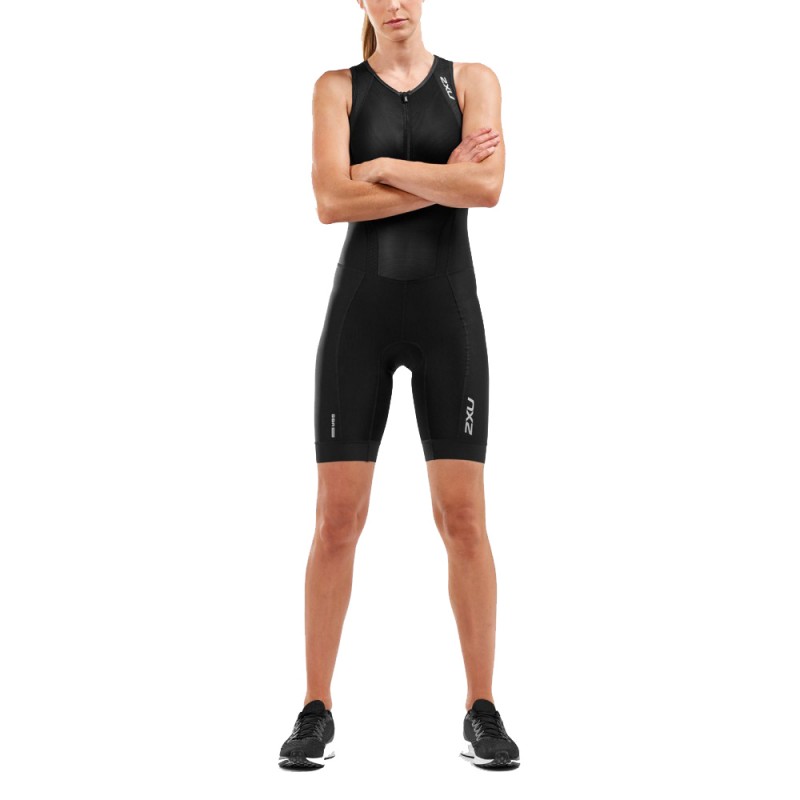 About 2XU Perform Front Zip Women Trisuit Black/Black
Re-engineered in accordance with RMIT University's latest research, the 2XU Women's Perform Front Zip Trisuit in black and shadow delivers the advanced cooling and ventilation technologies required to conquer the rigors of triathlon.
SBR POWER is built for muscle stabilization and lower body support for unmatched power and durability. The Italian SBR VENT fabric delivers extreme cooling properties while being exceptionally aerodynamic.
Paired perfectly with SENSOR MESH X zoned paneling for vital moisture management and air flow management, this garment is built for all-round performance across short and long course racing.
Features
SBR power.
Ergonomically engineered paneling.
Easily accessible rear pockets.
Premium italian-engineered silicone gripper.
1/4 length semi-auto lock zip.
ID chamois.
Inseam: 8"
SBR VENT (CF AND CB PANELS)
This Italian fabric, engineered in accordance with RMIT University's fabric technology testing, delivers extreme cooling properties while being exceptionally aerodynamic. Low denier construction, 3D mesh structure and cross-section yarns ensure the ultimate fabric to keep your body cool, dry and comfortable.

SBR POWER (LOWER BODY)
Built from 70D elastane, SBR Power offers unmatched power, durability and strength. Featuring high-denier nylon yarn for impressive support and moisture management, as well as a mid-level gauge for impressive muscle stabilization.

SENSOR MESH X (MESH PANELS)
Utilising a nylon-LYCRA® bre matrix with high- lament hydrophilic nylon yarn and optimal air flow engineering, Sensor Mesh represents the ultimate in moisture management. With the inclusion of LYCRA® fibre from Invista, unparalleled comfort is assured.

LD CHAMOIS
Quick-drying long course triathlon chamois fused onto a high-density, hydrophobic foam base to manage moisture and deliver the comfort required to go the distance. Ample support for the bike while remaining discreet for the run.
To best care for 2XU garments:
Machine wash in cold water with like colours.
Do NOT Tumble dry.
Hang to dry in a cool shady area away from sun.
Do not use bleach, fabric softeners or dryer sheets.
Do not iron.
About 2XU Brand
2XU stands for "Two Times You," which symbolises the multiplication of human performance.2XU is an Australian/New Zealand multinational corporation engaged in the design, development and selling of sporting apparel including compression garments, triathlon, cycle, running, open water swimming and general fitness wear.Founded in 2005 by Clyde Davenport, Jamie Hunt and Aidan Clarke, the company is headquartered in Melbourne, Victoria.
2XU Perform Front Zip Women Trisuit Black/Black