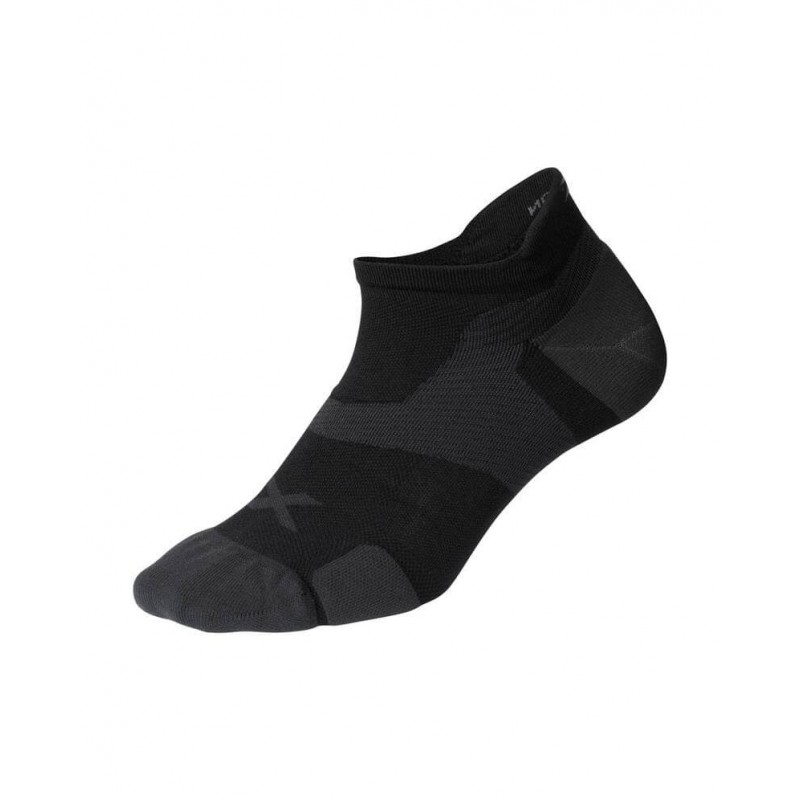 About 2XU Vectr Cushion No Show Socks Black/Titanium
Description
Anatomically designed to provide advanced plantar fascia and arch support, the Vectr Cushion No Show Sock leverages a unique X-LOCK support system to lock the foot in place and reduce blistering for your most comfortable run ever.
Features
No show sock.
X-LOCK technology feature.
Anatomical design.
3.25mm cushioning.
Anti-abrasion seamless toe construction.
Zoned mesh ventilation for increased breathability.
ANTI-BLISTER
X-LOCK technology provides advanced arch and plantar fascia support and locks the foot in place within the sock to reduce blistering.
CUSHION
3.25mm maximum cushioning to deliver ultimate shock absorption during forefoot impact, push-off and heel impact.
ANATOMICAL DESIGN
Engineered to conform to left and right structure of the foot for better fit.
WIDE TOE BOX.
Seamless wide toe box eliminates a key irritation point and promotes natural toe splay improving balance, alignment and comfort.
QUICK-DRYING
Moisture wicking yarns and zoned mesh ventilation areas keep your feet cool and dry.
FABRIC COMPOSITION
88% NYLON, 12% LYCRA.
COMPRESSION RATING.
MODERATE : 15-20mmhg at base of foot.
What Is Lycra Fabric?
Lycra is a brand name for elastane, which is a highly elastic synthetic fabric. Despite having different names, Lycra, spandex, and elastane are all the same material, and these fabrics can stretch to 5-8 times their usual size.
What Is Nylon Fabric?
Nylon is the name of a family of synthetic polymers that are commonly used to make a variety of different types of apparel and consumer goods. Unlike other organic or semi-synthetic fibers, nylon fibers are entirely synthetic, which means that they have no basis in organic material.
About 2XU Brand
2XU (pronounced ""Two Times You"") was launched when former professional triathlete Jamie Hunt turned his passion for sport into an obsession with performance fabrics.Together with two business partners, Australian retail guru Clyde Davenport (founder and past owner of Davenport Industries) and marketing specialist Aidan Clarke, Hunt created 2XU in Melbourne, Australia in 2005.Starting out as a specialist run and triathlon brand, 2XU has grown to become the world's most technical sportswear company, driven by a relentless pursuit to multiply human performance engaged in the design, development and selling of sporting apparel including compression garments, triathlon, cycle, running, open water swimming and general fitness wear.
2XU Vectr Cushion No Show Socks Black/Titanium