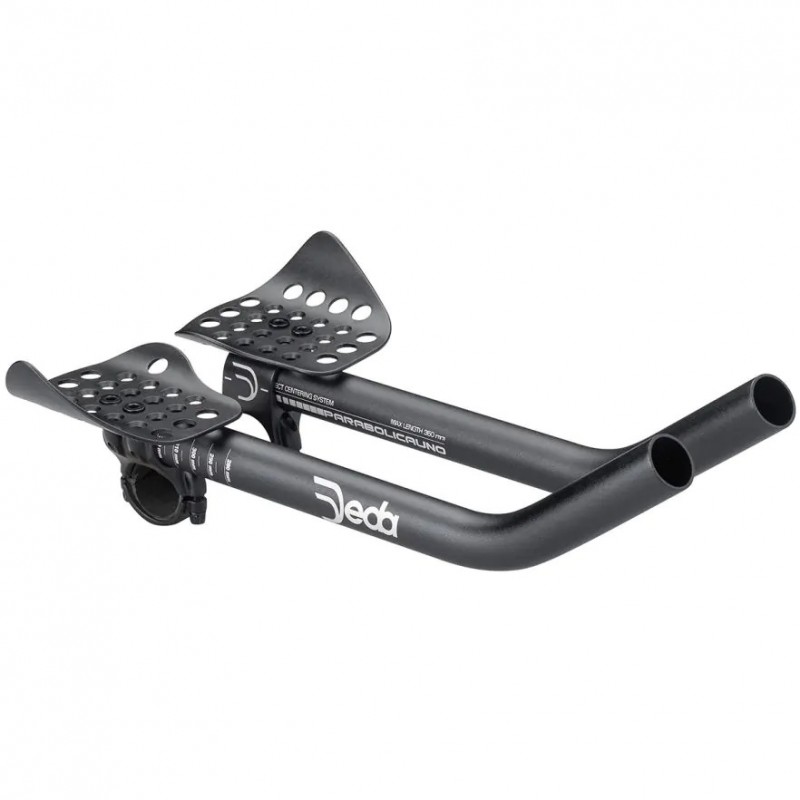 About Deda Elementi 31.7mm Parabolica Uno Handlebar Extensions
Description
Parabolica Uno is the best and light solution to make a road bicycle the perfect weapon for time trial and triathlon races. The product consists of three key components only, J-bend extensions that is made of 6061 aluminium, the forged alloy clamp to fix it to the handlebar and the armrest with self-adhesive velcro pad. A special spacers kit allows to increase up to 55mm the armrest height for a more comfortable position and several possibilities of adjustment. Parabolica Uno is available for 31.7 mm diameter handlebar as well as for 35.0 diameter. The spacer kit is available only for the 31,7mm handlebar version.
Features
Shape : J-bend extensions
Material : Alloy 6061
Extensions length : max 300mm
Grip angle : 38 degrees
Rise : 62 mm
Extension diameter : 24 mm
Handlebar diameter : 31.7 mm or 35.0 mm
Armrest : full adjustable with pads included
SKU : 31.7mm (PARA1K)/35mm (PARA351N)
Weight : 350g
Finish : black anodized
Note : Approved UCI (3:1) rule
About Deda Elementi Brand
Deda Elementi is the leader brand for stems, handlebars and wheels, chosen by the best bicycle brands and appreciated by enthusiastic cyclists all over the world. The brand Deda Elementi each year supports the best professional Teams & Athletes and is worldwide recognized for the design, performance and quality, besides being distributed in more than 50 Countries. Year after year Deda Elementi continue to develop high-end products, investing in new processes and technologies to support customers, distributors and OEM bicycle brands.
Deda Elementi 31.7mm Parabolica Uno Handlebar Extensions