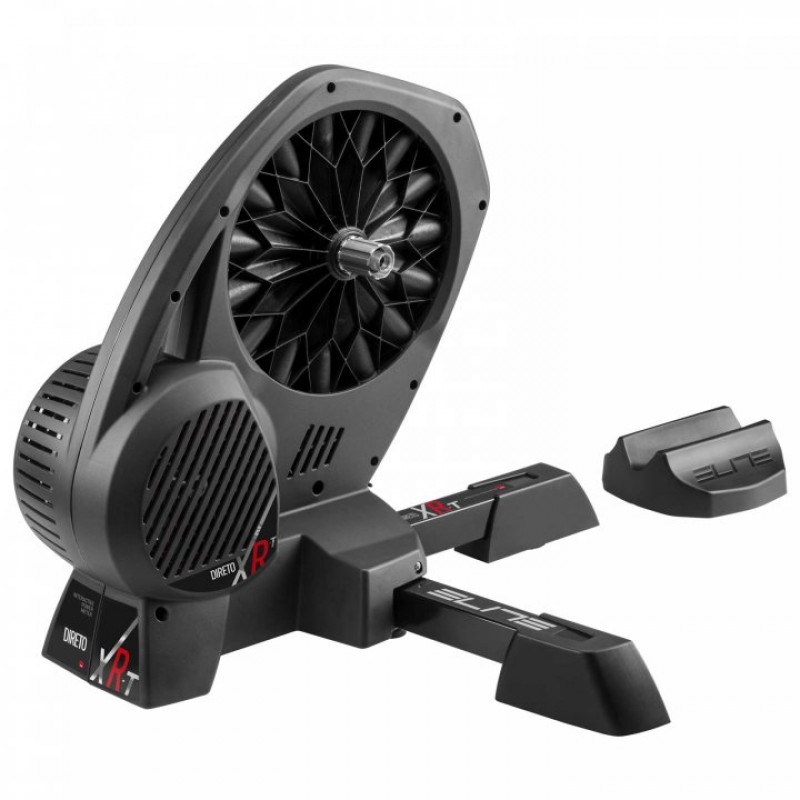 About Elite Direto XR-T Home Trainer
Details of the Elite Direto XR-T Direct Drive Cycletrainer
Integrated power meter
The OTS (Optical Torque Sensor) ensures Direto XR-T the greatest data accuracy while you're training. This is an innovative integrated power meter for the hometrainer to measure power output with a ± 1,5% accuracy, 0.5 % more to the original Direto trainer.
Incredible slope simulation
The Direto XR-T is an interactive home trainer so it varies automatically resistance during your training. With an upgraded and bigger flywheel, the Direto XR-T is able to simulate up to an incredible 24% slope gradient. This unprecedented power level ensures excellent performances even during particularly intense training sessions - you'll be able the check out all your training charts at a glance, conduct tests to evaluate your fitness level, do reps and high-speed sprints at max power. Any type of training you want is available to you riding on the Direto XR-T.
Super compatible
The Elite Direto XR-T ensures total compatibility with both road and MTB bicycles making it one of the most compatible trainer on the market. This trainer features a new structure which is perfect to house derailleurs with long cages that feature greater capacity on bigger 12-speed sprocket sets. This is how the Direto XR is compatible with 9/10/11 speed Shimano®/SRAM, 9/10/11/12 speed Campagnolo, 12 speed SRAM NX and 12 speed Shimano® micro Spline cassettes.
Total Interactivity
Direto XR is counted among the new generation of ANT+™ FE-C & Bluetooth interactive home trainers that are compatible with any kind of app, software, computer and device (smartphones and tablets) that support iOS, Android, OSX and Windows. Set your course or training programs with a few clicks and start pedaling right away. Direto XR-T will automatically adjust resistance and manage your training session. Direto XR-T can be managed via the My E-Training software & app (12-month free subscription included) or other indoor cycling services, such as: Zwift, TrainerRoad, The Sufferfest, Bkool, Kinomap and many more.
Pedaling analysis
The Pedaling analysis is an innovative function that will analyze your power output throughout the whole pedaling movement through a 24 points-system. You can display via two types of charts DIRETO XR-T's data such as the value of immediate power output throughout the pedaling movement. This creates a thorough evaluation of the mechanical efficiency of the movement for the cyclist, so it's possible to adjust and correct where necessary. The pedaling analysis function is available for purchase in Elite's My E-Training software.
Cadence, Speed and Power Data
All Elite trainers rely on immediate transmission of power, speed and pedal cadence data in order to let you achieve the most specific and accurate training plan. To measure cadence, the trainers make use of practical sensorless technology capable of detecting the pedaling rate without having to install sensors on the bike frame.
Quietness
Very quiet. The only noise you'll hear comes from your bike's chain.
Features of the Elite Direto XR-T
Power meter: Integrated OTS (Optional torque Sysyem) power meter
Accuracy: ±1,5%
Wireless communication: ANT+™ (FE-C, Power, Speed&Cadence) and Bluetooth (FTMS, Power and Speed&Cadence)
Max slope simulated: 24%
Max power: 1,100 W (20 km/h) - 2,300 W (40 km/h)
Control via: Smartphone, tablet, bike computer, sports watches, Windows and Mac. Computer ANT+™ and/or Bluetooth
Compatible with: My E-Training software & app Zwift, Trainer Road, Bikevo, Kinomap, The Sufferfest and more
Output: Power, speed and cadence (heart rate if connected to a heart rate monitor, not included)
Flywheel: 5.1 kg
Bike compatibility
road bike, mountain bike and city bike, also carbon ones, with 130x135 x 5 mm hubs and with quick clamping system and 142x12 mm with thru-axle (ad adapter is available for Boost 148x12 mm rear hubs)
Compatible hubs QR 130-135 x 5 mm with quick releases and with 142 x 12 mm thru axles, various adapters for other thru axle systems are available separately
Connection indicator: Power source, ANT+ and Bluetooth (3 LED lights)
Firmware update available
Electrical requirements: Input 100-240 volts 50-60 hz 6A - output 12 volts 1,5A
About Elite Brand
Elite, a company of cycling enthusiasts, has been offering unique and cutting-edge products to the cycling world for forty years.
Elite Direto XR-T Home Trainer