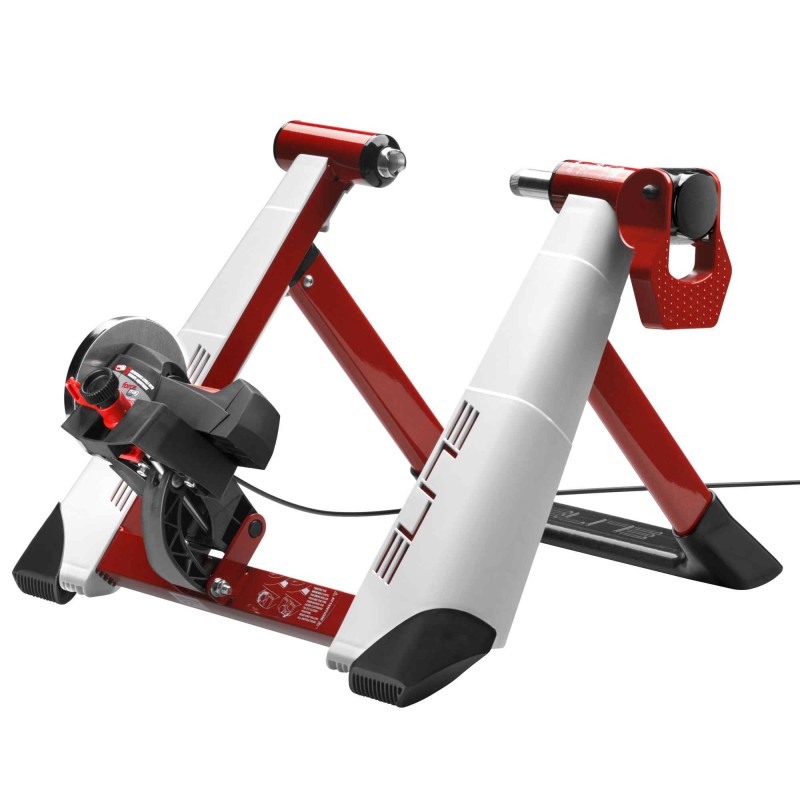 About Elite Novo Force Indoor Bike Trainer
Top resistance unit, innovative frame: excellence renewed
8 resistance levels adjustable by a practical selector on the handlebar.
Use the Misuro B+ sensor for compatibility with the My E-Training or third party apps.
Novo frame: integration of steel and technological plastic materials.
Magnetic resistance unit, very compact.
Maximum stability at high speeds or at maximum effort guaranteed by the absorbing structure of the frame.
Lifting of the bicycle is limited to the minimum.
Fast fixing system: the bicycle can be clamped and released with a single quick operation.
New adjustable support system, allowing an adequate and constant pressure between the roller and tyre.
30 mm diameter elastogel roller.
The training roller folds up easily and becomes compact for easy transport or storage when not in use.
Adapts to all wheels from 24" to 29"
Novo Force is compatible with My E-Training - Mobile version*: an exciting and technically sophisticated virtual coach that travels with you whatever your destination. Manage power, heart rate, speed, time and distance directly from your smartphone or tablet with the My E-Training.
My E-Training includes:
My RealVideo: train with Elite RealVideos and download hundreds of free user-created My RealVideos
Base Training: constant power training sessions**, levels, pre-set programs.
Training test: an evaluation test that helps you create month-long personalized indoor training programs.
Maps races: create races the world over with Google Maps.
Easier training program creation: all-new graphics editor simplifies program creation.
Video Playlist: create a playlist from training videos on your device.
Share results: to track of your performance over time, training data can be saved, exported (CSV - comma separated values, Strava Tcx format) or shared on social media.
Novo Force is nowadays compatible only with the mobile version (iOS and Adroid) of My E-Training software. Desktop version (Mac and Windows) will be released soon.
Elastogel
Better grip, superior performance and greater durability
Elite Novo Force Indoor Bike Trainer