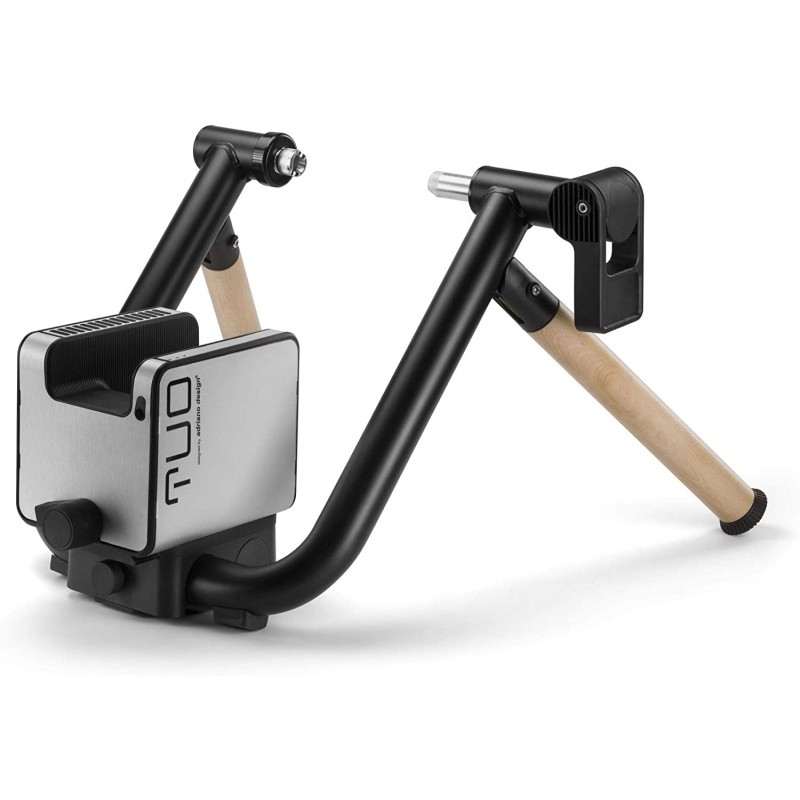 About Elite Tuo Home Trainer
Style and performance
A compact design, a big help for your training sessions. Here's Tuo, Elite's new indoor hometrainer created in cooperation with Adriano Design.

Tuo is an interactive wheel-on hometrainer with automatic resistance adjustment. It's a reliable technological companion created to seamlessly fit in any part of your house and at the same time take your training sessions to the next level.
Beautiful during use, elegant when folded
Tuo was created to combine the ability to meet any bicycle training demand with a superior Made in Italy design, understated and distinctive, that characterizes this hometrainer as the ideal piece of furniture to place in your living room, or any other room of the house or the office, when you're not using it.
This hometrainer features a solid and compact structure made with high quality materials: aluminum unit, steel frame and beechwood legs, one of the most beautiful, sturdy and solid materials used in interior design. Beechwood is not just about the look, it's also perfect to absorb shocks while training and ensure great stability.
Compact structure and quick setup
Light and easy to transport, Tuo features easily foldable frame and legs so setup is immediate, anytime. When stored, the hometrainer is really compact so you can place it anywhere in your house or office, enhancing the tidiness and refinement of any environment.
At the same time this hometrainer features great stability when training on your bicycle: other than the anti-slip rubber feet, Tuo features the Fast Fixing locking system – by engaging a practical lever, you can hook and unhook the bicycle to the support frame in a single quick operation.
Quiet, great compatibility
Tuo is not just very compact and gorgeous to look at, it's also quiet. The roller where the bicycle wheel rests on is made in Elastogel material, which is an exclusive polyurethane molecule developed and tested by Elite to limit friction noise by 50% and decrease tyre wear while training of a further 20%.
Another strong suit of the Tuo is its frame – it is able to accomodate bigger chainstays. Tuo simplifies the installation of your bicyle on the hometrainer thanks to the practical side microadjustment mechanism and repositioning of the stand for the hometrainer to house bicycles with wheels 26'' up to 29''.
Tuo is the most compatible among our hometrainers as it includes all the necessary adapters to install bicycles with 130-135x5mm quick release and 142x12mm thru-axle. Adapters for 135x10-12mm and for rear 148x12mm Boost hubs are all included in the box. Verify compatibility with the chainstay part in case you have a mountain bike with Boost 148x12 mm (max width: 188 mm).
Interactivity
Tuo is a smart interactive home trainer that interacts with any kind of apps, software, computers and devices (smartphones and tablets) with iOS, Android, OSX and Windows.
Data transfer between home trainer and other areas of the system is wireless.
By doing so you can manage resistance levels and display all the different parameters, so you can have great personalization and interactivity on your indoor training session.
Tuo sends Power, Speed and Cadence data, and can be managed via the My E-Training software (12-month free subscription) or other indoor cycling services (which usually require paid subscription), such as: Zwift, TrainerRoad, The Sufferfest, Bikevo, Kinomap and many more.
Sensorless cadence
All hometrainers by Elite immediately send power, speed and cadence data, thus setting themselves as effective instruments to build an accurate training program and replicated outdoor workouts as much as possible.
Cadence is measured via a practical sensorless technology (that is, no sensors to apply to your bicycle) and is calculated on the Tuo as a function of speed variations.
It works with the Elite Rizer
Tuo is compatible with the Rizer gradient simulator with steering.
The Rizer simulates ascents up to 20% and descents down to -10% gradients by pairing with virtual training software to automatically match the virtual gradient on screen. For more realistic rides, the Rizer features steering functionality so you can freely move your handlebars when you're smashing those climbs.
Other Elite trainers compatible with the Rizer are Suito, Suito-T, Direto XR and Direto XR-T.
About Elite Brand
Elite, a company of cycling enthusiasts, has been offering unique and cutting-edge products to the cycling world for forty years.
Elite Tuo Home Trainer