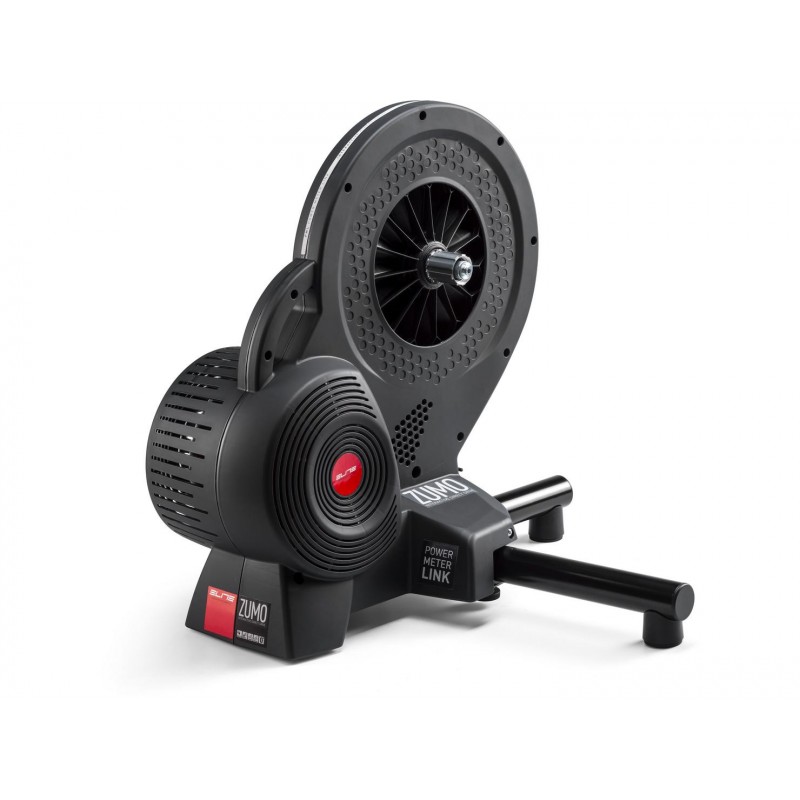 About Elite Zumo Home Trainer
INTERACTIVE & EASY TRAINING
Perfect for targeted and effective training sessions,Zumo sums up all the best features that a direct-drive trainer available in the middle price range should have. Solid, practical and efficient, Zumo is a direct transmission hometrainer with electronically managed magnetic resistance. This hometrainer features wide power output intervals while training, great pedalling roundness and compatibility with all kinds of apps, software, computers and devices.
ACCURATE AND QUIET
Zumo's magnetic resistance unit is electronically managed and allows to cover a wide range of power intervals, ensuring +/- 3% accuracy based on the power calculated by the hometrainer's internal algorithm.Resistance is generated by an integrated magnetic braking unit that ensures quietness while training. The hometrainer can also simulate slopes up to 12%.
POWER METER LINK
One of Elite's Zumo features is the Power MeterLink (PML), an algorithm for the hometrainer to communicate power data via an additional power sensor or ergometer to apply to your bike as a power source, so power data can be evenmore accurate than it would be just by using its algorithm. By using the Power Meter Link the hometrainer can determine the resistancebased on the actual power measured by the sensor, thus ensuring a more accurate poweroutput. After first connecting the sensor, Zumo automatically memorizes the paired sensor to use it by default on subsequent trainingsessions. Warning: this can be used only if there's a power sensor on the bike.
STABLE AND EASY TO TRANSPORT
Compact and easy to carry but super stableonce set-up, Zumo features a solid, efficientand contemporary design. Its wide contact surface ensures great stability and safety, while the convenient integrated handle lets you easily transport and store it.
GREAT COMPATIBILITY
Zumo is compatible with bikes with 130or 135mm hubs and 5mm quick clampingsystems, and with bikes with 142mm thru-axle with 12mm diameter. Both the adapter for bikeswith 148x12mm thru-axle and the adapters for bikes with 135x10 thru-axle and 12mm are available as accessories. Elite supplies Zumo with a freehub body compatible with Shimano® / SRAM® 9/10/11 speed sprocket cassettes and by other manufacturers that employ the Shimano® Standard. A freehubbody compatible with Campagnolo® 9/10/11speed sprocket cassette is available as an accessory. Moreover, by purchasing the XD/XDR freehub as an accessory you can assemble the SRAM 12 speed.
TOTAL INTERACTIVITY
As with all Elite direct transmission hometrainers,Zumo falls within the ANT+™
FE-C and Bluetooth interactive hometrainers range. This translates into total hometrainer interaction with all kinds of apps, software,computers and devices (smartphone and tablets) with iOS, Android, MacOS and Windows.Zumo can be managed with Elite's My Training software or with other indoor cycling platforms such as Zwift, TrainerRoad, Kinomap, Rouvy, TheSufferfest, Bikevo and many more.
TEMPERATURE COMPENSATION
Temperature variations can also influencepower measurement and zero offset calibrationof the hometrainer. For this reason, another
distinctive feature of the Zumo is its abilityto actively compensate temperature in orderto overcome any decrease in brake efficiency caused by the increase in temperature while training. That's why the hometrainer can avoid any inaccuracies in power calculation thanks to its data measurement compensated on the basis of the temperature, thus ensuring great accuracy every time.
SENSORLESS TECHNOLOGY
All hometrainers by Elite transmit power, speed and pedalling cadence data, thus becoming effective instruments to build accurate training programs and replicate pedalling on the road as faithfully as possible. Cadence is measuredvia a convenient sensorless technology, that is with no sensors to apply on the bike, and is calculated on the Zumo as a function of the
speed variations.
FEATURES
HOME TRAINER TYPE Interactive direct transmission with electronically managed magnetic brake.
WIRELESS COMMUNICATION ANT+™ (FE-C, Power, Speed&Cadence) and Bluetooth (FTMS, Power and Speed&Cadence)
MAX SLOPE SIMULATED 12%.
MAX POWER 530 Watt (20km/h) - 1180 Watt (40km/h)
CONTROL VIA Smartphone, tablet, bike computer, sports watches, Windows and Mac. Computer ANT+™ and/or
Bluetooth
COMPATIBLE WITH My E-Training software & app Zwift, Trainer Road, Bikevo, Kinomap, The Sufferfest and more
FLYWHEEL 4,2 kg
BIKE COMPATIBILITY Race bike, Mountain bike and city bike, also carbon ones, with 130x135 x 5mm hubs and with quick
clamping system and 142x12 mm with thru-axle (ad adapter is available for Boost 148x12 mm rear
hubs)
CONNECTION INDICATOR Power source, ANT+ and Bluetooth (3 LED LED lights)
FIRMWARE UPDATE AVAILABLE
INCLUDES 12-month free subscription to My E-Training software & app
SPECIFICATIONS
OVERALL DIMENSIONS (LXPXH) 740 x 520 x 550 mm
BOX OVERALL DIMENSIONS 605 x 400 x 616 mm
About Elite Brand
Elite, a company of cycling enthusiasts, has been offering unique and cutting-edge products to the cycling world for forty years.
Elite Zumo Home Trainer