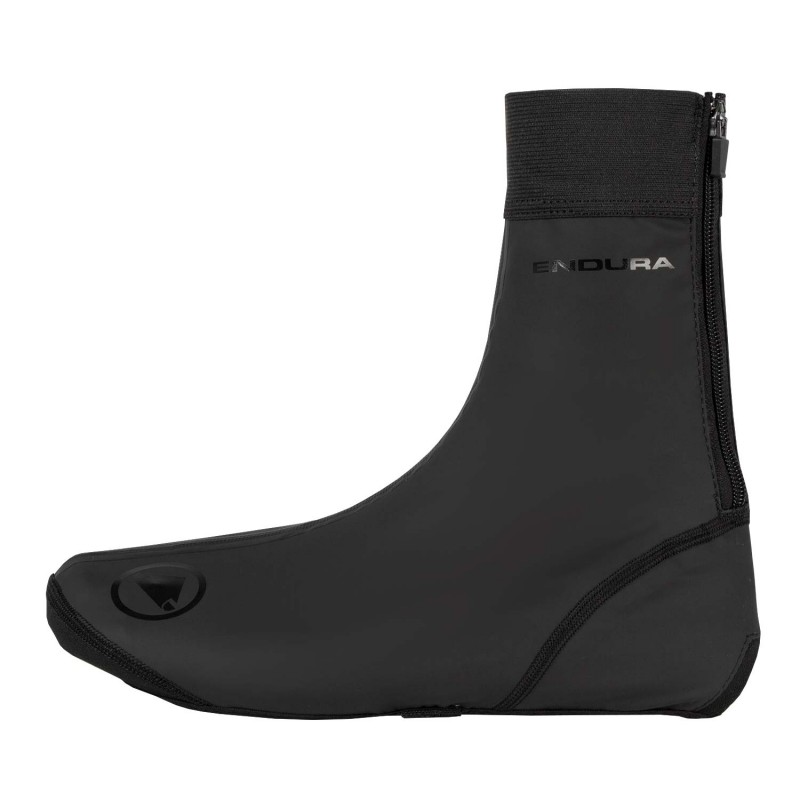 About Endura FS260-Pro Slick waterproof cycling overshoes Black
Do not let the fear of frozen wet feet keep you from cycling in harsh cold weather. With Endura FS260-Pro Slick waterproof cycling overshoes and other winter cycling clothing, ride out in nature as much as you want to. Put waterproof cycle overshoes when it's too cold for your feet, remove and stash in your jersey pocket when the day gets warm, full points to its compact, packable size. Be it wet weather or water sprays, its waterproof PU main compound fabric protects you with every pedalling movement. Silicone gripper at hem and sole strap keeps the overshoes in place. With YKK rear zipper, they're easy to put in and remove.
Top Features
Stretchable waterproof fabric making it compatible with every road shoe.
Compact size, fits in your jersey pocket
Reflective Strips for better visibility
Specification
Rear panel in lycra for additional accomodation.

Reflective strip on rear heel for better visibility.

Construction Nylon 67% PU 23% Elastane 10%
About Cycling Overshoes
Cycling overshoes are waterproof and winter proof help keep your feet dry and warm on a harsh winter day. And you wouldn't want to ride with your feet wet and trembling because of the cold weather. Most cycling overshoes are made up of waterproof material, thermal or insulation fleece for adequate warmth. Given their stretchy fabric it's easier to put on/off with the help of zipper. On some, you'll find reflective detailing enhancing your visibility on the road. They're lightweight and can be easily stored in the jersey's pocket.
About Endura
Endura Ltd was founded in Edinburgh, Scotland in 1992 by a keen club cyclist (Jim McFarlane) after his return to Scotland from a 14 month stay in Sydney. Endura is focussed on function and longevity without cutting corners on material and construction and this is the enduring ethos that still permeates throughout Endura today. Endura have long history of supporting athletes of all descriptions and events for all types of cyclist. On the road, they're the performance clothing sponsors of Movistar Team, the UCI's number one ranked WorldTour team in 2015 and the number one ranked WorldTour rider Alejandro Valverde and are clothing sponsors for Cervélo-Bigla Pro Cycling who will be racing in the UCI Women's WorldTour during 2016. Offroad - they're the performance apparel sponsor for Danny MacAskill's mountain biking projects and he'll be part of their testing pool, supplying invaluable product feedback and clothing sponsor of Chris Smith, the renowned British freerider and dirt jumper.
Endura FS260-Pro Slick Overshoe Black