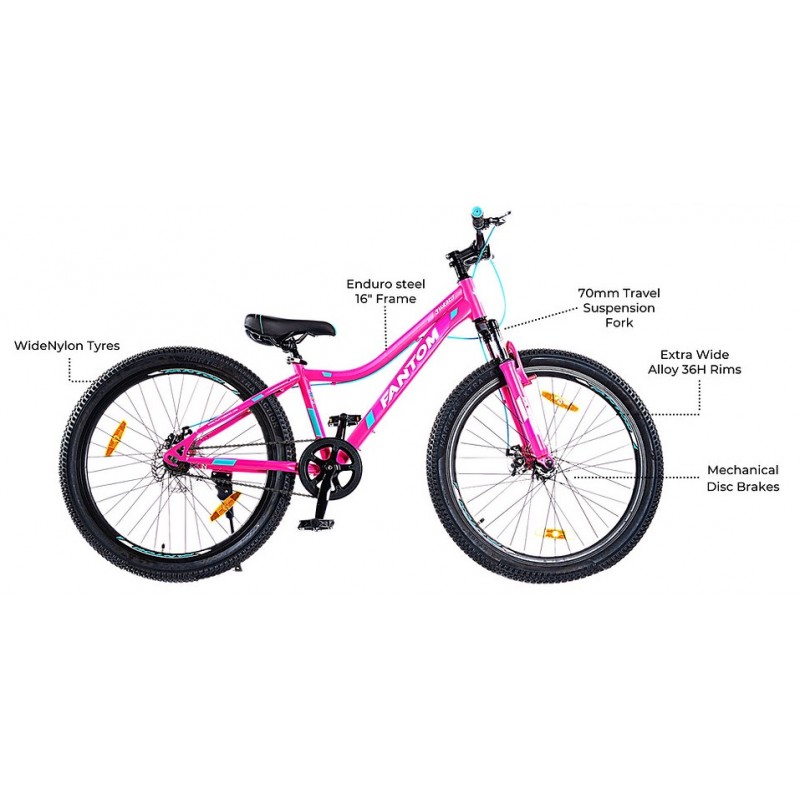 About Fantom 26T Juliet Female MTB Bike Pink Purple
Description:
Perfect bike for daily exercise and leisure riding. Looking for a bike for weekend rides? Juliet is an easy to use bike that gives you everything you need to make your bike rides fun!
The all time best selling bicycle comes with the life-long durability, elegance of stunning colors & graphics.
Technical Specification:
Wide Nylon Tyres
Enduro Steel 16" Frame
Extra Wide Alloy 36H Rims
70mm Travel Suspension Fork
Mechanical Disc Brakes
What is MTB Bikes ?
Mountain bikes are popularly known as MTBs. They are meant for riding on rough terrains, up slopes and down descents. Since all landscapes are not similar, you have different MTBs for the unique riding terrains.
About Fantom Brand
We've steadily grown since 2010. Fantom Bikes provides products to Multiple countries. With our headquarters situated in Florida, USA, and our manufacturing units in srilanka and India.We're all about the freedom and empowerment of our riders and their love for cycling. We've steadily grown since 2010, thanks to our dedicated and expansive dealer network.Continuous innovation at Fantom Bikes leads to the successful utilization of cutting-edge technologies. Providing the best of products at affordable costs is a key component for our growth over the years.
BIKE SPECIFICATIONS
FRAME
16" Frame
FORK
70mm
RIMS
Extra Wide Alloy 36H Rims
TIRES
Wide Nylon Tyres
BRAKES FRONT
Mechanical Disc Brakes
BRAKES REAR
Mechanical Disc Brakes
Fantom 26T Juliet Female MTB Bike Pink Purple