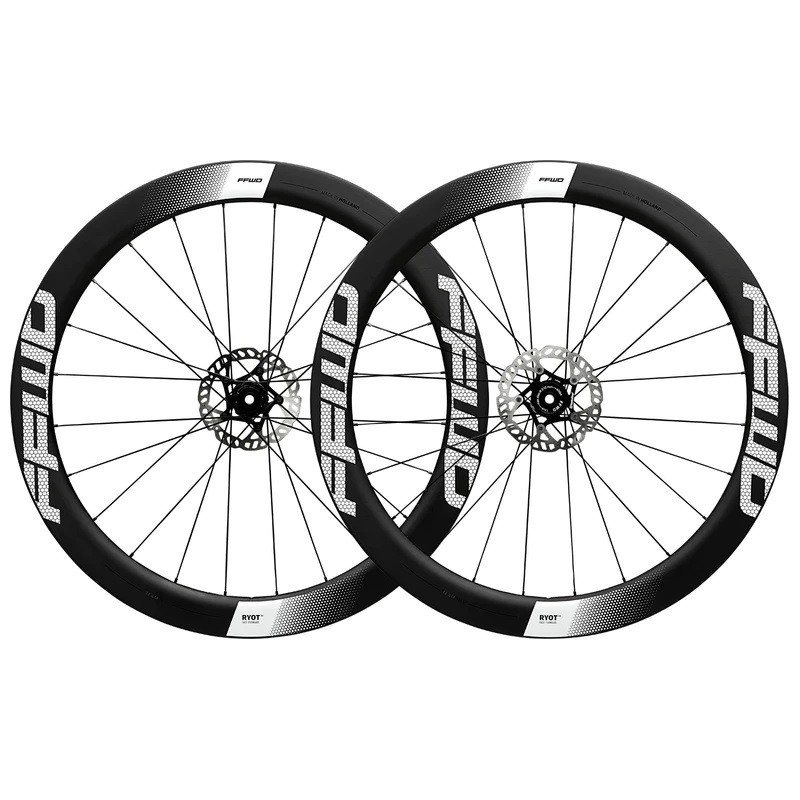 About FFWD RYOT55 Road Wheel 55MM Team Tech Tubular Clinchers Black Disk Brake
Descripotion:
TUBULARS ARE STILL THE CHOICE OF MANY PROS
The RYOT 55 Team Tech offers a very low weight, super fast acceleration, and sublime driving characteristics: the RYOT 55 Team Tech is your perfect partner in crime!
While tubeless is definitely gaining ground, tubular wheels are still the number one choice in the pro peloton. The RYOT 55 Team Tech is developed in close collaboration with teams from the professional peloton. The feedback from professionals at the highest level has a big value resulting in the special Team Tech edition of the RYOT.
Thanks to a very low weight of only 1470 grams, the RYOT 55 Team Tech is a real all-rounder in both flat and hilly races. At the same time, these full carbon tubular wheels with a high rim profile offer fantastic comfort, on any the road surface.
MEMBER OF THE RYOT FAMILY
The fastest RYOT in wind tunnel tests, beating all wind angles. Okay the looks certainly help, but with a maximum of stiffness and aerodynamics the RYOT 55 will make you really finish any job.
RIMS BASED ON LAW TECHNOLOGY
The RYOT 55 Team Tech rim is based on the LAW (Laminair Airflow Wing) technology. The wider LAW rim profile results in improved aerodynamics and also provides higher comfort, partly due to the use of wider tires.
PERFECT CHOICE FOR CYCLOCROSS
Thanks to the RYOT 55 Team Tech wide, it provides a better fit to glue tubulars up to 33mm. As a result these top wheels are perfectly suited for cyclocross.
HIGH-END HUBS TO CHOOSE FROM
Without any doubt hubs are an critical part, perhaps the most critical part of high-end wheels. The RYOT 55 Team Tech wheels offer you to choose our own branded FFWD hubs, which offer you a very solid and reliable technology without compromising on quality and durability. You want to save extra weight in combination with a higher precision and stiffness? Then the DT 240 hubs with the improved EXP ratchet system may be the best choice!
All RYOT wheels are 12mm thru axle compatible , but thanks to the conversion kits they can be converted to a 15mm thru axle or quick release mount in no time.
Features:
GENERAL
Aero Shape LAW
Brakes Disc brake
Weight 1470 g
Max Rider Weight 120 kg
Tubeless Ready No
Innertube Compatible No
Tubular Yes
RIM
Rim Type Full Carbon Tubular
Height 55 mm

HUB
Hub Type FFWD
Body System Ratchet system
Bearings Steel
About FFWD Brand
Fueled by outstanding customer service, FFWD will be a global and well respected brand by offering high quality carbon road wheels.Get Confident. Go Fast.It starts with the confidence that you can, and trusting your gear can too. Unconditionally. We'll make sure it does.High quality carbon wheels for road, cyclocross, track & triathlon.All wheels are Hand built in Holland for optimal performance and quality.
FFWD RYOT55 Road Wheel 55MM Team Tech Tubular Clinchers Black Disk Brake