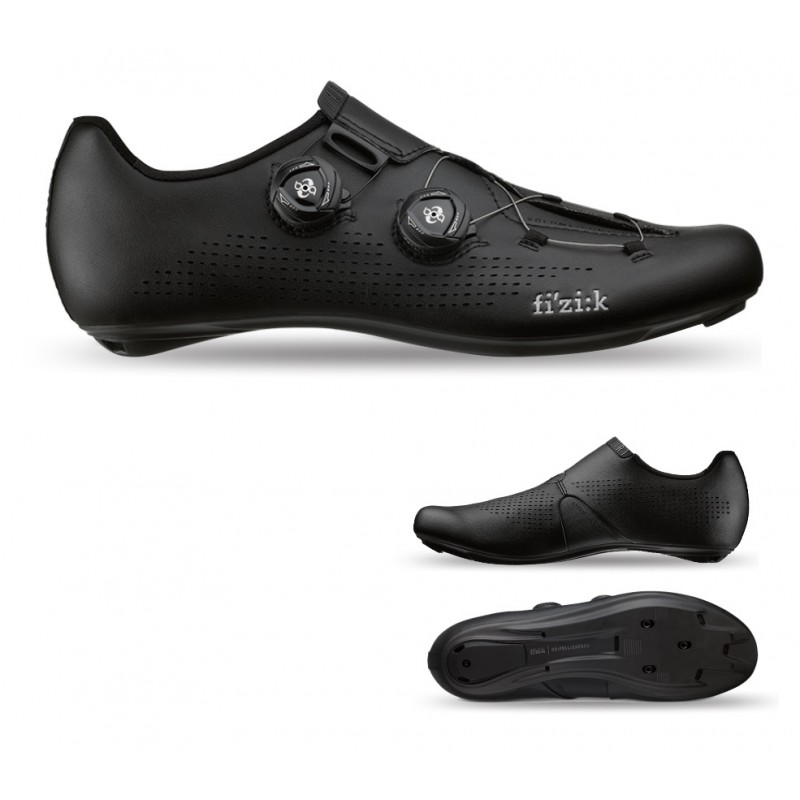 About Fizik Infinito R1 KNIT Road Bike Shoe Black
Perfectly fitting with maximum ventilation, class-leading comfort and unmatched power transfer, the Infinito R1 Knit road cycling shoe delivers ultimate race performance.
Infinito R1 Knit is the first knitted pro cycling shoe ever. Along with its unique knitted material, the all-new Infinito Closure System, superior stiffness, weight-saving materials and the intelligent implementation of new technology make it the pinnacle of performance road shoe design.
The knit material is highly breathable, for superior temperature management and enhanced comfort. It is extremely light yet strong and supportive, and looks amazing and dynamic. With Dynamic Arch Support technology's structure and the Increased Volume Control system, which shapes the whole shoe's upper directly around the foot's profile, Infinito R1 Knit fits any rider precisely, easily and comfortably.
The Infinito Closure System uses two micro-adjustable double Boa IP1-B dials with steel-coated nylon laces in an infinite configuration that adjusts the upper on the forefoot. The textile guides eliminate pressure points, providing optimum adaptable comfortable fit for high-power, high-intensity riding.
It harmonises with the new mesh footbed insole for the best possible ventilation and enhanced comfort. Its laterally stiff, light, Uni Direction Full Carbon Outsole is ventilated for maximum temperature control, and designed for ultimate power transfer from any riding style.
Infinito R1 Knit is fi'zi:k's range-topping shoe, and benefits from the latest technologies, materials and improved design based on feedback and input from some of the worlds leading pro riders.
Specifications
Outsole : Full UD Carbon Vented
Recommended use : Road cycling
Materials : Unique new Knitted Material
Color : Black
About Fizik
Founded in 1996, fizik's mission is to make the most sophisticated, inspiring and beautiful gear for the world's most discerning cyclists.
Fizik is committed to providing the ultimate in saddle, shoe, bar-tape and component design combining comfort and light weight with technology and innovation.
Fizik Infinito R1 KNIT Road Bike Shoe Black