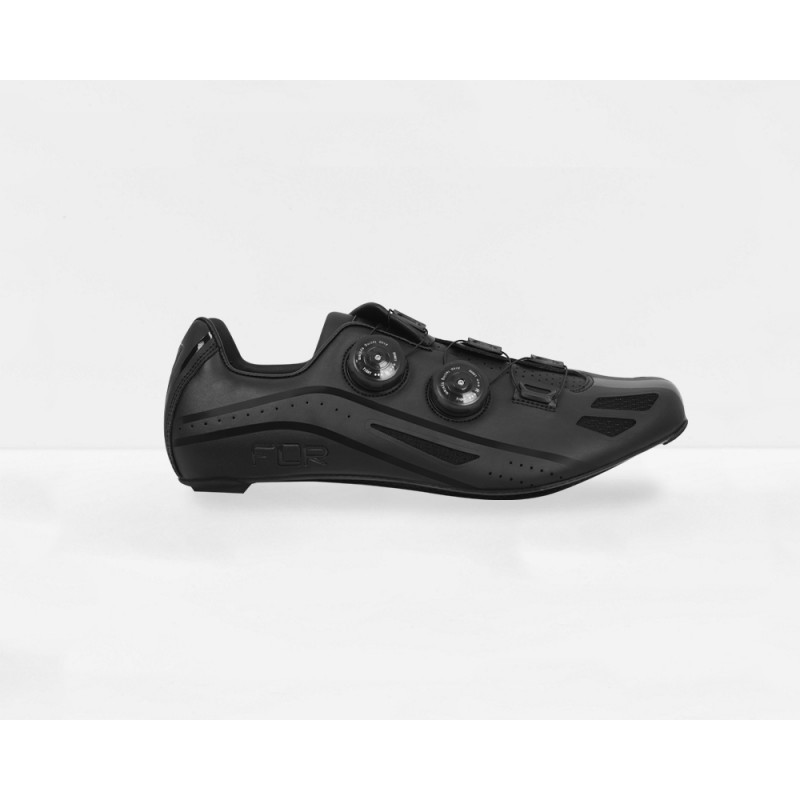 About FLR F-XX Road Shoes Black
Description
The winner of the Cycling Plus magazine shoe award just got better. Lighter, stronger, faster and designed with one objective: to deliver a superior racing shoe with premium performace, stiff power transfer and superior comfort, ridden by the best Pro Tour riders. We have designed a more aerodynamic, anatomically correct and biomechanically advanced cycling shoe.
The updated F-XX II sports a sleeker profile, features the elite R500 stiff carbon fiber outsole for maximum power transfer and a sculpted footbed with a supportive heel that aids to increase blood flow, reduce hot spots and ensure that every power watt goes directly into your pedal for maximum performance output.
The seamless upper is formed from a single piece of lightweight microfiber, with 6 air mesh inserts across the toe box and side panels to create an even airflow around the shoe and provide excellent ventilation for the entire foot. Two independent Atop dials optimize closure in each of the critical foot zones. The upper dial secures the arch and forefoot, while the lower dial locks the ankle & heel, ensuring a snug fit and zero heel movement.
What is Cycling Shoes?
Cycling shoes are shoes purpose-built for cycling. There are a variety of designs depending on the type and intensity of the cycling for which they are intended. Key features include rigidity, for more-efficient transfer of power from the cyclist to the pedals, weight, a method of attaching the shoe firmly to the pedal and adaptability for use on and off the bicycle. Most high-performance cycling shoes can be adjusted while in use, via a quick-adjusting system that has largely replaced laces.
About FLR Brand
FLR was founded on an intense passion for cycling, striving to provide every cyclist an opportunity to extend beyond their current aspirations and achieve their cycling goals. Each shoe is designed in close cooperation with professional cyclists around the world.
FLR F-XX Road Shoes Black