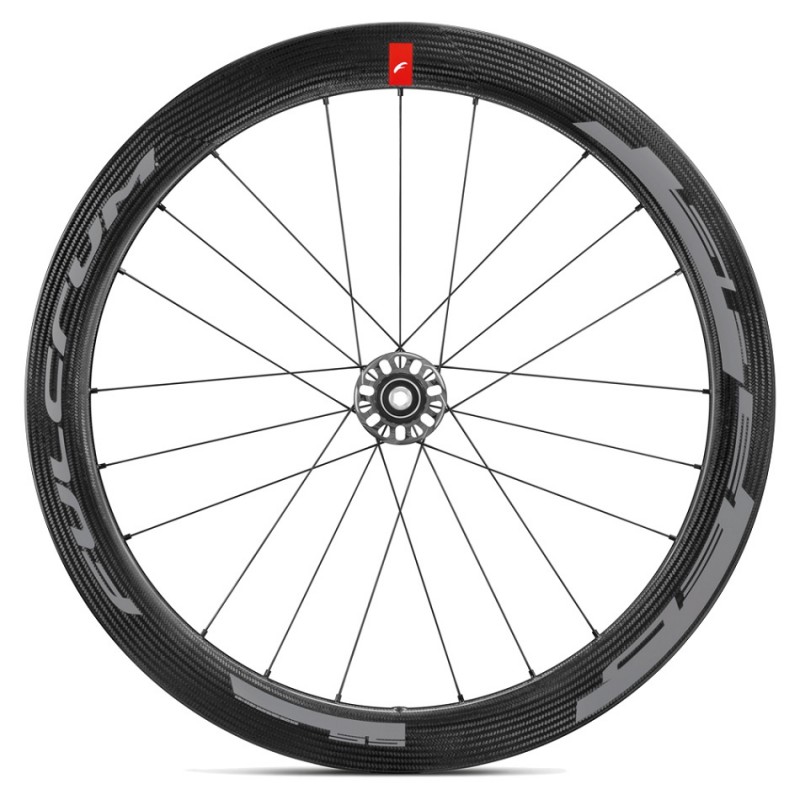 About Fulcrum Speed 55 DB Carbon Wheelset
The new rim profile characterizing the Speed 55 DB is a further step forwards in the search for the best aerodynamic performance. The model therefore focuses on a demanding and "racing" audience. To improve the rolling resistance (and ultimately the speed) of the wheel/tyre system, we designed this model in the 2-WAY FIT version.
Description
The manufacturing process of the carbon fibre rim without holes in the internal channel – a patented construction technology – also allows a stronger and sturdier construction capable of withstanding even the most extreme racing conditions. The rim with a 19 mm inner width perfectly matches recent trends of using increasingly wider tyres – a choice that further improves the aerodynamic performance of the wheel/tyre system. This data has been validated by intensive wind tunnel studies and trials where new projects are tested on a regular basis. SPEED 55 DB proved to be the best option in terms of aerodynamic penetration indexes in the Fulcrum range and is derived from the profiles developed for the tubular version used by World Tour teams. The SPEED range not only responds in terms of aerodynamic performance. Optimizing performance also requires the wheels to be light and run smooth. The scale stops at 1580 gr and we have chosen to add ceramic USB bearing components.
Features
Tyre Type : 2-Way fit (for clincher and tubeless)
Tyre Size : 28″
Discipline : Road / Triathlon
ASTM Category : 2
Weight : 1580 g
Rim Material : Carbon
Rim Material Details : Full carbon, "UD" – carbon fiber finishing
Profile Height : Deep Section
Rim Height : Front and rear : 55mm
Rim Width : 26.5mm
Inner Rim Width (Channel) : 19mm
Tyre Width : From 23mm to 50mm
Braking System : Disc brake
Braking Surface/Brakes Options : AFS
Front Axle Compatibility : HH12-100
Rear Axle Compatibility : HH12-142
Front Wheel Spokes : 21, Two-to-one (14 left – 7 right)
Rear Wheel Spokes : 21, Two-to-one (7 left – 14 right)
Spokes: Material : Stainless steel, double butted
Spokes : Profile Rounded
Nipples : Aluminum
Front Hub : Carbon, Oversized Aluminium flange
Rear Hub : Aluminum, Oversized Aluminium flange
Bearings : USB ceramic bearings. Adjustable Cup & Cones system
Others : Plasma treated HG freewheel. Aluminum Axle
Weight Limit : 120kg (bike, rider, equipment and luggage)
FWB Options : HG11, Campy, XDr
About Fulcrum Brand
Since 2004, Fulcrum® has developed wheels for bikes with a sole, constant objective in mind: to deliver the best performance that modern technology can offer.A large part of this task is the responsibility of the R&D division engineering team in Italy. However, if you want to create ever faster wheels, you cannot focus solely on test bench results, you also need to gain feedback from top riders and cycling fans worldwide.And this is what we do: we race our bikes during lunch breaks or after work, we test our wheels by pushing them to the max, fitting them to the bikes of world champions, listening to suggestions and comments from the world of racing and from our clients.
Fulcrum Speed 55 DB Carbon Wheelset