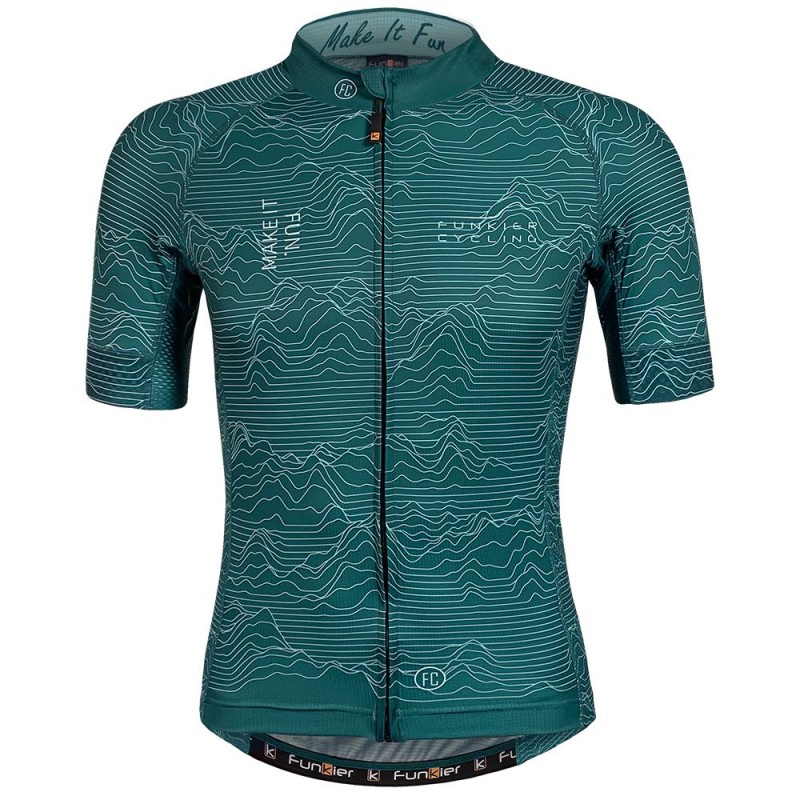 About Funkier Rossini Men Pro Short Sleeve Jersey Green
The Rossini jersey for men sets a new standard for your cycling training. It will fit both pro and amateur cyclists thanks to a flattering fit. It is made of strong yet lightweight and breathable fabric, that will keep you comfortable even on your longest rides. Perfect for spring as a single layer or winter as a bottom layer. Mesh ventilation panels, elastic grippers on sleeves and hem, and out-of-this-world design.
Specification:
A lightweight, aerodynamic jersey, from thin light Lycra
Silicone folded-edged laser cut gripper on the sleeves and front hem
SG-10 gripper on the back panel.
Nylon elastic-resistant zipper. With laser-cut lip cover
Mesh inner on rear pockets for improved ventilation
Lower-cut collar design
This jersey is made of Quick-Dry, soft, and comfortable fabric, a low collar, a full nylon zipper that allows a smooth and quick opening with one hand, and three back pockets protected by a rubber strip to prevent objects from falling.
About Funkier Brand
Funkier's collection offers a high level of quality and fashionable apparel. Our team of cyclists-employees take an active role in the selection and design of the complete collection to make sure each product meets our standards of quality, fit and comfort to ensure a positive riding experience. The Funkier bike wide range collection includes cycling clothing, helmets, and protective gear for men, women, and children. Our cycling apparel and helmets are being sold worldwide with over 30 distributors across the globe.
Funkier Rossini Men Pro Short Sleeve Jersey Green