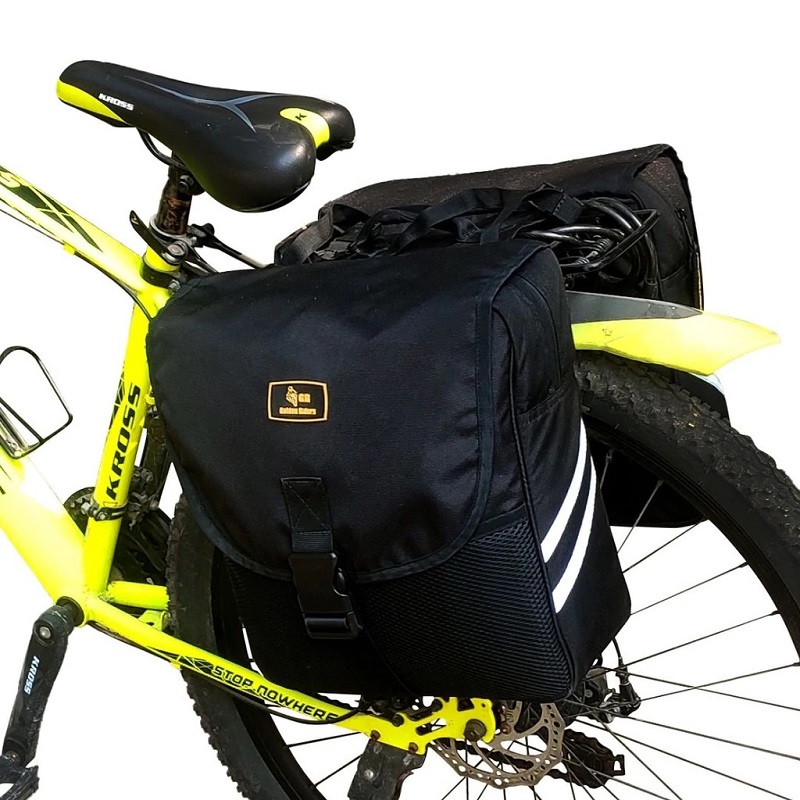 About Golden Riders Pro Bicycle Saddle Bag Black
25 Litres/ Large Size/ Light Weight/ Foldable/ Attached Pair.
Product & Design
Golden Riders S/B PRO is Light Weighted/ Compact and Sturdy double-side saddlebags for bicycles.
User-friendly design that's easy to mount & release on bicycle's carrier.
Fits well on all bicycles, holds intact grip on frame to ride any terrain.
Aerodynamic & minimalist shape for hassle free riding.
Shape & Dimention
Light weight, minimalist shape and aerodynamic design to ensure intact & sturdy grip while riding on varied terrains.
Rectangular in Form/ Size-35 x 33 x 12 Cms.
Primary Outer - Black/ Inner liners - Orange/ Rainstorm Cover - Flor. Orange.
Volume - 25 Litres, 12.5 Litres per side bag.
Made & Material
Heavy & double stitched bicycle-saddlebags, made in INDIA.
Primary Shell : Ballistic/ Coated/ 600 D/ Water-Resistant Fabric.
Secondary Shell : Polyester/ 190T/ Water-Resistant/ Durable Fabric.
Fittings : Heavy-Duty/ Tried-Tested/ Zippers-Pullers/ Nylon Straps/ Velcro-fasteners/ Elastic/ Mesh/ Night-Reflector Tape.
Rainstorm covers in water-proof rubberized Fabric.
6mm Thick EP Foam/ Standardized Quartz Nylon thread for stitching.
Handy & Easy Access
Perfect for daily, short, long rides, wherein it has basic-easy mounting mechanism.
Strap with Velcro-fastener to hold b/c frames.
Bag has flap opening, then w/resistant zippers to get to main compartment.
Outer mesh pocket on each side bag for essentials.
Straps on top to hold sleeping bag/tent or anything else.

Features & Function
Handy & easy to use, mount-release and access.
Minimalist shape & light weight with more retaining potential.
Rainstorm covers for rainy needs.
Night reflectors for safety during poor visibility.
Brighter linings for higher & clear inside vision.
About Golden Riders Brand
Years of biking across the country led us to one thing - the need for quality motorcycle bags in India. More importantly, motorcycle bags that are specially made for bikers in the subcontinent.So in 2017 we decided to take matters into our own hands and created our first batch of products - saddle bags, side saddle bags & tank bags. Since then we have come a long way. However, we understand that our journey has only begun.
Golden Riders Pro Bicycle Saddle Bag Black