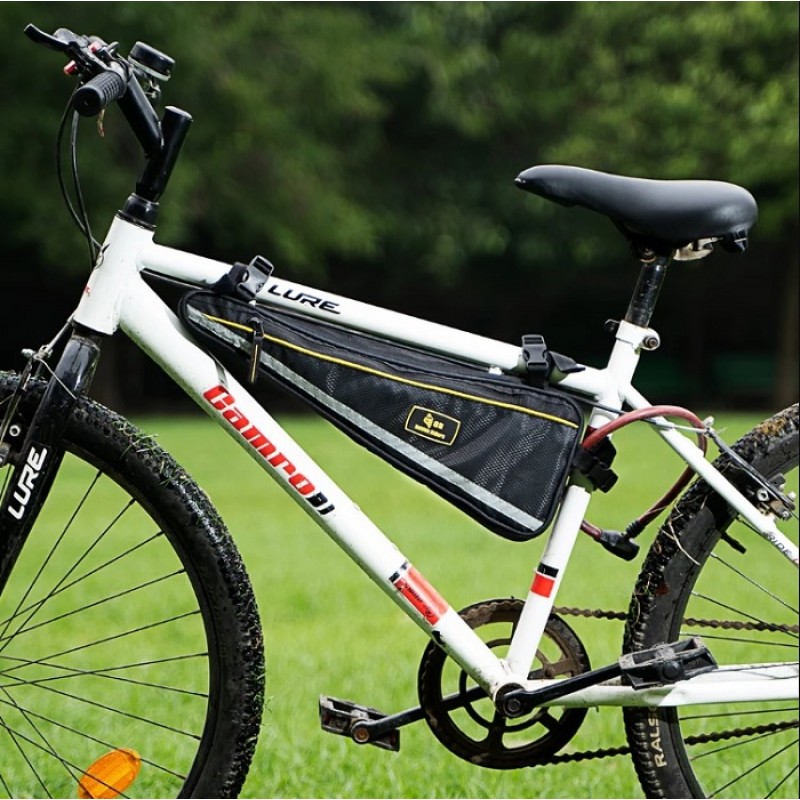 About Golden Riders Trigon Frame Bag
Description
Triangular Frame tourer-bag is a must have accessory for bicycle riders while going for long rides or may be small too. Spacious with triangular shape, its sleek dimensions and placement at bicycle makes it easy to mount or release. Handy enough to carry essentials like necessities, tools or others as per need.
Design & Shape
Its minimalist design, sleek shape let you paddle hassle free, without any interruption. SIZE - 42 cms x 21 cms x 6 cms::Volume - 3 litres.
Fitting & Features
It is an universal fit on almost every bicycle, with double-lock mechanism for secure mounting. *Main pocket & one slot pocket on outside. *Superior nylon adjustable straps for appropriate mounting. *Easy to mount & release. *Scratch free layered fabric to protect paint coating.
Made & Raw Material
Heavy Duty 600D/ Coated fabric + Fine Rib-lock polyester fabric. Heavy zippers & pullers. Nylon harness straps. Heavy plastic fittings & nylon thread used. No cheap materials used.
Raw Material
Primary Shell - Lightweight ballistic 600 D water-resistant fabric. Secondary Shell - water resistant polyester fabric. Heavy plastic fittings. Water repellent zippers/metal sliders. Fabric used protects the pouch from spills, drizzles and other moisture. Nylon straps & metal snap buttons (light grip). No cheap raw materials used.
About Golden Riders Brand
Years of biking across the country led us to one thing - the need for quality motorcycle bags in India. More importantly, motorcycle bags that are specially made for bikers in the subcontinent.So in 2017 we decided to take matters into our own hands and created our first batch of products - saddle bags, side saddle bags & tank bags. Since then we have come a long way. However, we understand that our journey has only begun.
Golden Riders Trigon Frame Bag