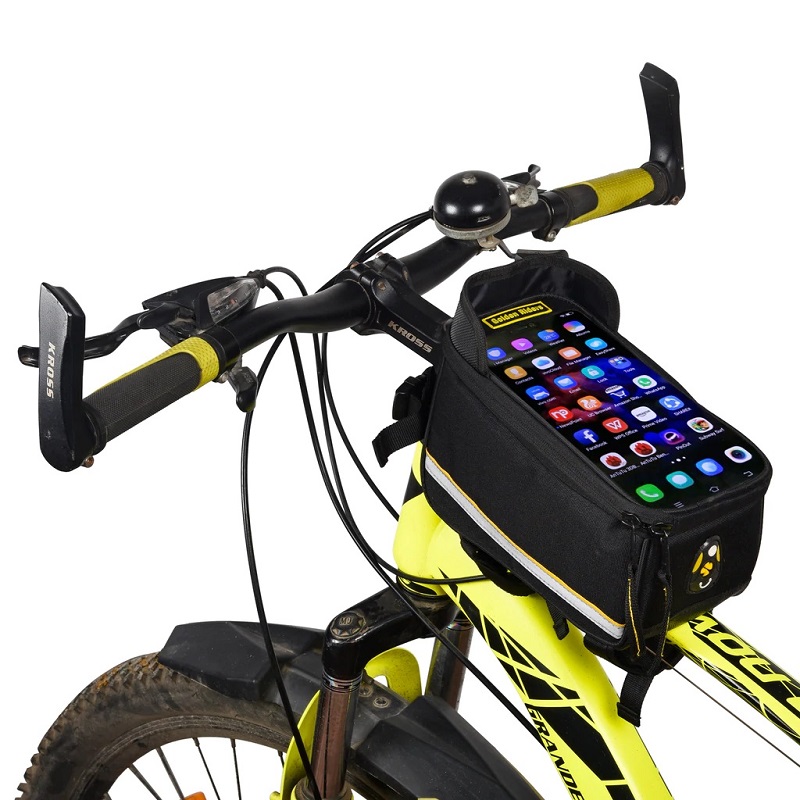 About Golden Riders Triva X Cycling Front Frame Bag Black
Designed for carrying mobile phone & other essentials within easy access. Minimalist shape with ample space. It comes with a mechanism to hold bag firmly on top of the frame. It has a mobile pocket on top with transparent touchscreen. It comes with two main side zipper pockets & two mesh pockets.
Safety and features
Two straps-one with velcro & the other with push lock for firm grip. Reflective 3M tape for low visibility conditions. Zip-closure mechanism. Mobile pocket on top to carry cell phone with transparent touchscreen. Main compartment to carry essentials. Ear-lug slot for accessing cords/cables.
Fit & Dimention
Universal shape that fits perfectly on all bicycles. Measures 19 x 9.5 x 9.5 cms with 1.5 litres carry capacity. Available in black.
Raw Material
Primary shell is made of lightweight nylon 900 D water & abrasion resistant fabric. Secondary shell is made of water resistant polyester fabric. High strength plastic fittings. Water-repellent zippers & metal sliders. Fabric used protects the pouch from spills, drizzles and other moisture.
Quality Assurance
Tried and tested product. Any kind of manufacturing defect is covered under 12 months warranty period.
About Golden Riders Brand
Years of biking across the country led us to one thing - the need for quality motorcycle bags in India. More importantly, motorcycle bags that are specially made for bikers in the subcontinent.So in 2017 we decided to take matters into our own hands and created our first batch of products - saddle bags, side saddle bags & tank bags. Since then we have come a long way. However, we understand that our journey has only begun.
Golden Riders Triva X Cycling Front Frame Bag Black