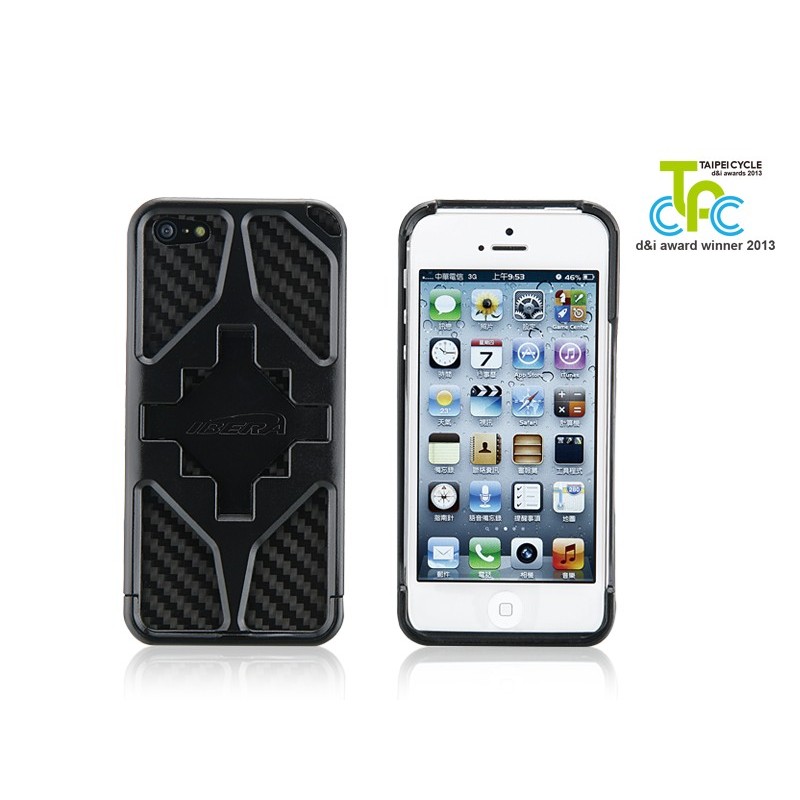 About Ibera iPhone 5 Can Case IB-PB15 Q5 Black
On the fly video & photos
For iPhone 5/5s.
The award winning Ibera Bike Cam Case not only carries and protects your phone, it allows complete and easy access to all controls. The semi-rigid case has a built-in camera lens aperture, and with our new angle adjustable StemClamp, cyclists can take vivid action photos or videos of themselves or the road ahead without any extra equipment.
Your phone snaps quickly into the carbon fibre, and thermoplastic case, while the case securely and instantly clips onto the clamp, and is easily interchangeable between portrait and landscape mode.
The lightweight, slimline case is equally at home off the bicycle. Just as with a regular phone cover, you can slip your phone into your pocket after your ride.
Features
Pivoting arm for camera operation
Access to ports & buttons
Secures firmly to bike
Portrait & landscape mode
Phone snaps-in
Carbon fibre dirt guard
Slimline, flush back for off bike use
Specification
Material
Carbon fibre, nylon.
Colour
White or black.
Phone Size (max.)
H: 124 mm (4.9") W: 59 mm (2.3") D: 8 mm (0.31")
Mounting Options
StemClamp Q5
About Ibera Brand
The brand Ibera was established in 2004. Massload, the firm behind the brand has been in business manufacturing bicycle parts under contract for major American and European companies for many years.
Ibera iPhone 5 Can Case IB-PB15 Q5 Black