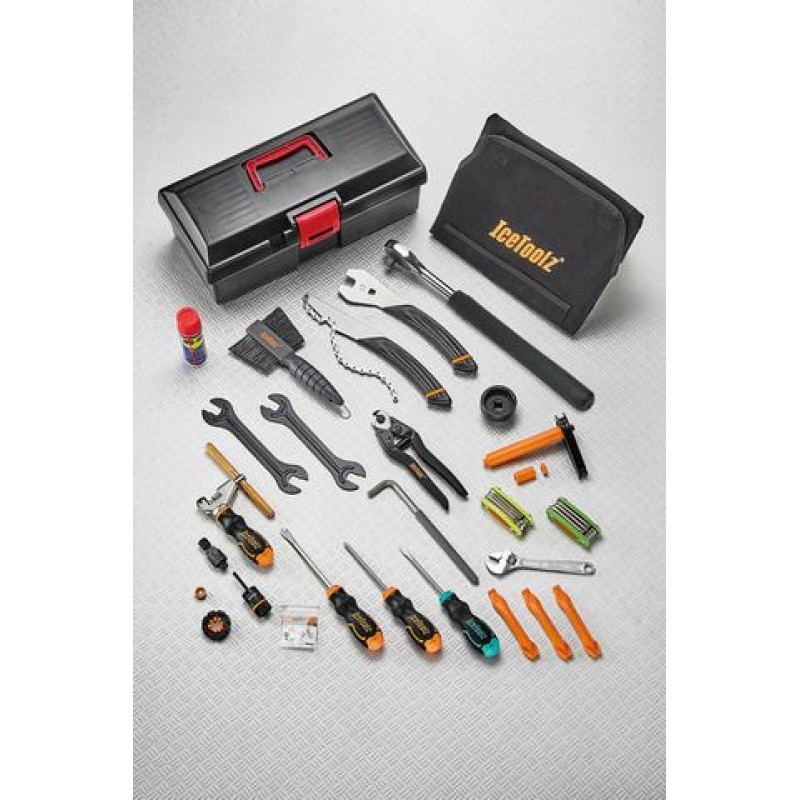 About IceToolz Pro shop mechanic tool kit Box
IceToolz tool set 82A7, Pro Shop 40 parts, black.
Features
For the advanced bicycle mechanic
Pro Shop carrying case with workshop apron #C153
WD-40 (1.5oz•/51ml)
Screwdriver #28P1 PH1 & #28S6 6mm slotted
Screwdriver for chainring nuts #27P3
Allen key #35V8 8mm & pedal wrench #33S1 15mm
2 cone wrenches #0502, 13x15 + 14x16mm & adjustable wrench #25H6 6".
2-sided brush #C121 & cable cutter #67B4
Crank remover #04C2 & key arm #53R4 1/2"
Cassette deposit (lock) ring remover #09C1 Shimano CS compatible
BB (de) assembly key #M091 Shimano Hollowtech II compatible
Freewheel remover #53S3 multi-speed (chain whip, 1/2"x 3/32")
Spoke nipple key #12F8 10~15G
3 tire levers #64P3 & glueless patch set Airdam #56E6, 6 pieces
Pro Shop chain tool #62M1 5~12-speed & Chainmaster #30C1
Star-8 #97T1 star wrench set & Mighty-9 #97A3 set of Allen, Phillips and slotted screwdrivers.
Specification
Packaging: suitcase
weight: 4.878 kg
About IceToolz
Ice Toolz is a range of specialised Bicycle Tools made by Lifu Cycle Co Ltd. A long established bicycle company with over 30 years of experience in the cycling industry.IceToolz is a manufacturer of bike tools, offering multifunction tools and individual tool components which provide useful services when your bike needs maintenance or repair.
IceToolz Pro shop mechanic tool kit Box