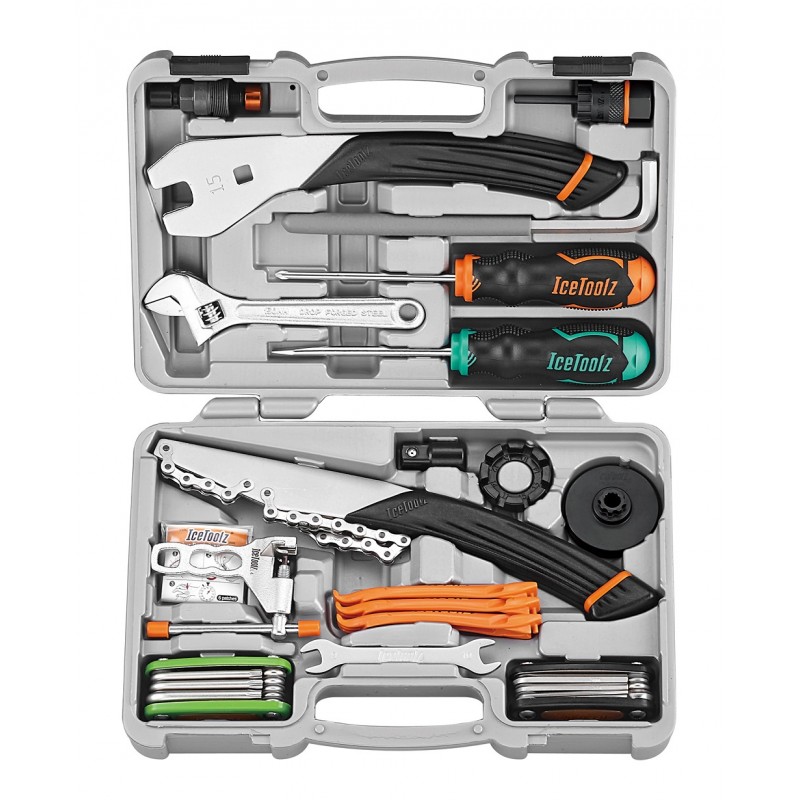 We are now shipping to all ALL ZONES across India. Further, NO DELIVERY is permitted in CONTAINMENT ZONES as of now.
About IceToolz Ultimate Tool Kit 82A8
Ultimate tool kit 305x210x65mm.


Totally 40 functions:
04C2 Crank remover
09C1 Freewheel tool for Shimano CS compatible cassettes
33S1 15mm pedal wrench
35V8 8x200mm hex key wrench with coating
28P1 PH1 Philips screwdriver
28S6 S6 Flathead screwdriver
25H6 6" forged adjustable wrench
D8D4 Adapter (8mm to 1/2" Drive)
12F8 Precise 8-groove spoke tool, for 10-15G
11F3 Crank adaptor for Shimano Hollowtech II compatible
53S3 Multi-speed freewheel turner
61A3 Chain tool, for 7~10 speed chains
56E6 Glueless patch AirDam
64P3 POM tire levers, set of 3 pcs
39H4 9x10mm open end wrench
97T1 "Star-8" T-9x10x15x20x25x27x30x40 Star Keys
97Y1 "Mighty-7" 2x2.5x3x4x5x6mm Hex Keys, T-25 star key
About IceToolz
Ice Toolz is a range of specialised Bicycle Tools made by Lifu Cycle Co Ltd. A long established bicycle company with over 30 years of experience in the cycling industry.IceToolz is a manufacturer of bike tools, offering multifunction tools and individual tool components which provide useful services when your bike needs maintenance or repair.

IceToolz Ultimate Tool Kit 82A8