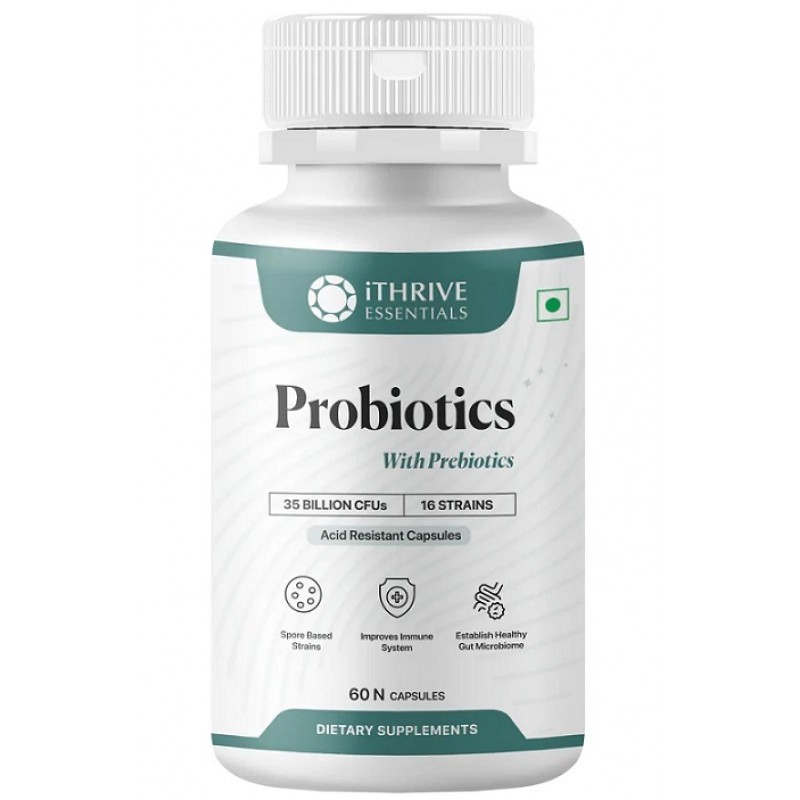 About Ithrive Probiotics with prebiotics 35 Billion CFU - 60 Capsules
Specification:
iThrive's Essentials presents India's Best Probiotic Supplement
iThrive Essentials probiotics combines 16 potent probiotic strains with 35 billion CFUs along with pre-biotics that help restore a healthy gut microbiome and strengthen the immune system.
We specifically used 3 spore-based strains and the acid-resistant capsule technology that helps with a delayed release, which helps the capsule to surpass stomach acid and directly open into the gut.
Probiotic bacterias are critical for healthy digestion. They help maintain the integrity of the intestinal lining, support proper intestinal motility, and participate in the detoxification process & healthy immune system function.
Benefits of probiotics :
Supports immune function
Improves digestive symptoms like gas, bloating, diarrhoea & constipation.
Can help fight infections
Helps restore a healthy gut microbiome
May improve mood and reduce stress
May improve absorption of nutrients
Helps produce nattokinase and vitamin K2
Unique features :
16 Probiotic Strains
3 Spore based strains : Bacillus clausii , coagulants, subtilis
With added prebiotics
Dairy, Soy & Gluten Free
Clinically Validated Strains
Non-GMO
Vegetarian
GMP Quality Assured
What Are Probiotics?
Probiotics are a type of good bacteria that help the body carry out normal daily functions. These bacteria are similar to the bacteria that are naturally found in the body and help perform many of the same duties. One of the primary functions of probiotics is to help the body digest food and absorb important nutrients, which can help combat digestive troubles. In addition, these powerful bacteria may offer immune support by helping to destroy their harmful counterparts.
Why should you buy iThrive Essentials Probiotics?
iThrive Essential's probiotics comes with 16 strains with 3 added spore-based strains, namely Bacillus clausii, Bacillus coagulans and Bacillus subtilis. We have also included pre-biotics into our formulation.Probiotic strains in this product have been identity-verified using Next Generation Sequencing (NGS) & quantified using Total Plate Count technology.
What is prebiotics?
The formula also contains a small amount of Fructooligosaccharides. This compound occurs naturally in plants and consists of a string of fructose units. They are very safe and stimulate the growth of nonpathogenic gut bacteria.
What are spore-based strains?
"Spore based" is just another way of saying "Soil based". They are microorganisms that are formed from spores. You can get these same strains in the dirt or on vegetables with dirt residue. They are just concentrated on this supplement, and you know exactly what you're getting.
Bacillus bacteria are gram-positive instead of the endotoxin-producing gram-negative bacteria. They can be found in animal guts, air, water and soil. They have the ability to make various antimicrobial and antibiotic-like compounds (Elshaghabee, et al., 2017). They also have immuno-modulatory and anti-mutagenic effects.
Suggested Use: Take one capsule one to two times daily between meals or on an empty stomach.
Storage Instructions: Refrigerate after opening to maintain potency.Protect from direct sunlight and store in a cool & dry place.
Please note: All of our products are 3rd party lab-tested on various quality standards. Probiotic strains in this product have been identity-verified using Next Generation Sequencing (NGS) & quantified using Total Plate Count technology.
About Ithrive Brand
For our body to be healthy and function optimally, it needs certain amounts of vitamins and minerals. Clean supplements are needed to overcome deficiency in these nutrients. To ensure that, we recommended our clients to buy foreign brand supplements. Frustrated with the Indian nutraceutical market we decided to develop our own supplements. We also plan to ship our supplements internationally.
After deep comprehensive research and experimentation, we have formulated the cleanest, most bioavailable, filler-free supplements. Our supplement are comparable to top foreign brands while being cost-effective. We aim to provide top quality supplements that are easily available in the Indian market.
Ithrive Probiotics with prebiotics 35 Billion CFU - 60 Capsules