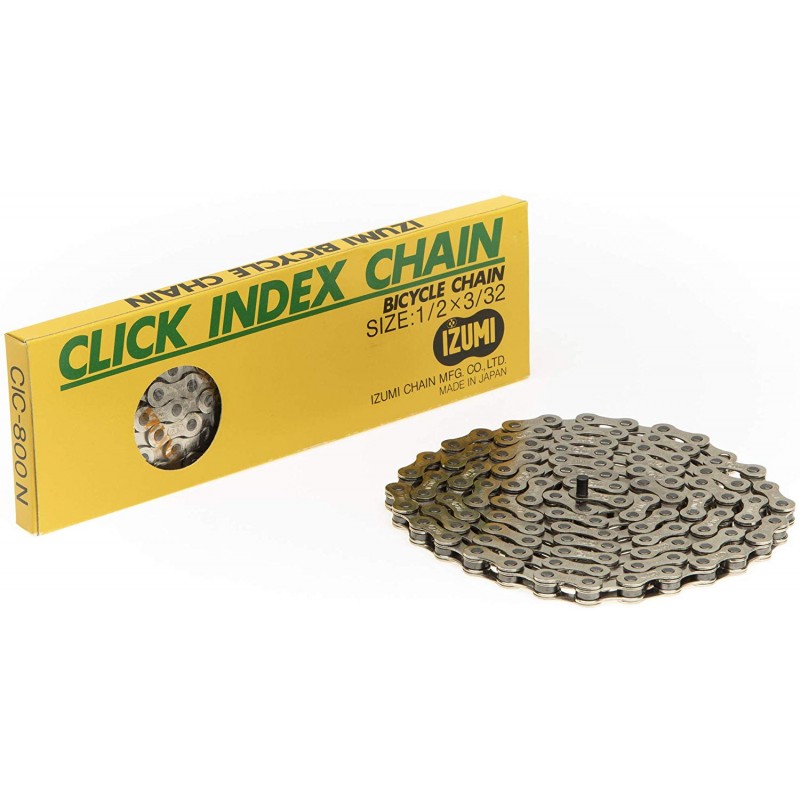 About Izumi 1/2 X 3/32 5/6/7-8 Speed 116L Chain Silver
Our lightest and most versatile derailleur chain, the CIC800 (Click Index Chain) series offers long-running durability with a fully bushless link and flush connecting pins for the quietest, smoothest-shifting derailleur chain you can buy for 6-7 speed indexed shifting systems. Six finish options, including Jet Black and a Silver-plated (NP) version to fight corrosion.
Available in 1/2x3/32 pitch only
328g (116 links)
Tips For Chain Cleaning


About Izumi
We started in 1916 as a maker exclusively of high-quality bicycle chains Osaka, Japan. No one knows bicycle chains like Izumi. . In the century since, bicycles have changed dramatically: from one gear to 12, with increasingly sophisticated drivetrains that require light, durable, efficient chains for peak performance.Today, Izumi remains family owned and operated, and manufactures more than 4.5 million bicycle chains a year, including the legendary Super Toughness, and chains for Shimano's high-end road, mountain and e-bike groups, all made entirely in Japan.
Izumi 1/2 X 3/32 5/6/7-8 Speed 116L Chain Silver