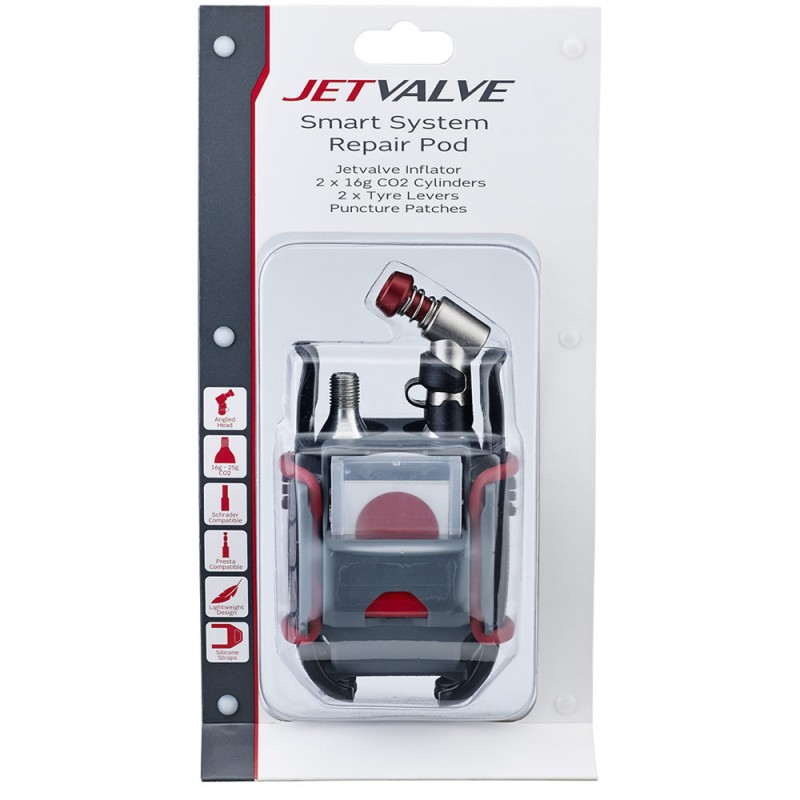 About Jetvalve Smart System Repair Pod
Ideal for backpacks or wedge bags. Includes two tyre levers, two CO2 cartridges, inflator head and self-seal patches for quick and easy puncture repair.Complete with silicone straps for secure carrying.
Product Description
The JetValve CO2 Inflator Is Extremely Compact And Lightweight.
It is suitable for instant inflation of all types of valves (Presta and Schrader included).
Ideal for taking out with you for those puncture emergencies. Featuring an easy push on fit with an angles nozzle for convenience and a tough plastic insulator for hand operation.
Key Features
CO2 inflator head with push control.
Bottle cage mount.
X2 CO2 cylinders included.
X2 tyre levers.
Puncture repair patches.
Suitable for all valve types.
16g and 25g cylinder compatible.
includes cylinder and sleeve.
About Jetvalve Weldtite Brand
Weldtite CO2 Jetvalve Tyre Inflator. Compact and lightweight, SV/PV angled nozzel Insulated for hand operation.Weldtite manufacture the world's most comprehensive and innovative range of bicycle maintenance products. Welditie's own in-house design and quality control team design all their products alongside a team of expert bike mechanics, working to the ISO 9001 standard which ensures all of the product range is made to a consistently high quality.
Jetvalve Smart System Repair Pod